After the Round – La Onda

Over the last several years, we have done plenty of features on restaurants around Dallas, Fort Worth and their surrounding areas. From burgers and barbecue to fine dining, steaks and pasta, we have seen a little of everything DFW's culinary scene has to offer. Rarely are we absolutely blown away by a new and exciting concept, but that is exactly what we were last month when we visited La Onda in Fort Worth. 
In a small, unassuming house off the resurgent Race Street in the northern part of the city, Victor and Misty Villarreal have created a unique dining experience that must be tasted to be believed. From seasonal clams and ceviche to shrimp cocktails and house dry-aged products, this menu is unlike anything else you will find in the Metroplex. 
"If you can't take simple ingredients and elevate them to the next level, you need to think about doing something else," Victor said during our visit. 
For starters, they have some quirky and unique signature cocktails to awaken your senses and stun your tastebuds. One of their most popular is the La Ora de Oro, which is golden beet-infused blanco tequila mixed with fresh pineapple juice, fresh-squeezed lime, and basil-infused simple syrup. The glass is then garnished with a dehydrated pineapple slice and some fresh basil. This is a drink that is absolute perfection for a blistering summer day. It is refreshing, palatable, and has just a little hint of tequila burn to accompany the sweetness of the pineapple and simple syrup.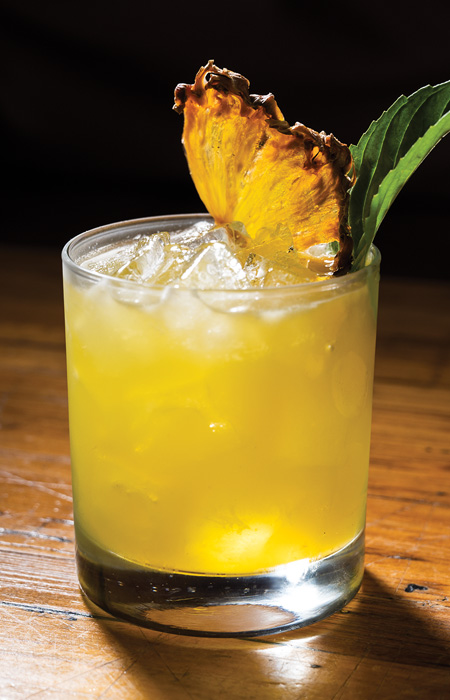 If you are a rum fanatic, them the Blood In, Blood Out is another great choice. This combo of Brugal Rum, blood orange juice and vanilla is topped with another bit of Eldorado Rum. It's everything you expect a rum cocktail to be and pairs perfectly with any of La Onda's delightfully fresh seafood fare. 
If oysters are your thing, then be on the lookout for their occasional oyster shooters. These are served with a cold-water oyster, and your choice of vodka, tequila or gin. When they do have these on the menu, get there quick because they are only available until their supply of oysters runs out. 
If you are looking for a happy hour spot, La Onda checks those boxes with their wide variety of libations and happy hour small plates. How about a glass of wine and their fish dip served with crostini? Or maybe a shrimp cocktail or their ceviche tostada? Any of them can be paired with a cocktail. And the small plates run you just $8, so there is great value there. It's a no-brainer. If you want to up the ante a bit for your happy hour fun, then try the Shark-cuterie board (yes, it's really spelled that way on the menu), which is their house Gravlax (more on this in a bit), a half ounce of caviar, and chefs choice of smoked seafood, all served with seasonal accoutrements.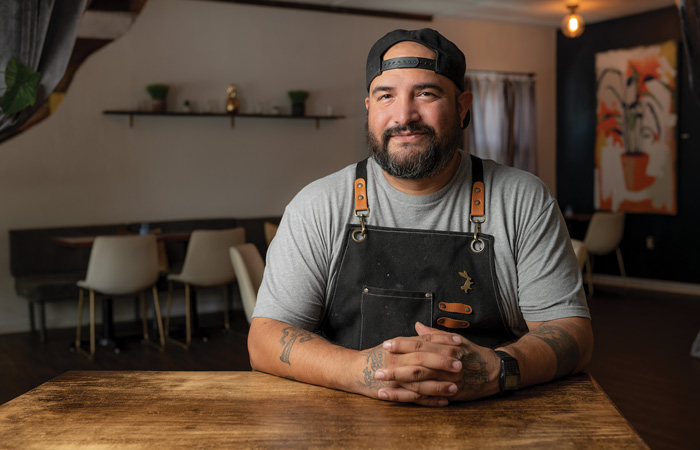 La Onda slings some of the most unique dishes you will see anywhere. If you love ceviche, then get to La Onda as fast as you can, as they have some of the most appetizing varieties you could imagine. These selections change seasonally and can vary depending on what may be in season at the time. Back in August, they featured a scallop and clam version, with hatch chile coconut aguachile and hatch tomato pico. 
The ceviche we sampled was clams, scallops, lobster claw mixed with some cucumber, jicama, cabbage and kumquats. The lobster, clams and scallops provide a blast of fresh seafood flavor and a great variety of textures. The jicama, cucumber and cabbage give the dish some crunch and vibrant profiles, and the addition of the kumquat is truly a master stroke by Villarreal, as they provide a great acidic, sour citrus bite to the delicate flesh of the seafood. It's one of the most surprising dishes I have tried in a long while, and one I will be making a return trip to have again and again. It is truly one of the best overall dishes I have been served.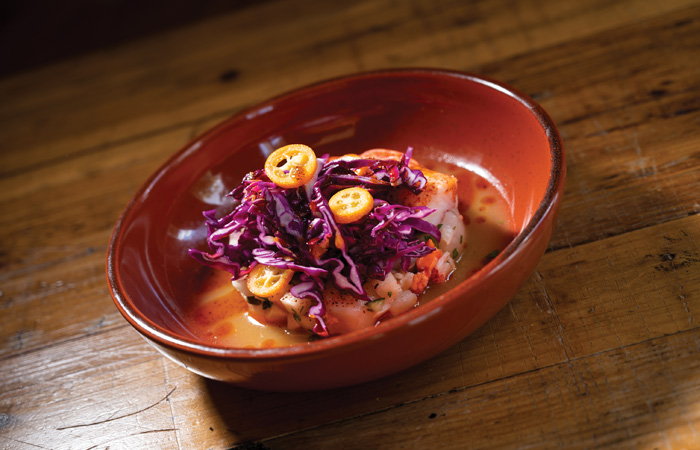 If you are looking for something easy and quick, La Onda has one of the simplest, yet truly delicious salads you will see on any menu. Sometimes dishes with only a few ingredients can dazzle just as much as the complex ones. This salad is some simple arugula and mint that is tossed in a homemade cascabel chile and oregano dressing. Some toasted pepitas (pumpkin seeds) add some crunch to the salad, but the real star of the show for this dish is the house-made ricotta cheese and the macerated peaches. The peaches are marinated in Cachaça, which is a distilled spirit made with sugarcane juice. It is primarily popular in South America in places like Brazil, where it is one of the most popular alcoholic beverages. For being so simple, there are so many flavor profiles and textures in this salad. The creaminess of the ricotta cuts the peppery bite in the arugula; the macerated peaches add some sweetness; and the simple addition of the pepitas add a little crunch. It's as close to a perfect salad as I have ever tried. It's also a delicious way to eat clean.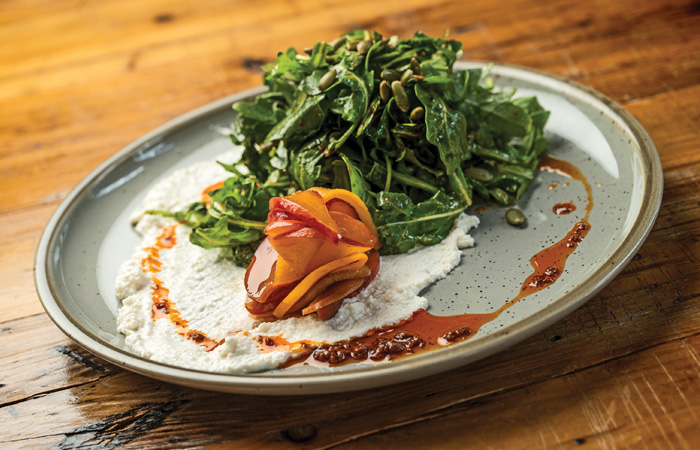 The final dish we sampled would be perfect for your next happy hour, accompanied by a nice local beer or signature cocktail. Their smoked potato and caviar dish with crema and green onions is another wonderfully simple addition to the menu at La Onda. The potatoes were perfectly cooked, and the addition of the salty caviar really complements the starchy potato well. The crema almost melts away into a delicious broth at the bottom and gives that refreshing cool feeling with each bite. It's perfect in every way and should be added to your list of potential happy hour entrees immediately.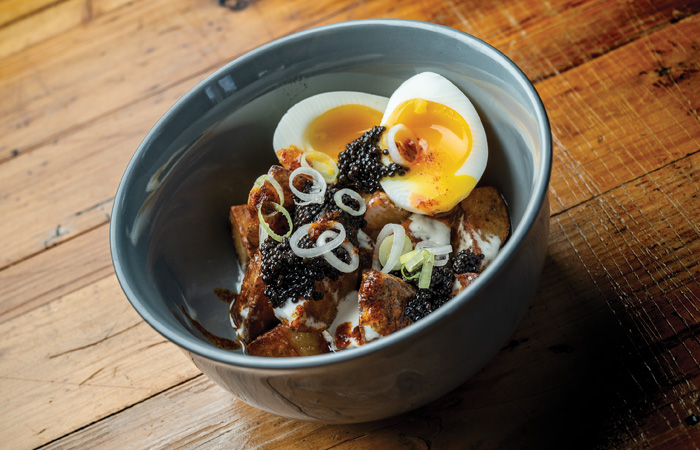 If fish is your thing, then the Villarreals have you covered there, as well, with a wide variety of dishes that you will likely not find anywhere else in Panther City. The fish, as with the ceviches, rotate based on what is in season and what they can get that is fresh. They even have a dry-aging box where you can see what's being prepared. On our visit, the dry-aging box had Gravlax, which is a cured salmon that is popular in Scandinavia. The salmon is covered in a combination of salt, sugar and lots of fresh dill. Often, the salmon is cold-smoked after the curing process. It takes time to prepare, but it's a textural delight and something that you should definitely try if you are a salmon fan. In addition to the Gravlax, some Verlasso Salmon, Branzino, and an 80-day dry-aged Ono were also being prepared. 
Speaking of that Branzino, it was one of the seasonal whole-roasted fish dishes available during our visit. Branzino is a light, mild, flaky fish that tastes similar to sea bass or halibut. Again, if you are a fish fan, you need to give this a try, but be aware that the whole roasted fish does take about half an hour to cook, so best try for another dish if you are in a hurry. Good things come to those who wait … am I right?
There is so much to like about La Onda. It's small, quaint and unpretentious. There aren't many seats, so be sure to make plans to get there early in case they are on a wait. Reservations can be made, so you may consider going that route if you want to guarantee a table for your evening out. 
Everything about La Onda is perfect. The food is, to put it lightly, stupendous. You won't find a finer, more well-executed menu anywhere in Fort Worth. It's simple, fresh and uniquely prepared. La Onda is a true one-of-a-kind.