After the Round – Nacho Average Taco

It's no secret that Frisco is rapidly becoming one of the hotbeds for entertainment and retail. As the new PGA of America Frisco development slowly becomes a reality, more and more of us will be making the trip north of Dallas to the area. Just south of the new PGA location sits a brand-new taco joint that is as unique as it is delicious. Chído Taco Lounge is the brainchild of co-owner Blaine McGowan. McGowan is a newby to the restaurant ownership game but is a longtime amateur chef and foodie. After a successful stint slinging food and drinks to his close friends, an endeavor he referred to as the "Frisco Supper Club," McGowan wanted to branch out to something new and exciting. 
McGowan admitted he has wanted to open a restaurant for a while, but the timing just wasn't right. 
"I originally wanted to do a food truck, but the market was just so saturated." McGowan said. "Then I thought about barbecue, but there is just so much overhead. Then I decided on tacos because they are so versatile. I can really showcase my creativity with them."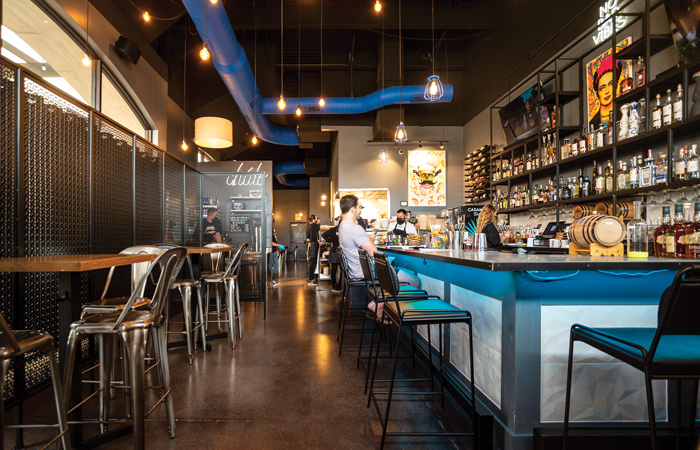 It didn't take long to realize that McGowan was right. The menu at Chído is unique and tasty, with multiple options for those who want simple and delicious or patrons that might be a bit more adventurous. 
As you walk in, you are immediately greeted by a warm interior with a nice bar area. Artwork from Mexican artist Luis MarLo adorns the walls. The paintings are striking with brilliant color schemes and jaw dropping graphics. And if you want to take one home, you certainly can for the right price as all of the art is for sale. 
For starters, Chído has some fantastic craft cocktails if you are in the mood for a stiff drink. We sampled their tequila based Old Fashioned, which is crafted with reposado, bitters, and a charred orange peel. The drink is stout but finishes clean with some sweetness. It's a wonderful way to start your meal. 
If you want something on the frozen side, we also took down one of Chído's Top Shelf margs which is made with Casamigos Blanco, guava and ginger. It's a lovely combination of sweet and a little tart from the ginger. It's unlike any margarita you've ever had. 
In addition, Chído features the Pajero, which is Mexican rum, lime and agave, as well as the Eso Dijo, which is Mexican whisky, blueberry, ginger and lime. Both are a wonderful sidecar to your delicious food. 
Speaking of the food, Chído takes your standard TexMex taco fare to the next level. For starters, I recommend the guacamole. The chips are warm and fresh, and the guac has a little pineapple pico on the top, which really adds another dimension to this app.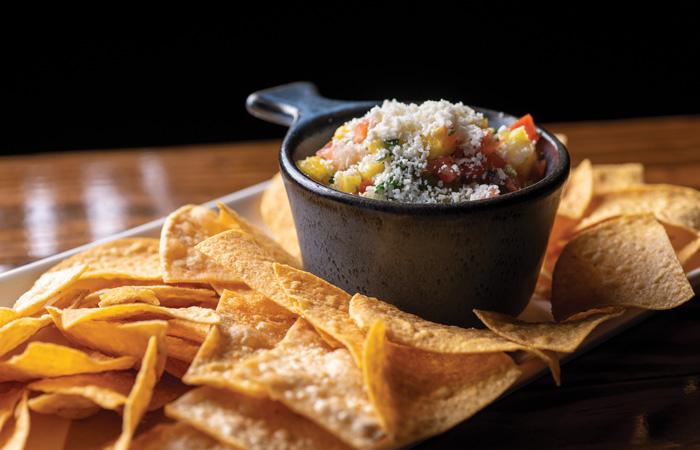 If meat is more your thing, then I suggest the tablitas. Tablita is a Spanish word which means "little planks," and once you see them you will understand. These beef short ribs are sliced thin and then grilled. They are marinated, which adds a world of flavor and keeps the meat juicy and tender. They are fantastic as a starter or, if you are just after a snack with your cocktails, they are a great accompaniment.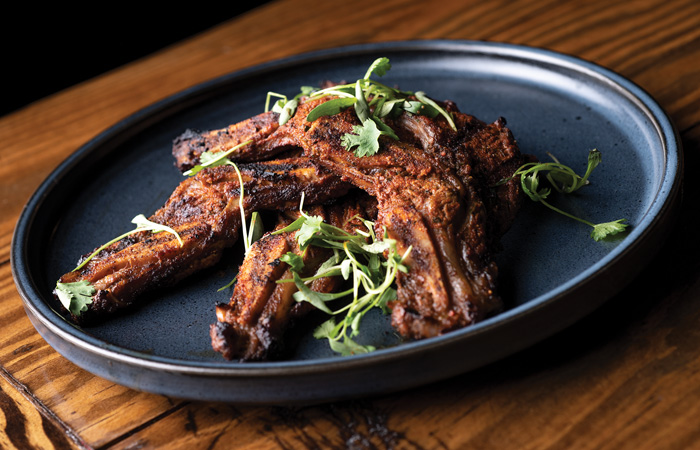 For main courses, you could take a look at one of McGowan's signature salads. The grilled Caesar is a good choice, with charred romaine, corn, and a lime vinaigrette. The salad is loaded with flavor, but the real star of this show are the fried avocado bites that sit on top. They have a similar breading to fried okra, but the avocado is creamy and delightful. I could eat them all by themselves. If you prefer some more substance, you can also add chicken, steak, salmon or shrimp to your salad.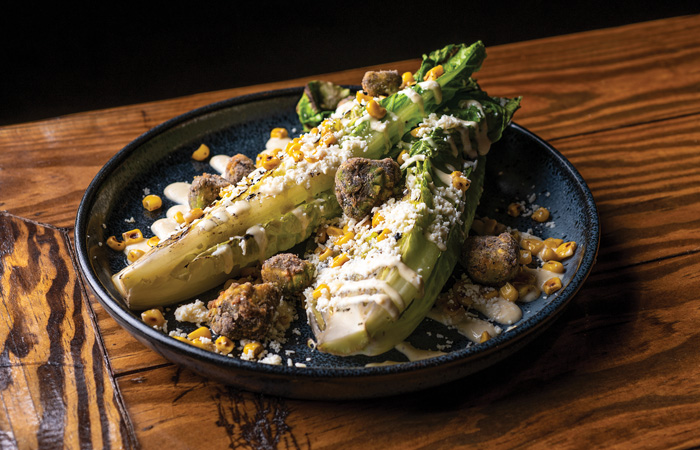 Ramen soup and Pozole are also options for a lighter lunch or dinner. The Pozole features a green spice broth, hominy lettuce and some radish. We didn't sample this one, but we saw it making its way to another table and it looked delightful. 
Of course, Chído also has their share of tacos, because after all, it is called Chído Taco Lounge. The tacos callejeros are your more traditional style Mexican street tacos. They come served with fresh cilantro and onion on a corn tortilla. Picadillo beef, Tinga chicken, barbacoa and carnitas are all available. If you're in the mood for something outside the box, then check out the tacos "Chídos" portion of the menu. A wagyu skirt steak, a buffalo shrimp and a jerk chicken are all there to dazzle your palate. We were offered the fish taco, which was a mouthwatering combination of battered cod, fresh slaw, ranch crema and pico on a flour tortilla. The batter was light and perfectly prepared. Often times with fish, the batter can get oily, but not here, and the slaw and ranch crema are a perfect complement to the delicate cod. 
We also tried the Chili Relleno taco. Yes, you read that correctly. It's a chili relleno on a taco. This Anaheim pepper is layered with zucchini, tomato, corn, pickled veggies and cotija cheese. It also comes topped with some of those deep-fried avocados we discussed earlier, so for me, they were off the charts, and definitely unlike any taco you will find anywhere else in the Metroplex.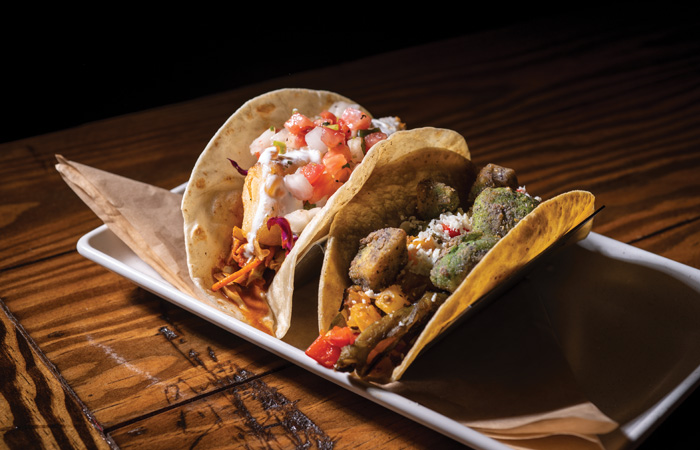 For something more substantial, you could also choose the Carne Asade Frites, which it a wagyu flank steak smothered in flavorful chimichurri and served with tajin fries. 
For dessert, Chído offers a tres leches bread pudding, or some Mexican vanilla ice cream. 
Chído is everything you would expect from a top-notch taco place. It has a welcoming, causal atmosphere with a cool modern vibe. The food is whimsical and creative, without trying too hard to be inventive. Overall, McGowan and crew have hit a homerun for those who are in the Frisco area. And I will definitely be returning as duties take me up that direction for the new PGA Frisco development. 
Nearby Courses
Plantation Golf Club ▶ 2.8 miles
Stonebriar Country Club ▶ 3.2 miles
The Trails of Frisco Golf Club ▶ 4.8 miles
Frisco Lakes Golf Club ▶ 6.6 miles
PGA Frisco (coming soon) ▶ 7.1 miles
TPC Craig Ranch 9.8 ▶ miles
Chído Taco Lounge
6959 Lebanon Road, Suite 123
Frisco, TX 75034
www.chidodfw.com