After the Round – Social Oak Wine & Whiskey Lounge

Wine and whiskey are two libations that just about everyone can stand behind. Whether you are a connoisseur or someone who just enjoys trying new and exciting brands, there is a spot you must try in Trophy Club. Social Oak Wine & Whiskey Lounge combines an inviting, comfortable atmosphere with the latest technology to create a concept unlike anything you have ever seen. Oh, and they have fantastic food to boot. 
Nestled in a hotbed for great golf, just a mile from Vaquero Club and just a stone's throw away from Trophy Club, this spot not only caters to the upscale country club crowd, but the everyman, as well. The first thing you will notice when you walk in the door at Social Oak is the beautiful décor. It is warm and luxurious, with comfortable lounge seating surrounding low-top tables, a few larger tables with barstool seating, and even a couple of larger booths that can accommodate bigger parties. The outdoor seating is just as relaxing, for those days when the weather warrants some fresh air with your beverages. 
I can promise you have never seen a bar concept like the one at Social Oak. If you are a wine or whiskey drinker, add it to the top of your list of places to try posthaste. The technology that drives the concept is as unique and innovative as the selection they offer. Patrons are given a card preloaded with a certain amount, which they then use at kiosks that dispense the wine or whiskey in predetermined pour amounts. So, if you are unsure if you might enjoy a certain selection or don't want to shell out major bucks to try some of the higher-end products they carry, you can try them in smaller, more affordable amounts. For example, of the nearly 300 rotating wines and 100 whiskeys they carry, you may find a selection from a certain region or distillery that intrigues you, but you may also not want to risk paying top dollar if you aren't certain it's something you will enjoy. Now, all of their selections are of the utmost quality, but palates vary, and this gives you options to try multiple different styles and flavor profiles without being on the hook for an entire bottle of wine or larger whiskey pour. It's a genius way to facilitate trying new things at a reasonable price point.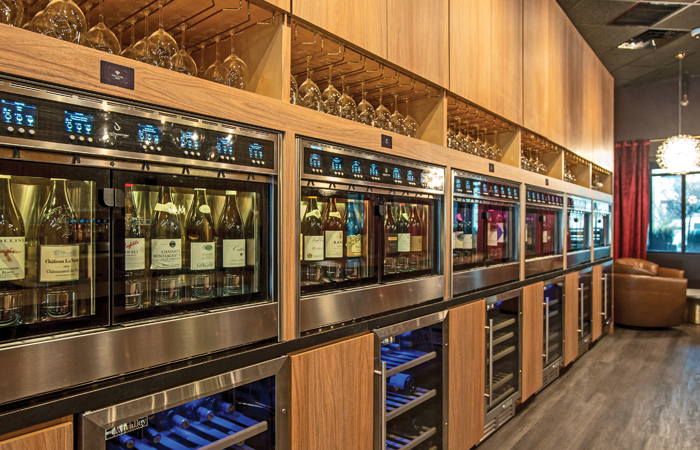 With the wines, prices vary from just a few dollars for a one-ounce pour to over $100 for a five-ounce pour. A three-ounce pour is also available. So, if you want to try a Penfolds Grange Bin 95 Vintage 2017 that retails at close to $1,000 a bottle, you can select the one-ounce pour and sample it without breaking the bank. Wines from all over the planet are available, including multiple regions in France, Spain, the United States and even Australia and Argentina. They leave no stone unturned as you travel the world using only your nose and palate. 
Whiskeys are dispensed in the same fashion, with one ounce, one and a half ounce and two-ounce pours. I was able to try a spectacular Shenk's Homestead, which only set me back a sawbuck for the one-ounce pour. You want to talk about a game-changer if you're a whiskey buff? This is the place. The selection is stupendous, and the rotating menu means you can come back again and again and there is always something new and exciting to try. Everything from Blanton's to Dickel 15 year and even a Fukano Single Cask are available. It's like Disney World for whiskey drinkers.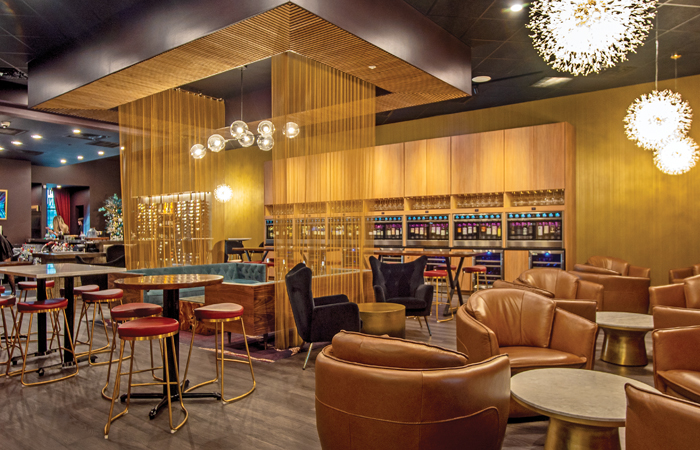 If you are a fan of the Old Fashioned, Social Oak has one of the best I have ever tried. Redemption Rye Whiskey or Buffalo Trace Bourbon is mixed with simple syrup and bitters, then domed and smoked to add a great flavor profile and aroma on the nose. It's simple, yet spectacular. Other specialty cocktails include the Lychee Martini, which is concocted with Tito's Vodka, lychee puree and triple sec. This one dazzles the tastebuds and is perfect for a date night or dinner with friends. 
The food at Social Oak is as unique as the beverage concept. With a large sharable menu and some dishes intended for one, the cuisine is a perfect accompaniment to their wines, whiskeys and signature cocktail menu. One of the stars of the show is the beef carpaccio. Now, raw beef isn't for everyone, but this beautifully presented shaved tenderloin served with some spicy arugula and truffle oil hits all the marks, with a velvety rich texture and the hint of the garlicky favor of the truffle. It's a wonderful, light sharable option if you are looking for something to split. 
A perfect accompaniment to any great glass of wine is a charcuterie board, and Social Oak has one of the most unique I have come across. The selection of meats, cheeses and other accoutrements is nothing short of amazing. Ours came with some spicy capicola, hot salami, prosciutto, alongside a multitude of cheeses, including a creamy brie, a Wensleydale with cranberries and a sage derby. Each pairs well with the other, and when you sprinkle in the red and green grapes, crackers, selected berries, olives, gherkins, almonds and fig jam, it's a textural and flavor delight that will enhance your overall wine-drinking experience.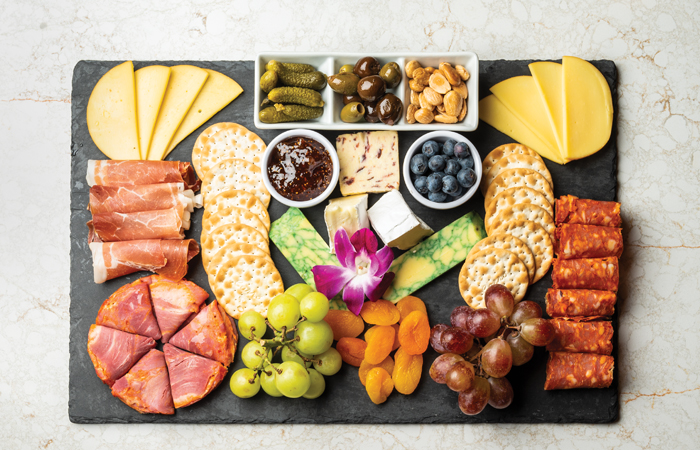 One must-try at Social Oak is the Shrimp Toast. Although labeled as "toast", this eats more like a flatbread pizza. The shrimp are prepared like a gorgeous scampi with a subtle buttery flavor that helps them melt right into the delicate bread. Don't sleep on this as a full meal for one or a sharable as an appetizer. It's a bite of food dreams are made of. We even had staff jockeying for position to get some of our leftover pieces, and rightfully so, as many told us it was their favorite thing on the menu.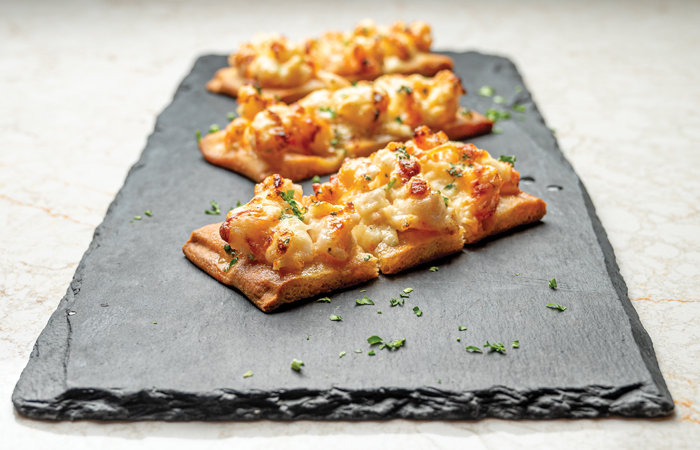 There is a significant Asian influence throughout the menu, as well. Ahi tuna tacos, Japanese pork belly buns and potstickers are all fabulous options for something a little more substantial. We sampled the fresh summer rolls, with are rice paper filled with shrimp, mango, cucumber and cilantro. They are light, with bright flavors and a dipping sauce that you will crave in the days after your visit. 
For the meat eaters, a wonderful, sliced steak and mash is on the menu. This perfectly prepared New York strip comes with whipped potatoes and a great Asian-inspired chimichurri. The steak is tender, and the potatoes are creamy and delicious. A bit of the steak with some of the potato and some of the chimichurri is a near perfect bite of food.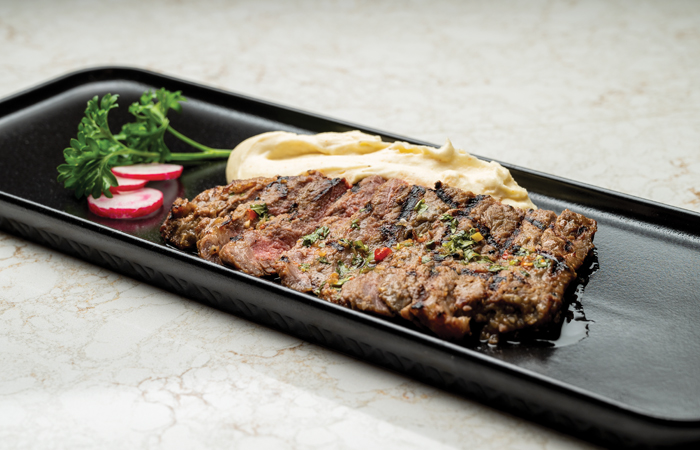 Everything at Social Oak is well prepared and conceptually well thought out. The Asian influence is prevalent in many dishes, but there are plenty of other options that are perfect for a date night, dinner with colleagues or for your post-round meal. 
At the end of the day, I would be remiss if I didn't really hammer home how great this overall concept is. It's a fantastic combination of technology, comfort, flavor and approachability. Often when you hear about a wine bar or lounge, you immediately default to a pretentious atmosphere with a lot of overwhelming descriptors wealthy people use when describing wine. Social Oak is very approachable and with a more casual, comfortable atmosphere, which is refreshing to those of us who may enjoy wine but need a little more education before making an ultimate selection on what to choose. The staff is well-versed in all of their products, and with a sommelier on staff, picking the perfect wine to accompany the delicious food is no more than a quick question or two away. Essentially, they have not only removed the intimidation of sampling fine wines and whiskeys, but they have also made it more affordable to try different varieties without the disappointment of paying big bucks for something that may not end up being your particular favorite. 
On top of all that, the food is fantastic and delicious. Social Oak Wine & Whiskey Lounge is a true hole-in-one for those of us who love great wine, great whiskey and great grub in the presence of great company. 
Social Oak Wine & Whiskey Lounge 
2230 TX-114 Suite 550
Trophy Club, TX 76262
817-382-1088 
www.socialoaklounge.com