After The Round – Union Bear Brewing Co.

Union Bear Brewing Co. isn't just a great place to dip in to for a post-round craft beer, it also boasts some of the best chef-crafted grub that will ever pass over your palate. From spectacular apps to divine entrées, Union Bear has it all. And when you pair the food with any number of seasonal craft beers, you've knocked it out of the park.
Assuming you're just popping in for a quick bite and brew, you might want to sample from Union Bear's appetizer menu, which is substantial and delicious. The Texas Smothered Fries were an absolute smashing success. Perfectly cooked and seasoned French fries smothered in poblano queso, then topped with braised, pulled short rib, crumbled queso fresco, cilantro and pickled jalapeños (PRO TIP: ask for some of the Sriracha blue cheese dressing for dipping). These fries are so good, they really should be kept away from anyone with an addictive personality.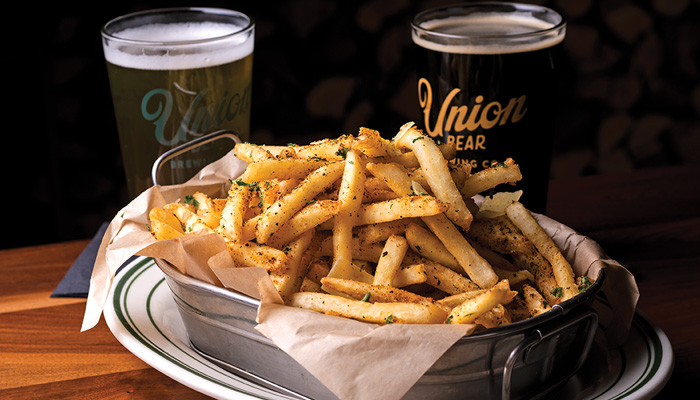 If something a little less carb-y is what you're in the mood for, check out the Cantonese Chicken Lollipops. Akin to your standard wing appetizer, these yard-bird drums are basted with a Hoisin BBQ sauce that will send your taste buds into orbit. A sprinkling of sesame seeds add a subtle crunch and some scallions a wave of earthy freshness. Give them a dip into some of the aforementioned Sriracha blue cheese dressing and enjoy.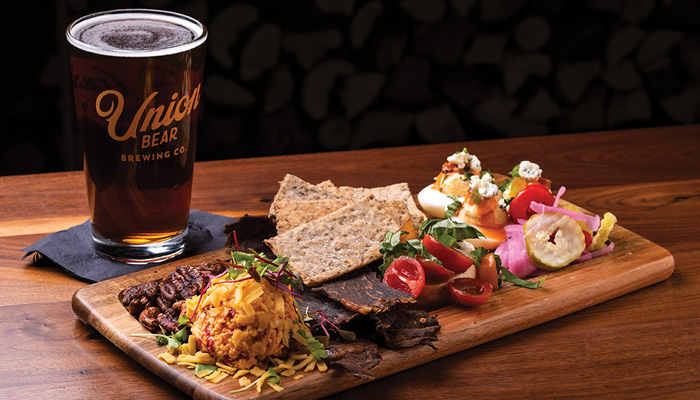 The Picnic Platter is Union's version of the classic charcuterie board. Served with house made pimento cheese, velvety Burrata cheese with tomato, deviled eggs, picked veggies, and hand-crafted beef jerky. Everything about this is hyper-upscale and extremely well done. Smear some of the pimento cheese on some of the included crackers (which are made from the spent grains from the beer making process) and you're going to be delighted. And if it's just jerky you crave; Union Bear sells it by the pound.
For the main event, Chef Sean Sanders prepared the Porkchop Porterhouse, which is one of the signature dishes at Union Bear. If you take one thing away from this write-up, let it be this. Union Bear served me the best pork chop I have ever had. Bar none. End of story. Chef Sean wouldn't reveal all his secrets, but he did reveal to AG that he brines the chop before cooking to help tenderize it and keep it moist. Although technically the "other white meat", this heavenly helping of hog ate more like a filet mignon than a chop. Tender, juicy and perfectly prepared. Topped with roasted apples and caramelized shallot-bourbon honey butter. Served alongside Brussels Sprouts with crumbled bacon, this dish is an absolute must-try.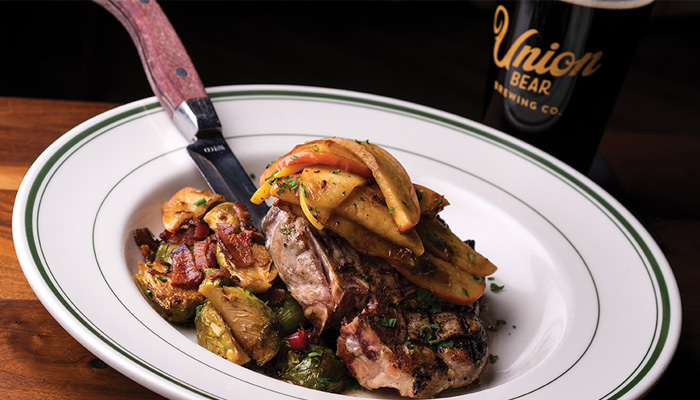 The fantastic food is just the tip of the iceberg at Union Bear. If you're a beer nerd, or just enjoy sucking down the occasional oat-soda, then Union has you covered there as well. With up to a dozen seasonal beers on tap at any time, and as many as 18-20 throughout the year, you can always find some suds that suit your taste. Whether it's the Blonde, the Oatmeal Stout, or something that packs a little more punch, like the 13% bourbon barrel aged Cherry Quad, you'll definitely get your fix at the Union.
If it's a post round cold-one you're after, don't settle for the clubhouse Bud heavy. Do it the right way and head over to Union Bear Brewing Co. Great food and great beers that are truly works of art.