Joel Dahmen Honest About Playing For Big Money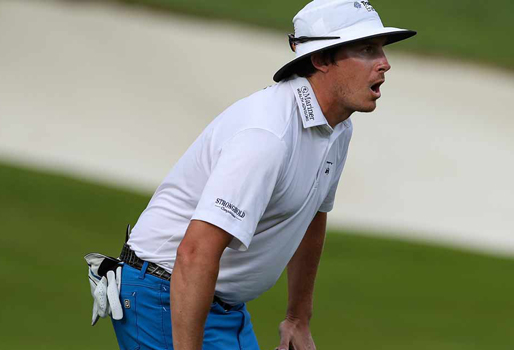 Joel Dahmen was playing for some big coinage on Sunday at the Wells Fargo Championship. Fans (and probably star players) have become desensitized at the millions of dollars available to the big names, but thankfully, not everyone is so blasé about depositing large 6-fig checks.
Count Dahmen as one of the latter. His solo second place earned $853,200. Yeah that's some worthy cheddar. And Joel was definitely thinking about the payday as he played the last remaining holes. Golf.com's Dylan Dethier has the honest details. 
Was Dahmen thinking about that money down the stretch? "Yes, of course," he said afterwards. "I had four or five feet for 5 on 16, I'm solo second, I'm aware where that is."
"On 18 my caddie wanted me to play it safe, but I thought if I snuck a 3 in there and Max hit it in the lake, I could come back around," Dahmen said. Maybe he should have listened to his caddie; his second shot from 210 yards wound up actually on the wrong side of the greenside creek.
Dahmen ended up hitting his chip to about a foot, leaving a kick-in par. Had his ball found the water, it would have cost him roughly half his paycheck.
"[My caddie] is over here laughing at me. I had such a huge break, and actually it's a pretty easy chip there, but I was certainly aware of what was at stake, absolutely. I mean this was my biggest paycheck by $500,000 maybe. I mean, it's ridiculous what I just won today, absolutely ridiculous."
Refreshing to hear and good for him.