50-Years Since Trevino Surprised The World With His U.S. Open Win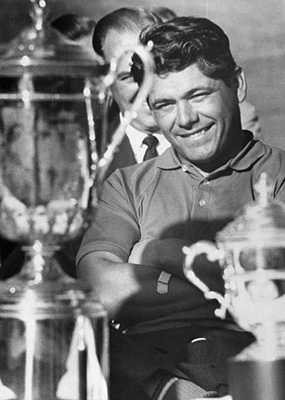 It's been 50-years(!) since Lee Trevino exploded into public sports consciousness by winning the 1968 U.S. Open. His background and persona was shared by very few pros at the time.
The Morning Read's Adam Schupak deftly reminds us how unlikely the accomplishment that launched a Hall of Fame career. And, how his red and black Sunday attire was nearly 30-years before Tiger Woods adopted the look.
"Everyone thought I was with the maintenance crew," Trevino said. "I never signed an autograph, nothing. They had no idea who I was."
Only Trevino, with a second-round 68, and Bert Yancey broke par in the first two rounds, with Yancey's 135 total after thirty-six holes matching Mike Souchak's 1960 U.S. Open midway record. With 26 holes to play, Yancey stretched his lead to five strokes and threatened to run away with the tournament. But he couldn't shake Trevino, who rallied to post a 69 and trailed by one as Yancey and Trevino separated from the pack. The next-closest competitors were Charles Coody and Jack Nicklaus, who stood seven strokes off the lead.
As the round unfolded, something amazing happened as the galleries adopted Lee as one of their own. He was their gay caballero, a newborn hero from the depths of poverty. No less than The New York Times, in an editorial column, wrote: "Just when the button-down collar set is threatening to turn the sports scene into a dour stockholders' meeting along comes Lee Trevino to put the fun back in fun and games."
Just as Nicklaus had six years before, Trevino made the U.S. Open his first victory of consequence, and in doing so became the first player in tournament history to shoot four rounds in the 60s (69-68-69-69).
The Merry Mex would go on to win five more majors and $13.3 million in prize money during his career, but he'd never forget how winning his national championship opened the doors to a life he never could have imagined growing up without electricity or indoor plumbing. USGA president Hord Hardin presented the Open trophy to Trevino, who dutifully posed for pictures. Trevino waved his lone $20 bill with one hand and the USGA-endorsed check for $30,000 in the other.
"Isn't this a helluva way to make a living?" he said.