Attendance At Byron Nelson Is Half Of 2017 Total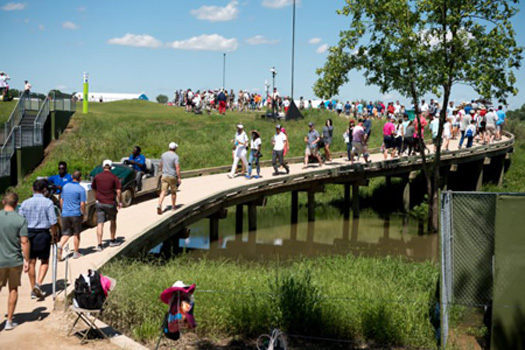 Photo: Bret Redman
Attendance figures at the AT&T Byron Nelson were announced yesterday. It wound up being roughly 28% less than last year's inaugural event at Trinity Forest GC and 50% less after moving from the Four Seasons Resort and Club Dallas at Las Colinas in 2017. Part of the shortage could be attributed to the rainy weather. The other factors were the less than convenient location and limited marquee player participation due to the tough date on a links-style course immediately preceding the PGA Championship.
We feel for the Salesmanship Club who did their best to overcome said challenges. Jon Drago and the hardworking volunteer staff put on a brave front, but certainly something(s) need to change to increase fan participation and pre-event anticipation.
D Magazine's Shawn Shinneman has the details.
Tournament Director Jon Drago says attendance at Trinity Forest Golf Club reached 144,000 people this year, based on preliminary data from concessions. That's down about 28 percent from 2018. It's also just over half the attendance of 2017, the final year the tournament took place at the TPC Four Seasons Las Colinas, when 280,000 people came out.
Weather on the other days of the weekend didn't help matters. Rain washed out Saturday morning's play, and Drago says that cut the day's attendance in half from last year. Cold temperatures on Friday hurt, as well. (He estimates attendance on Sunday was actually up a bit.) Conditions were very different than those in 2018, when temperatures touched the mid-90s at a course where there's nowhere to hide.
The Nelson contracted with Trinity Forest for 10 tournaments in all—eight more—according to Drago, despite media reports that have put the end date as early as 2021. (For what it's worth, course developer Jonas Woods also said, via email, that the contract runs through 2027.)