Bones To Replace Staff Bag For Mic With NBC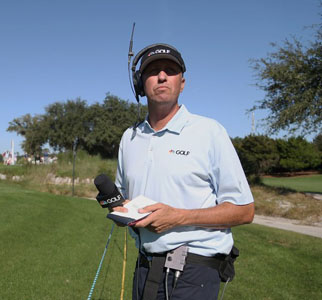 After 25-years, the Dynamic Duo of Phil Mickelson and caddie Jim "Bones" Mackay called it quits. Many immediately speculated what golfer would get Bones' extensive experience to vault the player to greatness.
Or, maybe Bones would ease back a bit, quit schlepping a 50 pound bag, chill and give his two knee replacements a breather.
Sources have confirmed that Mackay will sign a multi-year deal, debut at The Open Championship and work the FedEx Cup Playoffs and the Presidents Cup in August and September.
"When Phil and I split up, several people got in touch," Mackay said Tuesday in explaining how this career change happened in 16 days. "People have been nice enough over the years to say something to me about how they thought [broadcasting] was something maybe I could do at some point in my life. It was always something I'd say thank you to, and personally thought about. When Phil and I split, I got several phone calls, and it became a bigger opportunity, really seriously, the last few weeks."
Tommy Roy, NBC's lead producer for its golf coverage, made to put Mackay on air. From Roy's perspective, Mackay brings more than just the caddie perspective to the job. "First of all, he's a great communicator," Roy said Wednesday. "That's the No. 1 attribute you have to have to be in this business as an announcer." Roy picked that up in years of eavesdropping on conversations between Mickelson and Mackay during NBC broadcasts.
No. 2 is that Bones has been in the arena, as Roy said, "Under the most pressure packed circumstances, and to get through those with the highest highs and some of the lowest lows is an incredible wealth of experience to call on."
Interestingly, too, with his schedule, there remains the potential for Mackay to do some caddieing while also broadcasting. "I don't think it rules anything out," Mackay said. "I'm going be working 20-odd weeks a year. I think being a caddie is always going to be in blood, but right now it's one thing at a time."
That is great news for NBC and a loss for CBS who could've replaced Dottie Pepper with Bones. The best part is Bones will join the crew at the Open. How great would it be for him to follow Phil? I can guarantee you Mackay will deliver golf nuggets a plenty–cause you know he'll do the necessary research.