Colorful Caddie Nicknames Explained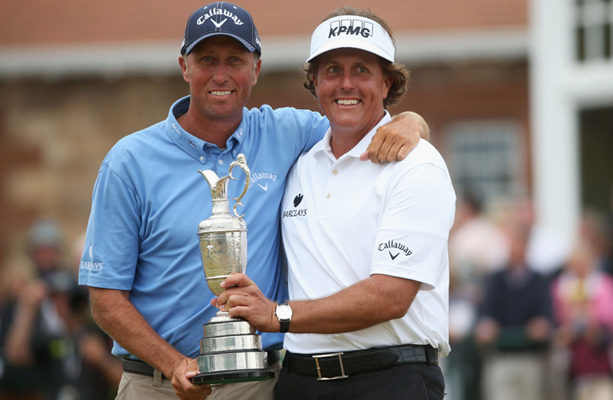 The caddie is an intriguing part of pro golf. Back in the day, they were more gypsies and than those schlepping bags today. And, in the sports world, you really haven't made it until you're given a nickname–sometimes with little explanation as to why.
GolfWeek's Adam Schupak and Brentley Romine offer up a list of caddie nicknames and their origins.
Jim Mackay
Nickname: Bones.
Phil Mickelson's former longtime caddie stands a lanky 6 feet 4 inches and was given the name by Fred Couples in 1990, when he couldn't remember Mackay's name.
Tommy Bennett
Nickname: Burnt Biscuits.
Augusta National caddie burned his leg as a kid trying to steal his grandma's freshly baked biscuits.
Mike Cowan
Nickname: Fluff.
Longtime caddie for Peter Jacobsen and Jim Furyk as well as Tiger Woods' first caddie when he turned pro, Cowan earned his nickname not so much for his fluffy mustache as for his resemblance to pro Steve Melnyk, who had the nickname Fluff in college.
Steve Duplantis
Nickname: Asbestos.
Was seemingly fireproof (couldn't be fired) despite reputation for tardiness, partying. Worked for Jim Furyk and Rich Beem.
Dolphus Hall
Nickname: Golf ball.
Hall worked for several prominent players, most notably
Raymond Floyd, who reportedly fired Hull six times, only to watch his wife, Maria Floyd, hire him back each time. The nickname stems from his round eyes, which bulged, especially when he got mad, as big as golf balls.
Lee Lynch
Nickname: Two Shot.
Al Geiberger famously said, "Having him on your bag was like being penalized two shots." But in 1977, Lynch was on the bag for Geiberger's historic round of 59. Does that mean Mr. 59 really would have shot 57 that day?
Willie Lee Stokes
Nickname: Cemetery
He served as President Dwight Eisenhower's caddie at Augusta National during his presidency and beyond. As the story goes, Poteat woke up in the morgue after surviving a knife fight in which his throat was slashed by a jealous rival.