Rickie Fowler Properly Acknowledges Inane Drop Rule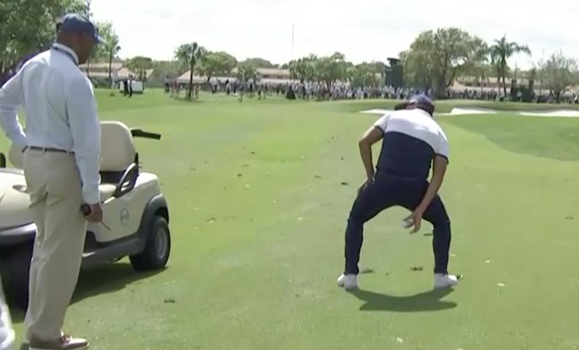 Rickie Fowler is my new hero. The new knee-height drop rule is laughable to just about everyone. But maybe the best way to acknowledge the farce comes from tongue-in-cheek-Rickie. Fowler is one of many pros having a tough time dealing with the ridiculous. The latest protest stemmed from his unfortunate high-profile penalty when he forgot to not drop from shoulder height last week.
Thus, the fun-lovin Fowler decided to show his disappointment by doing this yesterday at the Honda Classic.
This is the appropriate drop form, as demonstrated by @RickieFowler @NoLayingUp @the_woke_yolk pic.twitter.com/Hjh5PvgUTm

— Ryan John Kennedy (@kennedyryanj) February 28, 2019

And this.
Rickie shows us the proper way to take a drop. pic.twitter.com/j8AgWz0XHq

— Skratch (@Skratch) February 28, 2019
It's quite frankly the dumbest of the new rules (and that's saying something). At least Rickie can joke about it–and that might be enough for the USGA and R&A to correct their mistake.