Haley Moore Overcomes A Lifetime Of Bullies To Emerge A Hero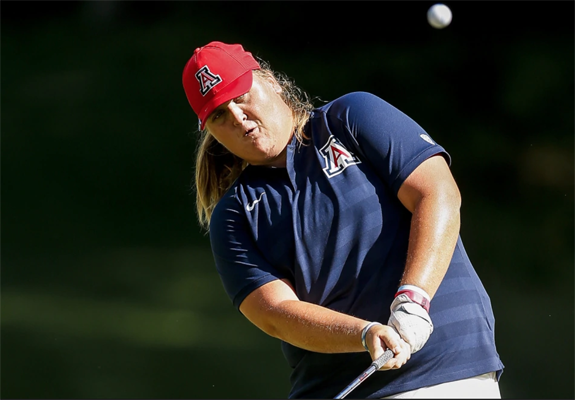 University of Arizona golfer Haley Moore was unfortunately subjected to the same mindless behavior from her classmates growing up that just about anyone deemed different goes through. I'm not sure why anyone feels the need to belittle others, but it continues–no matter how each act rises to a higher level of rude, thoughtless or disrespectful.
Moore overcame much to become the hero of her team's NCAA title run last season. And, she'll participate in the inaugural Augusta National Women's Amateur this week.
Golf.com's Ryan Lavner writes an excellent piece on her arduous journey of overcoming self-doubt, being bullied to ultimately perseverance. It's a must read for everyone to gain a better understanding on what many are unfairly called upon to endure and hopefully come out mostly whole on the other side.
It could have been another humiliating moment in a childhood full of them, another reason to wonder if she'd ever fit in. Just 14 at the time, Haley's bullies had been unsparing both in school and in sports. She was teased by classmates because of her size, and then she was ostracized by jealous peers on the course because of her prodigious talent. After so much cruelty for so many years, Haley had grown shy and insecure – and now this, at what she hoped would someday become her new home.
Sensing the impending doom, Arizona coach Laura Ianello calmly asked one of the cashiers for a wet rag and then guided Haley into the bathroom. In some ways Ianello could relate to the prized recruit, having once weighed 205 pounds as a high schooler, but she knew only to a limited extent the torment that Haley had endured during her teenage years.
But this would become a safe space. Ianello would make sure of it. She cleaned her up. She calmed her down. And by the time Haley emerged from the bathroom, her shirt was soaked, but she was smiling.
"I knew right then and there that I didn't have anything to worry about," says her mother, Michele. "I knew that Haley was in good hands."
Six years later, Moore is an NCAA legend, an invitee to this week's inaugural Augusta National Women's Amateur, a graduating senior who expects to enjoy a long and fruitful pro career. But during that initial trip to Tucson, her family had its reasons for wanting – no, needing – Haley to be handled delicately. Her life hadn't been as easy as her scores made it seem.
Ianello worries about all of her players after graduation, but especially Haley. "Not many people in this world are polite and kind and accepting," she says, "and if she earns her LPGA card next year, I could see the women out there not being so accepting. I really hope they will be. But I don't know."
Whatever happens at the next level, Haley's family, teammates and coaches have been encouraged by her emotional development. They've been heartened by her selflessness. And they've been inspired by her resilience, how the nastiness never dragged her into a dark place.
"She doesn't have this hurt in her heart," Ianello says. "She doesn't look back. She doesn't harbor any ill feelings. She's not sad. She accepts herself for who she is now."
It's a long piece, but well worth your time. Forward it to others.