Is Charles Schwab Rescuing The Colonial Invitational?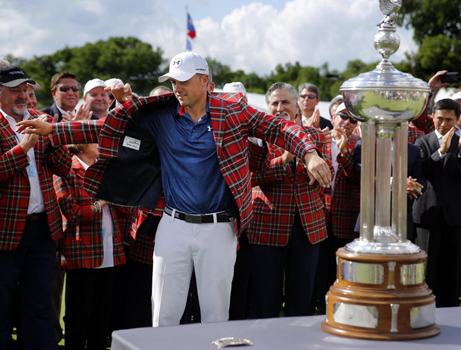 Photo by Tom Fox. 
The Fort Worth Colonial Invitational has fretted about finding a new lead sponsor once Dean & DeLuca pulled out this year.
However, good times might be just ahead as The Dallas Morning News' Brad Townsend reports the Charles Schwab Corp might ride in as the new White Knight to save the event. That would be terrific as Schwab is already a big supporter of the Champions' Tour.
Colonial Country Club members were told of the development during a meeting at the club on Tuesday.
By Wednesday afternoon, however, a club member familiar with negotiations between Schwab, the PGA Tour and Colonial cautioned to The News that details remain to be worked out and that no contracts have been signed. If no snags arise, Colonial's hope is to make a formal announcement next Monday, when 2017 winner Kevin Kisner's name is unveiled on the Wall of Champions.
If the discussed multi-year agreement comes to fruition, it would be a huge life-extending boost for one of the PGA Tour's most tradition-steeped events. This year's tournament, renamed the Fort Worth Invitational, was made possible by four underwriting sponsors after Dean & DeLuca ended its title sponsorship two years into a six-year agreement.
American Airlines, AT&T, XTO Energy and Burlington Northern stepped in to guarantee Colonial's record $7.1 million purse this year, with gratitude from Colonial officials and Fort Worth mayor Betsy Price.
Although banking and investment firm Charles Schwab is headquartered in San Francisco, 22 of its 345 U.S. branches are Texas-based, six of them in North Texas.
Most significantly to Colonial, Schwab and the potential for a longterm, mutually beneficial relationship, Schwab is building a $100 million campus in Westlake, north of Fort Worth, that could house up to 2,600 employees. The campus is scheduled to open in 2019.
One would believe the sponsor rumor to be a positive one given Schwab's new large campus footprint in Westlake. Kudos to all involved for making it happen. Just do me a favor and include the legendary Colonial name in the event's title (The Charles Schwab Invitational at Colonial).