Jack Nicklaus: 'I'm Not Interested At All' Watching Tiger's Comeback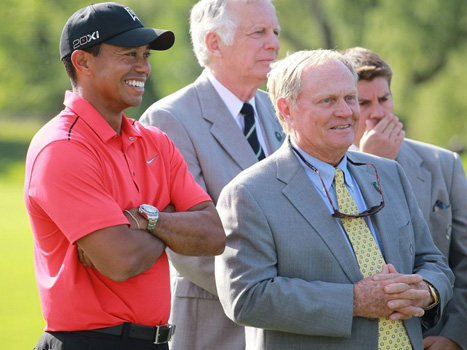 We all tend to get a little more beaten-down and calloused as the age increases. We're also pickier with our remaining time to maximize and enjoy experiences as the clock ticks.
Thus, its not a total surprise when 77-year-old Jack Nicklaus said he's not glued to Tiger Woods' latest comeback. Golfweek.com's Kevin Casey has the details.
"I'm not interested at all," Nicklaus said. "I don't watch much golf."
"Do I wish (Tiger) well? Yeah, but I'm not interested in watching him," Nicklaus said. "I've watched him play golf for 20-something years, why would I want to go watch more? I don't watch anybody play golf."
When you've won 18 majors and 73 PGA Tour titles, there's really not a whole lot of reason to watch others play the game.
But Nicklaus did iterate that the television set is always on where he is, which means he does occasionally see a golf shot on the tube. He got a glimpse at a couple of Woods' swings as he walked by the TV during the Hero World Challenge.
His takeaway? Maybe he doesn't care to watch much, but Nicklaus echoed the optimistic sentiment of most observers.
"Tiger seemed to hit the ball pretty well over there and seemed to enjoy it and be pain-free and I wish him well," Nicklaus said. "The swing as I saw, looked good. It looked like a swing of somebody who didn't want to hurt his back."
The Golden Bear has a lot on his plate with kids, grandkids, course design, etc. so give him a break if he's a more judicial with his time.
Nicklaus' retort draws yet another reminder that as folks age, their filter of what comes out of their mouths grow weaker–or non-existent. Just like kids. If you want an honest answer–be prepared to receive such.