Lond-Drive Champ Maurice Allen 1st To Carry Niagara Falls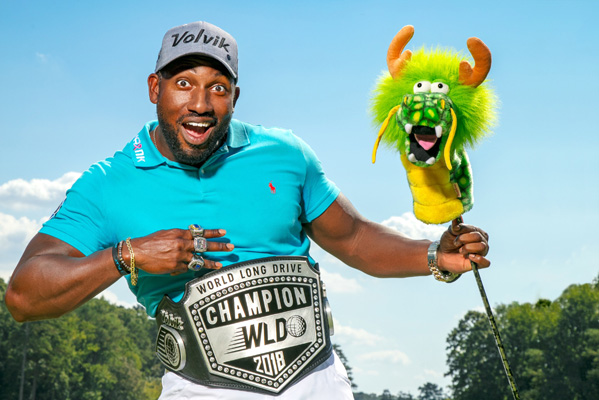 Maurice Allen is the current World Long Drive king. And recently he made the seemingly impossible feat possible. Allen carried the windy and misty 342-yard chasm of Niagara Falls. Not only that, he did it with plenty to spare.
GolfDigest.com's Coleman Bentley provides the cool details.
Allen set out to deliver the answer the golf world has been looking for since John Daly first came up short in 2005.
A. Allen didn't just tickle one 343 and get the hell out of there. He cleared the gap by a healthy 15 yards on the fly.
B. Allen didn't even think he caught the shot well, turning away and saying, "Nope, wind pushed it down," before being informed that he had just made Mother Nature his mistress.
So, for all of us who enjoy carrying water hazards with ease, there's always another larger test for you. Maurice Allen proved it's possible.
Here's a cool My Shot read about Maurice Allen back in November 2018.
IT'S ABOUT THE DRIVER, BABY. It's no use fighting it. Even at Topgolf, people who have never played before get over trying to hit the short target with a sand wedge real fast. They instinctively reach for the driver and try to hit the back wall, especially after a couple of drinks. Why do golfers on every practice range mainly hit drivers? Why do we spend $500 for a driver but only $150, tops, for a sand wedge, even though we hit our sand wedges more? Everybody loves the long ball, and they always will.
IN 2010, I WAS A RAW BEGINNER AND ONLY PLAYED ONCE IN A WHILE WITH MY COUSINS UP IN TALLAHASSEE. One of my first rounds, I broke an iron from a hand-me-down set that was at least 10 years old. I took it to a local Golf Etc. store to get it fixed—I was at Florida A&M and pretty broke—and the sales guy said, "Not trying to push you, but I think you really need some new clubs." After I said OK, he put on a simulator and handed me a 7-iron. My first swing, the distance came back as 240 yards. The sales guy stared at me for a minute and said, "Do that again." The next one also went 240. His next words were, "You ever heard of long driving?" I told him I'd never heard of it. He said, "There's a contest at Wildwood later today. Do yourself a favor and go down there."
BY 2011, I'D STOPPED GOING TO CLASS. I'd hit balls for five hours straight, eat lunch, then hit balls for five hours more. All drivers, between 1,500 and 2,000 a day, and I never took a day off. I slept only four hours a night—to this day, I don't sleep more than that—and would be at the course by dawn. Sometimes, after 10 hours of hitting balls, I'd go home and collapse, then wake up and go to a PGA Superstore at night and hit more on their simulator. It probably wasn't healthy. I tore my body up. The heads of my ribs tore loose, right and left sides. My hands bled from my skin simply wearing off. I didn't know enough to wear tape. See these knots on my hands? I developed calluses, then permanent knots below the calluses. One time my right hand slipped, and I broke the little finger of my right hand. To this day, I point my left index finger out at address. It's not a quirk, it's a leftover from the days when I couldn't let that finger touch the broken little finger.
TEN YEARS AGO, A GUY WITH CLUBHEAD SPEED OF 140 MILES PER HOUR AND BALL SPEED OF ABOUT 210 WAS PRACTICALLY GUARANTEED A WORLD TITLE. Those numbers won't get you into the top 15 today. If you don't swing it 145 with a ball speed of 217, you're not in the conversation. There probably are 70 guys who swing it that fast and have a chance of winning.