Tiger Woods Appears Healthy At Players And Employs New Putting Coach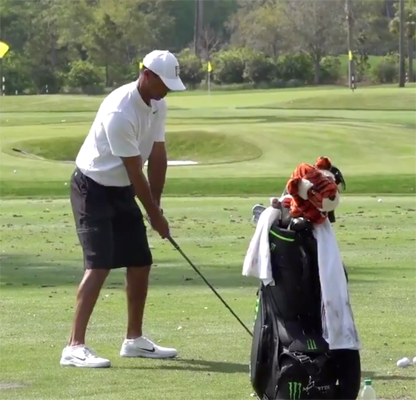 Tiger Woods showed up to the Players Championship yesterday wearing oversized cargo shorts (whoa, is baggy now in?) and working with new putting coach Matt Killen. Killen has worked with Woods before as GolfDigest's Brian Wacker reports.
Woods has not had a coach of any kind since parting ways with Chris Como at the end of 2017, but it appears that might no longer be the case. While it was the first time that Killen has been with the Woods at a tournament, it was not the first time the two worked together as the 32-year-old Kentucky native had been to see Woods in South Florida recently.
"His stroke looked good," Killen told Golf Digest as he departed the range. "His putting is better. I like what I see."
In his last start two weeks ago, at the World Golf Championship-Mexico Championship, he had a half-dozen three-putts for the week. At the Genesis Open the week before that, he called his week at Riviera one of the worst he's had with the flat stick — an accurate summation given that his opening round included four three-putts and his final round featured an abysmal total of just over 50 feet of putts made
Had Woods played enough rounds this season to qualify, he would rank 80th on tour in strokes gained/putting.
As for Killen, it's of little surprise that Woods would turn to him. Justin Thomas, who often plays with Woods when the two are at home, has worked with Killen on his putting since long before he turned pro. It has also often been Woods' M.O. to work with coaches who operate in the same circle of those around him.
Killen of course has a proven track record as well. His other clients on the PGA Tour include J.B. Holmes, who won at Riviera earlier this year, Bud Cauley and Blayne Barber. He has also long been lauded as one of the best young teachers in the game.
Golfweek's Steve DiMeglio says Tiger just needed a week off from the API.
The 43-year-old said he didn't practice at all – no chipping, no putting, no hitting of range balls – until he began light practice Saturday. He said he loved getting back on Bermuda grass to putt after his disappointing performance on the greens in the WGC-Mexico Championship three weeks ago.
"Everything is good," Woods said. "I feel good. I needed last week off."
Woods received treatment before and after each round at the Mexico Championship and wore KT Tape on his upper back en route to a tie for 10th. Woods said he isn't planning on wearing KT Tape this week.
"I could feel it," in Mexico, Woods said of his neck injury. "It wasn't fun. I couldn't make a backswing. I couldn't make a follow through. I couldn't make a complete swing."
Tiger is grouped Thursday/Friday with Patrick Reed and defending champion Webb Simpson.