USGA Almost Always Gets The Reaction It Wants Out Of Players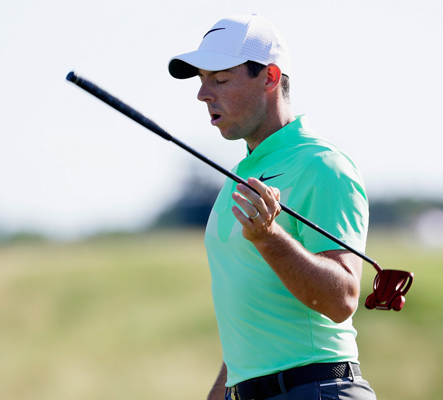 Death. Taxes. And the USGA under fire from players over its sometimes comical setups for their national championship. It's an annual rite of passage. Sometimes karma participates and eliminates prevailing winds like last year at Erin Hills to yield Brooks Koepka laughable 16-under winning score.
As Shane Ryan reports, the USGA absolutely relishes in the bitch-fest.
What do we know about the U.S. Open, the year's second major? We know stereotypes—it's the hardest major. The winning score tends to be close to even par. It's designed as a "true test" of golf, requiring more variety and creativity than your average putting contest of a PGA Tour event. And, of course, we know the USGA mucks things up to make it artificially difficult on the poor golfers—growing out the rough, tightening the fairways, drying up the greens, turning 900-yard par 5s into par 3s, etc., all to preserve their precious "integrity of par."
All of these things are true, except when they're not. Sometimes Brooks Koepka shoots 16 under. Sometimes Rory does, too. Sometimes Tiger does too, almost. Sometimes the course is just kind of difficult, but the greens are made of extra large Tacoma beach pebbles instead of grass. Sometimes instead of thick rough, they just pick a course that looks like a desert.
Exceptions included, one fact remains constant: Players get mad at the USGA, and the USGA doesn't care. On some secret level, I suspect the higher-ups in Far Hills, N.J., might even enjoy the provocation. The USGA is a troll, and not the fairytale kind that tries to eat the farmer's goats—it's the type of troll that subconsciously craves a reaction and will stop at nothing to engender chaos in the staid ranks of professional golf, intentionally or otherwise.
Q. Do you think 7 at Shinnecock is a good hole?
PHIL MICKELSON: I think it's a great hole until the USGA gets a hold of it.
Q. When you say that, are you concerned that that could be the case this time around as well?
PHIL MICKELSON: I'm concerned every time they get a hold of it, yeah.
And here was Rory McIlroy on his favorite organization:
"I think the USGA thinks that we're better than we actually are, if that makes sense. I think they over think it. I think that ,and I don't want to single out Mike Davis here, I think it's a collective thought process. We were talking about this yesterday. They sort of … I don't think it should be as much of an exact science to set up golf course as it is. … They over think it. … It's been a very reactionary few years."
The examples are endless, and this is the hidden brilliance of the USGA. The things it does may be wrong, but it functions as a bright spotlight, exposing the most sanctimonious, whine-prone players in the sport. The fact that Davis and his association have stumbled their way from controversy to controversy for three straight years, with damage control so bad that it makes Hillary Clinton look like Chesley Sullenberger, only makes the whole situation funnier.
The best part about the whole dynamic is that the players aren't afraid to say whatever they want. It's the kind of thing that would never happen on the PGA Tour, because as Steele pointed out last year, USGA officials can't exclude them from the tournament, and therefore has no real power. The only thing they control is the course and the rules, but my God, do they get their money's worth!
I for one enjoy the bloodbath–in small doses (once a year) and can't wait to read and hear the mayhem.