What's A Logo Worth For A Top Golf Pro?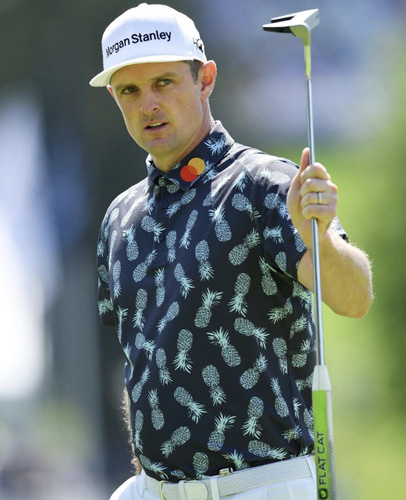 The company logo is one of sports' most lucrative entities. Companies pay huge money to affix their brands on well, you name it; stadiums, race cars, uniforms and athletes. Golf is no exception. For a top Tour pro, that income can be more than what they earn on the course. Even newly-minted PGA Tour pros can pocket $100,000 for equipment and $50,000 for apparel when securing their cards.
Of course, players like Tiger Woods and Rory McIlroy command eight-figures to wear the Nike brand.
Golf.com's Paul Sullivan outlines the various mountains of moolah paid to marquee Tour pro.
Take for example Justin Rose.
Playing in one of the last groups, the television cameras tracked every swing, but it also caught plenty of shots of his sponsor logos — on his hat, on his lapel and shirt, on his bag.
His three-under final round wasn't enough to overtake the champion Max Homa. But for one of his lead sponsors, his third-place finish was as good as a win. For the entire Sunday broadcast, the "Morgan Stanley" printed across Rose's hat got the financial services firm more coverage than its rival Wells Fargo, which shelled out a lot more money to be the event's title sponsor.
"I quite enjoyed that," said Mandell Crawley, head of private wealth management at Morgan Stanley, who championed the deal to sponsor Rose.
Such exposure is like the tagline from MasterCard, whose logo is stitched into Rose's lapel: priceless. Except in this case, Rose's hat goes for $5 million a year.
What do the golfers offer in return?
Fly around the world for a client tournament? Audemars Piguet asks that of top European golfers like Henrik Stenson, Tyrrell Hatton and Andrew "Beef " Johnston. Be a cheery and positive dinner speaker to clients right after a grueling round at TPC Sawgrass, win or lose? That's Rose's job at the end of The Players Championship, which Morgan Stanley sponsors. Fix Charles Barkley's swing? CDW, which adorns Paula Creamer's hat, asked her to try that in an ad, but even a major champion can only do so much.
Justin Marcus, chief operating officer at Princeton Information, a family-owned information technology company, pushed the company to sponsor a player a decade ago. "A buddy brought a golf agent to play golf with me at Bayonne [Golf Club]," he recalled. "We hit it off. It was around 2008 and he said, 'There are some good deals going on, and these guys are flexible.'"
After looking at an array of players, ranging from Nationwiders to Jim Furyk, Marcus said the company picked John Senden, the hard-hitting Australian.
"I could have gotten a guy no one had ever heard of for $5,000," Marcus said. The company paid about $60,000 to sponsor Senden and get its logo on his right breast pocket. Marcus said the decade-long relationship — in which Senden would come to several client events to play and talk — has been great: "He does a little homework on the guys he's playing with," he said. "He's been awesome."