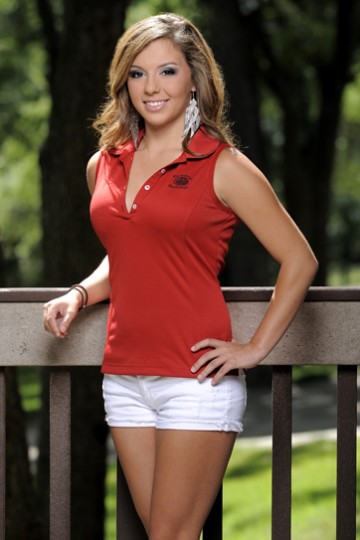 Breianna Elia

The Golf Club Fossil Creek
View Breianna's behind-the-scenes video by clicking here.

Hometown: Denton, Texas
How long have you been a cart girl? Seven months
In 10 years you would like to be: Helping people and be on my way
to becoming a head nurse.
The most interesting fact about yourself: I can't stick my tongue out.
Favorite foods: Mexican food, pizza and I can't go to bed without ice cream – my grandma calls it a tradition.
If you had more time, you would: I'd let my inner creativity come out, maybe do some of those crafts I've pinned on Pintrest. The biggest thing would be to do some offshore fishing.
The next risk you want to take is: Seeing what is in the bottom of the ocean sounds interesting.
Favorite music: My radio stays on country, but I like everything.
Turn-ons: Easy-going, humble-hearted people and facial hair.
Turn-offs: People that try to use money to win you over.
Fantasy person to date: Brody Jenner
What man's age is too old to date? Seven years older.
The best way to impress you is: The little things.
Interests: Shooting, fishing, hunting, camping and anything outdoors.
Biggest tip: $500 Visa gift card
College: Tarrant County College, North Central Texas College, Nurses Aide Academy
Worst pick-up line: "Do you know how to swing a golf club? Because I need some help with my stroke."