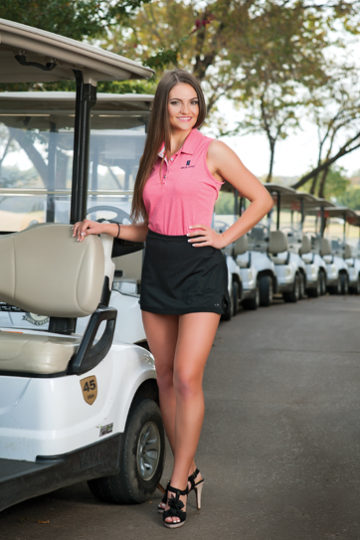 Blaine Cathey

Golf Club at Twin Creeks
Hometown: Houston, Texas
How long have you been a cart girl? Three years
In 10 years you would like to be: A travel nurse, trilingual and with a life just as exciting and adventurous as mine is right now.
The most interesting fact about you: I'm so funny, actually. I can do some freestyle tricks because I was a Division I athlete for soccer. I still kick around for fun and no man can beat me one-on-one.
Favorite foods: Ever since I backpacked around the Mediterranean, I've really taken an interest in olives. But seafood is definitely my favorite food. I always eat pretty healthy too- salads and lean meats.
If you had more time you would: I'd take dance classes, master billiards, experience more, and travel for extensive periods of time. I'm already planning my next backpacking trip.
The next risk you want to take is: I already live out of my comfort zone everyday. I would like to start investing money.
Favorite music: I enjoy a very wide variety of music; particularly house, hip-hop, electronic dance music, and old school rock and rap.
Turn-ons: Athleticism, uniqueness and originality, humor, a nice smile and nice hairstyle. A gentleman who works hard and loves to have fun.
Turn-offs: Even though I'm a beverage cart girl, I don't like men who drink often. Disrespectfulness, smelling, or not putting in effort to look sharp.
Fantasy person to date: Thor.
What man's age is too old to date? I look for men my age or a year or two older. I'm not really interested in anyone more than 4 years older than me.
Best way to impress you: Besides being athletically superior, going out of your way to make my day. Valuing what I say and think, recognizing my style, and appreciating my opinions.
Interests: Fitness, drawing, health, trail running, concerts, traveling, laughing.
Biggest tip: $150
College: I played soccer for UAB then transferred to TWU and I start nursing school in January.
Worst pick-up line: Are you an Italian thief? Because you just stole a pizza my heart. I replied "That is so cheesy."