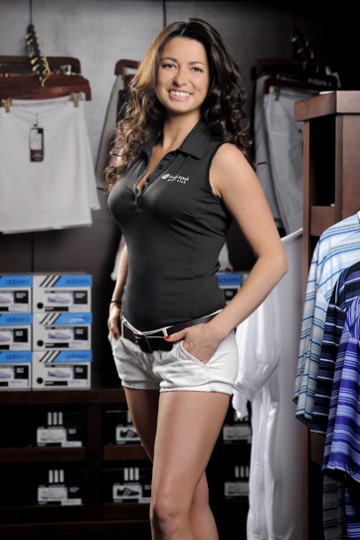 Heather Lawrence

Indian Creek Golf Club
View Heather's behind-the-scenes video by clicking here.

Hometown: Santa Monica, Calif.
How long have you been a cart girl? A year and a half
In 10 years you would like to be: Happy.
Interesting facts about yourself: I was a ballerina for 15 years and trained
with professional companies. I also learned to golf by watching all you avid golfers play while at work.
Favorite food: I'm in love with food, but my absolute favorite is chocolate.
If you had more time, you would: Travel and meet new people.
The next risk you want to take is: Teach ballet, yoga and Pilates.
Favorite music: I love all music from classical to metal. My favorites are reggae and classic rock.
Turn-ons: Someone who thinks for himself, doesn't take life too seriously, is positive and confident.
Turn-offs: Someone who doesn't take care of himself, negativity, laziness,
and if you don't laugh at my jokes.
Fantasy person to date: Adriana Lima
What man's age is too old to date? Everyone grows at a different rate, so age is not usually a factor.
The best ways to impress you are: Come see me at Indian Creek! I will be extra impressed if you make me laugh and/or bring me chocolate.
Interests: Dance, music, golf, snowboarding, camping, travel, reading, art, surfing, and I love being a social butterfly.
Biggest tip: $450
College: Northlake College and Le Cordon Bleu
Worst pick-up line: "There's a party in my pants. Why don't you climb up my
leg and have a ball!"