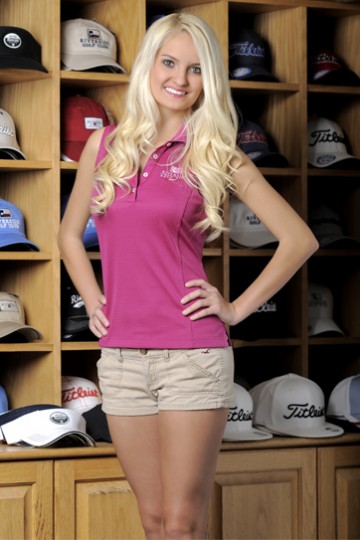 Kayla Moor

Riverside Golf Club
View Kayla's behind-the-scenes video by clicking here.

Hometown: Grand Prairie, Texas
How long have you been a cart girl? Six months
In 10 years you would like to be: Happily married, a teacher and living
in a nice house.
The most interesting fact about yourself: I can touch my nose with my tongue.
Favorite foods: Sushi, steak and salmon
If you had more time, you would: Go on lots of vacations, and sleep in every day.
The next risk you want to take is: Skydiving!
Favorite music: Country
Turn-ons: A sense of humor, good hair, and someone who laughs at my jokes
Turn-offs: Bad hair, cockiness and selfishness
Fantasy person to date: Channing Tatum
What man's age is too old to date? I'm 20, so I guess someone who is 28.
The best way to impress you is: Laugh when I'm trying to be funny.
Interests: Being with family and friends, seeing movies and going fishing.
Biggest tip: $30
College: Navarro College
Worst pick-up line: "Are those space pants, because your butt is out of this world."