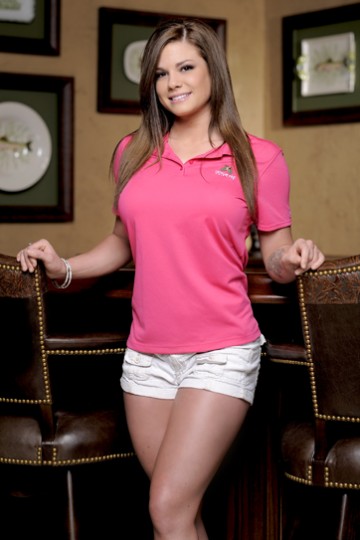 Madyson Foy

Southern Oaks Golf Club
View Madyson's behind-the-scenes video by clicking here.

Hometown: Burleson, Texas
How long have you been a cart girl? Three months
In 10 years you would like to be: In California with a successful business.
The most interesting fact about yourself: I was on the "Family Fear Factor" reality show in 2004.
Favorite foods: Peanut butter, pizza, pancakes, waffles, Quest bars and any kind of nuts.
If you had more time, you would: Travel.
The next risk you want to take is: Swim with sharks.
Favorite music: Electronic dance music
Turn-ons: Someone who is physically fit, loyal, down to earth, has ambition and a great personality.
Turn-offs: A big ego.
Fantasy person to date: Chris Hemsworth
What man's age is too old to date? Anyone older than 37.
The best ways to impress you are: Be yourself and make me laugh.
Interests: Sports, marine biology, fashion, nutrition and bodybuilding.
Biggest tip: $700
College: National Academy of Sports Medicine
Worst pick-up line: "I think you're suffering from a lack of vitamin me."