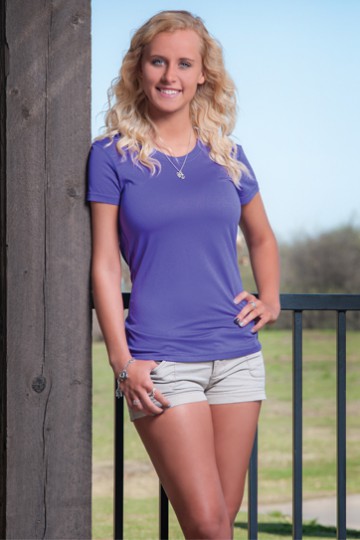 Audrey Williams

Mansfield National Golf Course
Hometown: Arlington, Texas
How long have you been a cart girl: About five months
In 10 years you would like to be: God has a plan for me, and wherever I end up, that's where I'm supposed to be … but preferably on a huge ranch with lots of animals.
The most interesting fact about you: I raise livestock, and I showed my animals at major stock shows while I was in high school.
Favorite foods: Anything edible other than seafood
If you had more time you would: I'd either be fishing, hunting or riding horses
The next risk you want to take is: I want to face my fear of heights.
Favorite music: Anything country or danceable
Turn-ons: Someone who shares the same love and passion I have for animals and the outdoors. Someone who can handle my personality and tattoos are always a plus.
Turn-offs: A man who doesn't know how to treat a lady
Fantasy person to date: Tuf Cooper
What man's age is too old to date? I try to stick between the ages of 20 and 23, but personality could change my mind.
The best way to impress you is: Be a true gentleman, and take me dancing or fishing.
Interests: I go dancing all the time and I go fishing as much as I can.
Biggest tip: $100!!
College: I plan on going to school for animal science, haven't decided where.
Worst pick-up line: "Will you be my Uber this Saturday night and go to dinner with me?" I said "No."