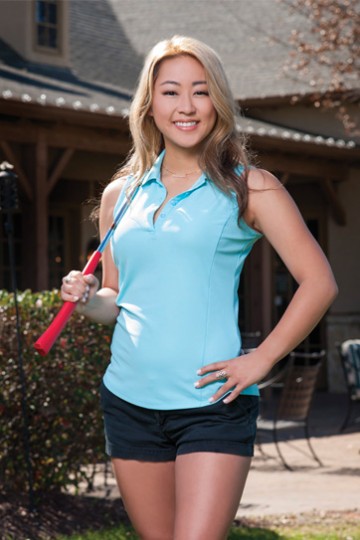 Leslie Smith

Bridlewood Golf Club
Hometown: Flower Mound, Texas
How long have you been a cart girl: Almost one year
In 10 years you would like to be: Surrounded by 10 dogs with a great job, a great husband and great kids
The most interesting fact about yourself: I was adopted as a baby.
Favorite foods: Spaghetti and meatballs, pizza and sushi
If you had more time you would:  Spend more time with my friends
The next risk you want to take is: Applying to a university
Favorite music: Pop and hip-hop
Turn-ons: When guys smell good!!! And when guys wear watches
Turn-offs: Mean drunks and overly aggressive men
Fantasy person to date: Bradley Cooper, Jason Sudeikis and Justin Bieber
What man's age is too old to date? More than 10 years older, unless you're Bradley Cooper or Jason Sudeikis
The best way to impress you is: Having a genuine conversation with me
Interests: Shopping, eating good food, and having fun!
Biggest tip: $130
College: North Lake College
Worst pick-up line: I asked, "Do you want sugar with your coffee?" He said, "Stir it with your finger and it will be sweet enough."