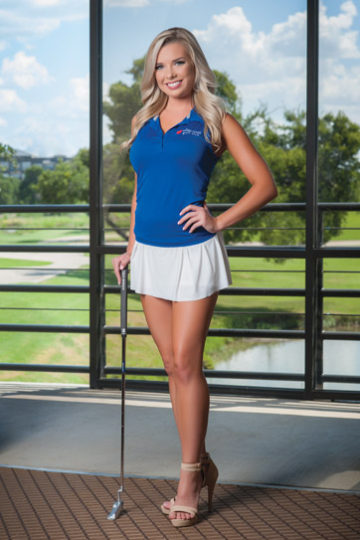 Brooke Martin

Indian Creek Golf Club
Hometown: Flower Mound, Texas
How long have you been a cart girl?  5 years
In 10 years you would like to be: Happily married living on a beach somewhere
The most interesting fact about you: I was Cart Girl of the Year back in 2012.
Favorite foods: All the chips. French fries, macaroni and cheese… real healthy stuff.
If you had more time you would: Travel, travel, travel!
The next risk you want to take is: Conquering my mild fear of heights by skydiving or something of the sort.
Favorite music: I love all types of music except for country. Crazy coming from a Texas girl, right?
Turn-ons: Having a great sense of humor, a sense of adventure, being respectful, sweet, honest and caring.
Turn-offs: Arrogance, entitlement and bad breath
Fantasy person to date: Superman
What man's age is too old to date? Ehh age is just a number but if you're a great-grandfather, you're probably too old for me.
Best way to impress you: Make me laugh, challenge me, hold intriguing conversation. Be a gentleman!
Interests: Music, dogs, outdoor activities, travel, spending time with family and friends
Biggest tip: $420
College: NCTC…I'll finish one day.
Worst pick-up line: "If you were a fruit, would you be a cutecumber or a fineapple? Either way, you make me feel good from my head tomatoes."