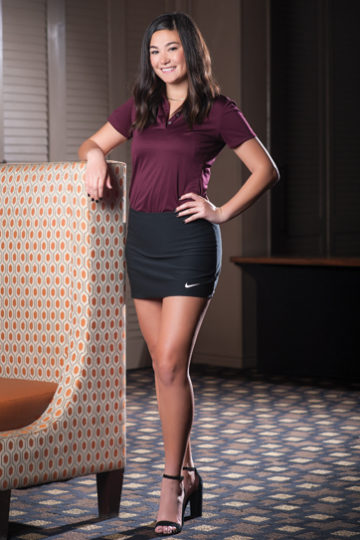 Heather Heyns

Canyon Creek Country Club
Hometown: McKinney, Texas
How long have you been a cart girl? About two and a half years
In 10 years you would like to be: Happily married to the love of my life with a cute little family of our own
The most interesting fact about yourself: I was born in Hawaii.
Favorite foods: Pho!!! And also pizza, tacos, chips and queso, bacon, and California rolls … the list is never ending
If you had more time, you would: Definitely travel more; I've never been out of the country.
The next risk you want to take is: Skydiving
Favorite music: Country
Turn-ons: Good teeth, pretty eyes, nice physique, I like someone who is motivated/has goals
Turn-offs: Egomaniacs, bad hygiene, and terrible style
Fantasy person to date: Liam Hemsworth … what a beautiful man
What man's age is too old to date? I probably wouldn't date someone more than 5 years older than myself.
The best way to impress you is: Make me laugh
Interests: Brunching/drinking mimosas, shopping, watching "The Bachelor," sleeping, hanging out with my gal pals
Biggest tip: $200
College: Richland College
Worst pick-up line: "Did you just fart? Because you blew me away"