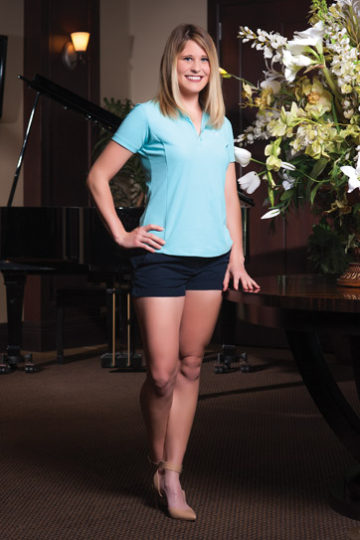 Sarah Sattler

Coyote Ridge Golf Club
Hometown: Colleyville, Texas
How long have you been a cart girl?  A little over 2 months
In 10 years you would like to be: In a career that I love, a mother and happily married
The most interesting fact about you: I've been to 20 countries. Traveling is my passion!
Favorite foods: I will eat anything. I'm not a picky eater! I do have a huge sweet tooth though!
If you had more time you would: Travel! There are so many amazing places on this planet!
The next risk you want to take is: I am going on a road trip this summer to Glacier National Park and will be camping and hiking. There are LOTS of grizzlies up there so I am a little frightened about sleeping outdoors but it will be an adventure.
Favorite music: Anything that I can dance to and has a good beat.
Turn-ons: Intelligent, driven, adventurous and someone who can make me laugh
Turn-offs: Lazy and arrogant
Fantasy person to date: Daniel Norris! Perfect mix between mountain man and an athlete. Who doesn't love a baseball player with a great beard?!
What man's age is too old to date? Realistically probably 10 years older than me
Best way to impress you: Someone who is sincere, treats me with respect and will take me on spontaneous adventures!
Interests: Spending time with my family and friends, staying active, hiking
Biggest tip: $300
College: University of North Texas
Worst pick-up line: "Hey girl. Are you German? Because I want to be Ger-man!"