Course Review – Irving Golf Club

Just East of Loop 12 in Dallas sits what used to be Twin Wells Golf Course. The course had fallen on hard times and the City of Irving wanted to revamp this track to reflect their commitment to community and give the city a course they could be proud of. 
After securing a budget, officials reached out to John Colligan Golf Design for a proposal to transform this property from downtrodden to dynamic. Colligan and his project architect Trey Kemp have been busy over the last several years, taking on renovations of Stevens Park, River Crest Country Club, Rockwood Park, and most recently, designing the new Texas Rangers Golf Club. All four have received rave reviews, and Texas Rangers Golf Club was recently awarded a new Korn Ferry Tour event. The Veritex Bank Championship will be held in April 2020 on this exciting new course. 
Their latest project reflects not only their commitment to community, but their willingness to produce top quality golf holes that are meant to be enjoyed by any skill level, all at a price point that will keep regulars coming back again and again.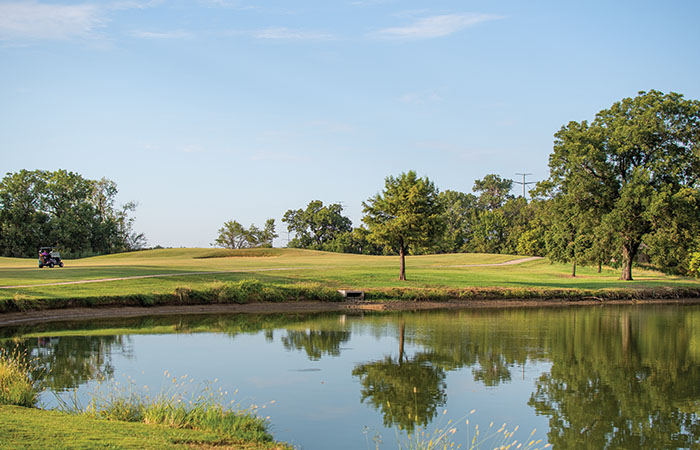 From the back tees, IGC plays about 6,600 yards, which provides a stern test for the experienced player, while still allowing for some birdie opportunities at every turn. For those looking for a leisurely round, play it forward to the blue tees at 6,100 yards or the white tees, playing around 5,750. Regardless of the tee selection, players will have the opportunity to score, again reinforcing a Colligan philosophy that golf should be "enjoyed and not endured". 
A few of the highlights of the course include No. 2, the longest par-4 on the course, playing 458 yards and back into a prevailing south wind. A hard draw is the optimal ball flight, adding some distance to maximize players chances at a birdie. Shorter hitters can be looking at a long iron into the green, making this hole a difficult par. 
The initial par-5 on the course is the 520-yard fourth. An accurate tee shot is required as the Trinity flows all down the left side and another water feature guards against any tee shots that head too far right. A good tee ball leaves a manageable distance for the longer hitters, but beware, as the bunkers that are short of the green appear to be greenside, but they are actually several yards short of the putting surface, making this approach a bit of an optical illusion. A clever architectural design by Colligan and Kemp to add some defense to a gettable par-5.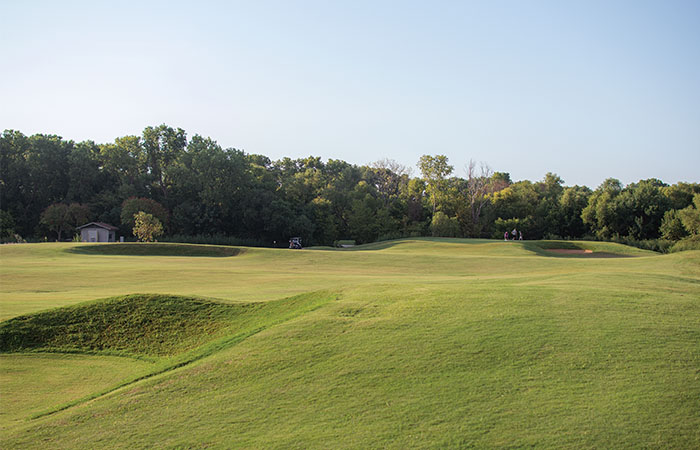 No. 6 is one of the more intriguing risk-versus-reward holes on the front nine. Playing right at 300 yards, this drivable par-4 is a scorer's delight. A slight dogleg left, an accurate tee shot has the chance to get to the green and yield an eagle opportunity, or those who choose to lay back can pick a wedge number and hit an iron. It can be a watershed hole for the front nine. 
If you do tee it up at Irving GC, make sure you take a second to appreciate a little history between the No. 6 green and No. 7 tee. Just to the left, near a walking trail, is what remains of an old bridge. The Iron Bridge at Eagle Ford Crossing once served as a getaway route for Bonnie Parker and Clyde Barrow to escape Dallas Police by heading into the then rural fields of Irving. 
The par-5 ninth hole features a bunker in the landing zone that can swallow tee shots from the longer hitters. Favor the right side of the fairway to eliminate the threat. Longer players can give the green a run in two, or a layup to an optimal short iron number is a reasonable play. While the grass continues to mature, the area behind the green is a bit rugged, but in the future the plan is to shave this hill and create a backstop that could make for some interesting ball action on any shot carrying long of the putting surface. 
The back nine at IGC is unique in that it features two par-5's and a trio of par-3's. Par is 35, but the three par-3's is a bit of a rarity on any nine in the Metroplex.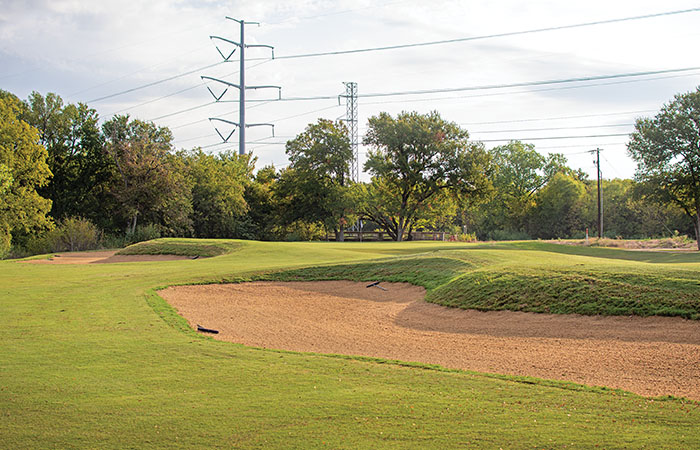 No. 12 is one of my personal favorites at the redesigned club. A par-3 over water that plays 154 yards, the hole faces east to west, meaning it will almost always be in a crosswind, putting club selection at a premium. 
The final three holes on this redesign are truly a gamer's delight. If you have a bit of money on the line, or if you are trailing your playing competitor by a couple shots, you can really be aggressive on this 3-5-3 finish. 
The par-3 16th plays 183 yards and will usually play back into the south wind. A large green means players will need to be precise with their yardage or risk having a long putt that will be tough to get down in two. 
The penultimate hole is a 547-yard par-5 and will play in the opposite direction from No. 16, and usually with the wind. A good tee shot should catch some extra roll (especially during the summer months) and leave a slightly downhill down wind second. Knock it on in two and you can possibly see a two or three shot swing against your playing partners. Makes for a fun time down the stretch.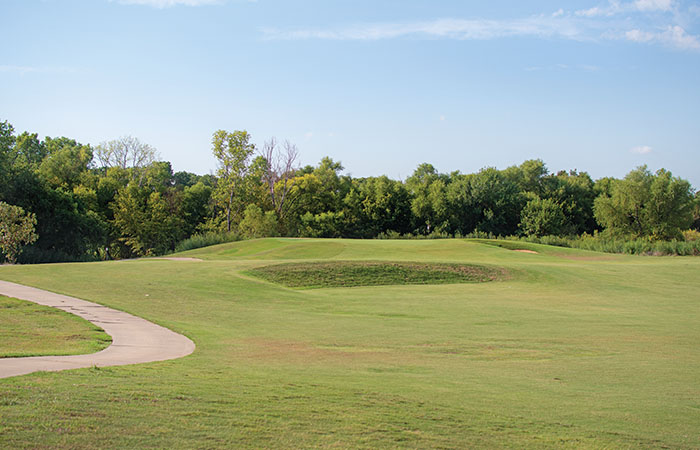 The number of courses in the DFW area that end with a par-3 are few and far between. The Retreat comes to mind, but there certainly aren't many. Irving Golf Club's finisher plays 173 yards and slightly uphill with a creek short of the putting surface. Anything a little heavy will likely find a watery grave and could deal one final blow to your scorecard. An accurate iron shot might render a birdie and send you to the car with a smile on your face. This hole is a unique finish to a unique redesign. 
In addition, the spiffing up of the clubhouse is expected to be complete in mid-October, so the snack bar and kitchen will be back to fully operational. It's a true full property upgrade that gives the City of Irving a new and fun course for the daily fee golfer. Colligan and Kemp have once again proven that they aren't bound by budget, terrain or soil conditions. This is yet another to add to their growing portfolio of quality, playable courses. Irving Golf Club is a fun, budget friendly addition to the DFW golf landscape.