Cover Story – Kyle Berkshire, 2019 World Long Drive Champion

With his now signature long hair dripping with sweat, Kyle Berkshire makes his final preparations to become a long drive immortal. Ball after ball sail into the Oklahoma night sky, seemingly never reaching for the ground below. 
Berkshire, a 22-year-old destroyer of golf balls, known for his flowing brown locks and rock-step triggered, 155-mph swing, has been playing golf since he was 3. The son of a former Secret Service agent, hitting the ball farther than anyone on planet Earth is the culmination of many years of inconsistency on the course followed by a dedication to hitting a driver unlike anyone who has ever put a tee in the ground. 
Last month, just north of the Red River, not far from where Berkshire played two years of collegiate golf at the University of North Texas, this Maryland-born phenom captured the 2019 World Long Drive Championship etching his name next to the likes of long drive legends such as Jason Zuback, Sean "The Beast" Fister and Jamie Sadlowski. For Berkshire, the hard work and countless hours refining his swing to maximize distance paid off with a 407-yard blast on ball No. 4 of his finals set against two-time champ Tim Burke. A primal roar followed, signifying one final adrenaline dump following close to a week of violent swings against the world's best. 
Berkshire has always been a long hitter, even as a child. His father Bill encouraged his golf game and as many other parents, wanted Kyle to find his way to college to play. And then, who knows? Maybe one day end up on the PGA TOUR. As a student at Archbishop Spalding High School, Berkshire climbed to as high as fourth in the Maryland state rankings, helping lead the Cavaliers to a state title in his junior campaign. 
Coach Pete VanZandt, who has known Kyle and his father Bill for many years, also serves as the head golf coach at Archbishop Spalding High. 
"The thing that stuck out about Kyle was his real singlemindedness toward the game of golf. He's a wonderful player. Even at 5 or 6 he could hit the golf ball a long way. He was hitting 250-yard tee shots at that age." VanZandt said. "You can tell even by the swings that he takes now that he can produce a lot of distance." 
Although he's now known for his drives, Coach VanZandt was often impressed with Berkshire's short game as well.
"The shot that sticks out the most to me from his high school career was a shot he hit in the league championship at Caves Valley Golf Club." VanZandt said. "Kyle hit a 40-yard bunker shot on the last hole to about 2 feet. It was the point that secured the championship for us. It was a spectacular shot."
After a successful high school career, his journey would lead him to the University of North Texas, where he was given a golf scholarship and continued to refine his skills under head coach Brad Stracke, who put Berkshire on a weight program and watched as his swing and ball speeds continued to develop and increase. 
"When Kyle was here, he was swinging 128-132 (mph)," Stracke said. "There were a couple guys as long as Kyle when he arrived on campus, but he quickly surpassed them. He's such an intense competitor and at that time, he most likely hit it farther than anyone in collegiate golf."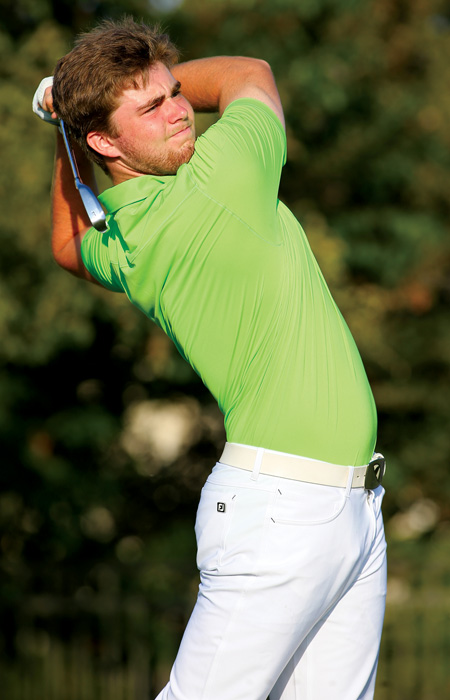 Though Berkshire was longer than almost anyone he was competing against, at times his game was wildly erratic. 
"He struggled with consistency and that was the main reason we had the conversation about him trying the long drive circuit," Stracke said. "I knew he had what it takes to be one of the best and I couldn't be happier that this path has worked out for him." 
With growing concerns about his consistency, Berkshire made the transition to the long drive game. Prepared to spend a couple years on the long drive circuit hoping to develop the killer instinct that would buoy future success in competitive rounds, the now 21-year-old began to reengineer his swing for pure length. Despite top-of-the-food-chain club head and ball speeds, his first few months on the World Long Drive stage didn't render many wins. 
Enter coach Bobby Peterson.  
Peterson, who has been involved with long drive since 1992, has a 30-acre property that he has transformed into a facility that forges mortal golfers into golf ball-pummeling mutants. 
The training facility has a 3,200-square-foot indoor facility with a pair of bay doors, a golf simulator and a Flight Scope doppler system to pair with Berkshire's personal Trackman. In addition, Peterson's property also has a full competition grid with a 20×40 tee box with four stations allowing competitors to hit balls into a 185-yard wide, 480-yard long grid. 
"I have the grid marked off starting at 300-yards. Players can actually practice hitting to a grid rather than an open range. Then we can start working on shot-shaping and things like that." Peterson said. 
The hitting area even has a sound system setup with speakers to simulate competition conditions the players are going through during their sets. It's got everything a growing long drive champion needs. 
In 2018, Peterson actively began to scout Berkshire. And though his contracts were set for his 2018 season, Peterson could immediately recognize Berkshire's natural ability. At the 2018 Ak-Chin Smash in The Sun, Berkshire suffered a loss to Paul Howell in the quarterfinals. Questioning why he seemingly couldn't get over the hump despite numbers that would suggest he should be hoisting trophies; Berkshire sought some advice from Peterson. 
 "I explained to Kyle that he has the speed, but he didn't understand aerodynamics or ball-flighting skills," Peterson said. "And I told him that his equipment could be tweaked to match what he was doing."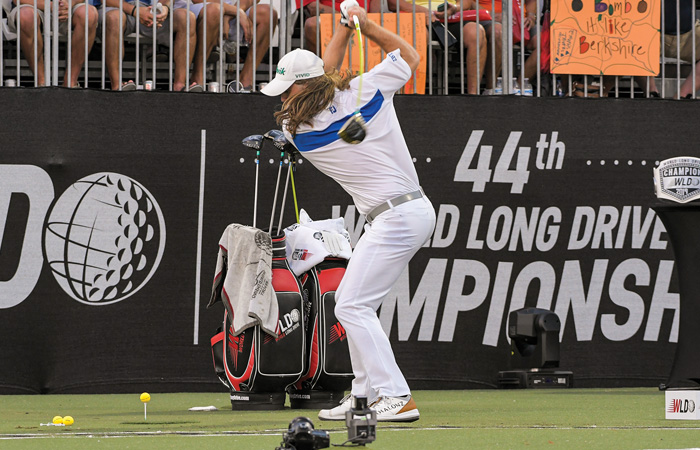 After the World Championship in 2018, Berkshire and his father took a trip to meet with Peterson at his facility. The three came up with a plan to move forward and create the ultimate in long driving behemoths. 
"In December 2018, we went to work. In January we were putting in a lot of hours testing different equipment, different swing styles and finding out what his strengths and weaknesses were. From there we laid out a plan. And Kyle literally has a 20-year-plan. That's part of what I love about him. We don't do anything on a whim." Peterson said.    
  Since getting hooked up with Peterson, Berkshire has refined his diet, his workouts and his practice sessions to hit a golf ball as far as humanly possible. His swing speeds are now hovering in the mid-150's and his ball speed has been recorded as high as 230.9 mph. 
For some comparison, Cameron Champ registered both the highest swing speed and ball speed on the PGA TOUR in 2019. Champ's top club head speed was measured at 135.2 and his top ball speed was 198.9. As ludicrous as that may be, it's still a 20-mph difference in club head speed and 32 mph slower ball speed than Berkshire's personal bests. 
If you asked the casual golf fan who is the longest player on the PGA, many would probably point to Brooks Koepka, who is widely known not only a four-time major champion, but also as one of the longest hitters on tour. Koepka actually had just the 8th highest speed for a single swing on tour in 2019, at 126.38 mph. 
Yeah. Berkshire is THAT long. 
Berkshire vs. Jordan 
Last month, we compared my baseline numbers to those of Kyle Berkshire.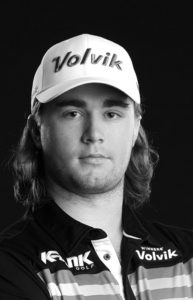 Kyle Berkshire Swing Stats
Occupation: Champion Long Driver
Ball Speed Average: 219.4 mph
Ball Speed Max: 228.2 mph
Carry Distance Average: 377.2 yards
Carry Distance Max: 406.7 yards
Total Distance Average: 404.8 yards
Total Distance Max: 432.7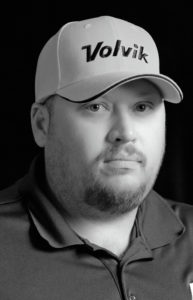 Eli Swing Stats
Occupation: Middle Aged Magazine Editor
Ball Speed Average: 158.4 mph
Ball Speed Max: 162.4 mph
Carry Distance Average: 247.9 yards
Carry Distance Max: 271.8 yards
Total Distance Average: 264.7 yards
Total Distance Max: 312 yards
*Based on data collected at Sellinger's Power Golf in Roanoke, Texas*
"At some point physics dictate the numbers can't get much higher," said Jamie Sadlowski, who captured the World Long Drive Championship back-to-back in 2008-09. "I feel like competitive speeds haven't changed dramatically over the years. I would look at overall distances more than ball speeds. I'd say there is a top tier of hitters that are separating themselves, but long drive will always involve a combination of distance and accuracy. Kyle definitely creates the most speed, so he is in a position to control his own destiny if he hits his best shot." 
Since the strict training began in North Carolina, Berkshire has been able to laser focus his time and energy and has evolved into a mechanical, data-driven machine, constructed specifically to send golf balls screaming into the wild blue yonder. 
"Having seen him throughout the season and this week at the World Championships, he's going to be hard to beat. And he may be hard to beat for a while with some of his numbers." Said Jason Zuback, a 5-time Open Division champ. 
As the legend began to grow, Berkshire began to market himself. His social media channels are a big hit, with an Instagram (@kyleberkshire) that boasts 57.2K followers and a Twitter that lit up like a Volvik Vivid golf ball the night of his WLDC win, with PGA TOUR pros in awe of some of the numbers they were seeing on The Golf Channel. Online social media impressions were up a whopping 70% during this year's telecast and that's likely not just a coincidence. Berkshire and his team have a clear marketing strategy, and it's working to perfection both for him and for the World Long Drive Tour. 
With his growing popularity and marketability, the endorsements started to roll in, from companies like Krank golf, the brand of competition driver that Berkshire uses. President of Krank, Lance Reader, was quick to recognize the talent and signed the budding star to their stable of otherworldly hitters, alongside Tim Burke, Justin James and 2018 World Long Drive Champ Maurice Allen. 
"Certainly, Kyle has changed long drive in a very short time. He has proven that combining talent, an extreme work ethic and the best driver ever made for long drive gets extreme results. Kyle Berkshire has raised to bar in this sport forever and he is just getting started." Reader said. 
With a title belt to his name, Berkshire now has to defend and somehow continue to evolve and remain at the top of the heap. 
"I think he's got the potential to have one of the great all-time careers in the sport. People are going to have to raise their game to catch him. He knows how to win. I think had he needed to hit it 440, he would've hit it 440." Said Art Sellinger. 
Sellinger, who once owned the World Long Drive Tour and is the 1986 and 1991 World Long Drive Champion, has had the pleasure of watching Berkshire develop as an analyst for The Golf Channel. 
"It's alternative golf television and we need guys like Kyle to help move the sport forward." Sellinger said. "They're really trying to legitimize it and when you see guys flying it 400-yards, believe me, it resonates."
Just days off of his World Long Drive Championship, AVIDGOLFER caught up with Berkshire as he tried to soak up the spotlight of being the longest hitter on the face of the Earth. 
AVIDGOLFER: Did you play any other sports growing up?
Kyle Berkshire: I played basketball until I was about 12 and baseball for another couple years after that, but it was exclusively golf after age 14. 
AG: You have always dealt with some hearing issues. Can you elaborate on that and how can it help when you're in competition?
KB: I have like 40% hearing loss in both ears. I think what that does is help me focus, especially when there's extreme pressure. I tend to not hear people that are yelling from the crowd. So, if I'm down to my seventh or eighth ball, I have the ability to shut that out and hit an absolute dagger when I need to. 
AG: What was your time like at North Texas?
KB: I was struggling to find form my first year at UNT. I was really streaky. We would have qualifying, and I would shoot like 67-80 or 65-77, so I was very inconsistent.  What you have to do to make it to the tour is be consistent and stay red-hot for four rounds straight. I began to understand that my streaky play was the result of a lack of confidence. I wasn't believing in myself enough to finish the job. I figured if I had some success on the long drive tour for a year or two and got used to that feeling of success there was a chance of it translating to the course. 
AG: When did you realize maybe long drive was a better vehicle for you to showcase your talents?
KB: As I got more into the sport and saw the potential it had. My sophomore year I started seeing mid-130's club head speed with my play driver and I started realizing it made more sense to do this. I was prepared to grind at this for a couple years because of my swing speed, but I have gotten to enjoy this a lot more. It gives me the opportunity to brand myself, the money is good, I'm on TV and it's a lot of fun.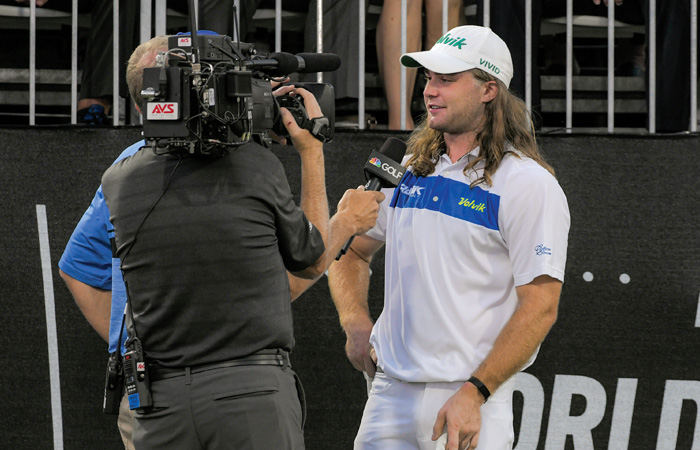 AG: How are you able to get locked-in with all the hoopla, especially surrounding an event like the championship in Oklahoma?
KB: Coach Peterson has a facility fully devoted to long drive competitors in Newton Grove, North Carolina. I went up there to train and it's a perfect setting. It's a quiet, out of the way place in a small town. When I'm up there in competition I can look out and, in my mind, see the grid in North Carolina and at that point everything goes away. My mind is quiet, and I just focus on hitting the grid. When I'm in North Carolina, I hit that grid about 80% of the time. So, when I can lock-in, I can beat the percentages that usually knock you out, especially on a tight grid like the one at the World Championship.     
A Typical Competition Day for Kyle Berkshire (For 7:30 ET Start Time)
✓ 7:00 a.m. •  Wake up, large meal (all protein)
✓ 8:00 a.m. – 1 p.m. • Nap
✓ 1:00 p.m. • Lunch (mix of protein and carbs)
✓ 4:30 p.m. • Snack (fruit and other simple carbs)
✓ 5:30 • Arrive at range
✓ 5:30 – 6:00 p.m. • Initial warm-up (max swing speed 145)
✓ 6:00 – 6:15 p.m. • Cool Down
✓ 6:15 – 6:45 p.m. • Secondary warm-up (max swing speed 150)
✓ 6:45 – 6:55 p.m. • Cool Down
✓ 6:55 – 7:25 p.m. • Final warm-up (max swing speed 151-152)
✓ 7:30 • Competition
AG: We watched you in Oklahoma as you prepared for competition. Most of the guys seemed to be conserving energy, especially given the heat and humidity, but you were hitting ball after ball after ball. Is fatigue ever a concern?
KB: Not at all. My coach and I know to succeed you need to have a huge fuel tank. Over the two months I spent with him, we pushed my body. I could only hit 50-75 balls in a session at first, but after a while we pushed and pushed. The last couple weeks up in North Carolina, I could hit 1,000 balls a day. I cannot tire myself out. I probably hit 3,000-4,000 balls in the five days I was in Oklahoma. I've trained for it. My body was ready. It's huge, because when you have an endless number of balls you can hit, you can dial yourself in and stay at the top of your game during a very grueling World Championship.   
AG: You say you maybe hit 4,000 balls the week you won the title. How many do you think you've hit in 2019?
KB: I think I've hit about 50,000 balls this year. And we just performed an MRI on my body to make sure we could move forward with my offseason program and everything was fine. Nothing hurts. Everything is perfect.   
AG: You're just 22-years-old. At your age most guys are more concerned with parties, girls and living it up. Where do you get this discipline from?
KB: I have taken after my father a lot. He started from nothing and he's been very successful and built it from the ground up. And it's not really discipline when you love what you're doing. I love this sport so much. There's nothing I would rather be doing than hitting golf balls. This isn't work to me. I liken it to how much Tiger Woods trains. He just loves it so much and I'm the same way. Not going to lie though, I have been partying a little bit over the last couple weeks to celebrate.    
AG: Let's talk a bit about the unique way you trigger your swing. If your long hair isn't your signature, then it's likely this rocking motion you use to build momentum in your swing? How did that come about?
KB: I started doing it I think in early December 2018. I was an established hitter, but I wasn't quite taking the next step to get past some of the quarterfinal rounds. So, my coach and I knew we needed one more improvement to take me to that next level. We looked and decided my swing didn't have a very good trigger and that was leading to some inconsistency. We theorized that maybe if I could start with a step-in and a step-out it may help give me a fluid consistent motion. 
AG: Was it always a big step, or did it take practice to get used to?
KB: We started it off with a small shuffle that you could barely notice and by Atlantic City in June it was more of a step, but my feet weren't off the ground much. By the ROC City Rumble in July I was stepping up with both feet and by Worlds I was taking the big steps.   
AG: How much did that add to your swing speed?
KB: My body is very efficient with it now. I'm 155-156 club speed and I'm consistent at that speed because I have a more consistent trigger to take the club back and much better momentum. Because of that momentum and that weight shift it's allowing me to deliver more speed to the golf ball. 
AG: You hold what is believed to be the world record for ball speed at 228.5 MPH. Is there a limit to how high this number can go just based on equipment and physics?
KB: My highest ever was 230.9 in practice. The current balls should be able to withstand speeds in excess of 250. I really think there is the potential for a 240 ball speed for me within a couple years and that's a goal I have set. 
AG: Are there any other benefits of using that move to trigger your swing?
KB: Injury is less likely because my power is generated from momentum of my weight and not torque on my body. 
AG: What has changed for you in the few weeks since you won the World Championship?
KB: I feel like on social media I'm getting a lot of messages from Tour pros. Tony Finau tagged me on Twitter about wanting to get to 200 ball speed. Rory McIlroy wants to do something in terms of an interview. Pat Perez, Luke Donald, Bryson DeChambeau are all tagging me and talking about that rock step. People are noticing that I have the highest numbers in terms of swing speed and ball speed than anyone in the history of the sport. So, more people are paying attention. 
AG: Do you think tour pros following along is helping legitimize the sport?
KB: Absolutely. It's a huge win for the sport. It's a step toward making sure this sport is something that not just a few guys can make a comfortable living doing. 
AG: Who are some of the long drive guys that you followed before you started competing? Did you follow it much before you started as a competitor?
KB: I was aware of it, but I wasn't a hardcore follower. I knew some of the top guys. I remember watching Jason Zuback set the ball speed record on SportsCenter. I followed Sadlowski, and I was there when Tim Burke won the title at the Las Vegas Motor Speedway in 2013. And now that I'm in the sport, I look up a lot to Jason Zuback. We talk almost every day and now that I have a belt, he's kind of welcomed me into that fraternity of champions. I think he recognizes what I have the potential to do and I think he wants to see me perform to that potential.  
AG: Now that you're officially the longest hitter in the world, are all your friends from back home calling you to compete in every charity scramble they're a part of? Seems like you'd be the No. 1 ringer for that kind of thing.
KB: I have gotten a few calls like that over the last couple years. But most of my friends know what the answer is going to be. With all the training and travel it's not easy to commit to doing those kinds of things. But I do have an event with some friends coming up that I hope to play in. 
Long Drive Career Highlights
Current No. 1 in the Official World Long Drive Rankings
2019 World Long Drive Champion
2019 Tennessee Big Shots Champion
2019 ROC City Rumble Champion   
2019 Long Drive Cherry Bomb Invitational Champion
2019 Endless Summer Invitational Champion
Special thanks to Bill Berkshire, The World Long Drive Championship and Sellinger's Power Golf for their contributions to this piece.