Course Review – Oak Hollow Golf Course

McKinney is another North Texas suburb that is now busting at the seams with population growth and activity. With a population of about 220,000, McKinney is home to the AT&T Byron Nelson, as well as plenty of golf-obsessed folks who are champing at the bit to get out and tee it up. Oak Hollow Golf Course is located right in the heart of the city, just minutes from historic downtown. This 18-hole layout is great for those looking to tee it up without spending an arm and a leg to do it. 
Oak Hollow features a nice 7,300 sq. ft. clubhouse which opened about 12 years ago and has everything one might need before or during the round. It has a very rustic feel, with dark colored wood tables and big leather sofas in the middle of the common area, which offer a very inviting feeling as you walk in. A full-service snack bar and several flat screen TV's make this a great place to enjoy a cold beverage at the turn or post-round. Oak Hollow also provides a 2,700 sq. ft. pavilion which is perfect to accommodate awards ceremonies and dinner after a charity outing. 
The course conditions are perfectly fine for an affordable municipal course. They aren't life changing by any stretch, but the greens were good during our visit and the fairways and tee boxes were above average for the price point. The Maury Miller design doesn't appear tremendously long on the scorecard, playing at just 6,679 from the tips, but we found this number to be a bit deceiving, as there are several holes that seemed to play a little longer than the advertised yardage, and playing as just a par-70, the length can sneak up on you.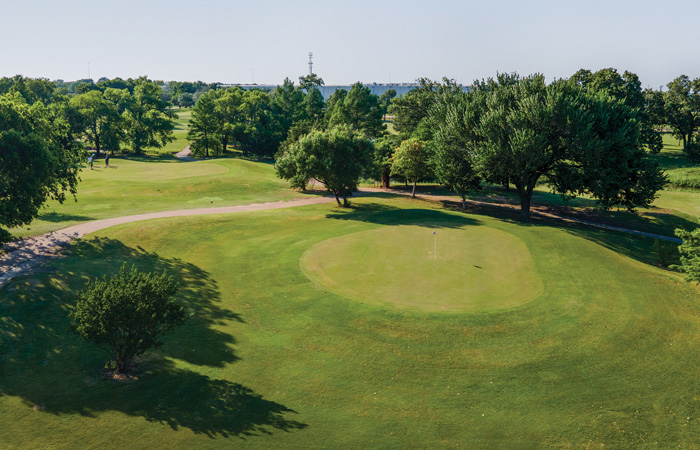 The first hole registers at the No. 17 handicap on the course, so it provides an easy way to begin the round.  Playing just 363, any tee ball that finds the right side of the fairway is in great shape. There is a pond down the left side, so be careful not to pull anything too far left of the fairway. A ball in the middle leaves a manageable approach and a good chance for a birdie to begin the day. 
No. 4 is one of my favorite holes on the outward nine, playing at 412-yards from the tips, this downhill dogleg right plays a bit shorter than the yardage on the card. A good cut tee shot will leave a simple approach to a green that is receptive to spin. Just be aware that your ball may be caught on a little downslope, so be careful that you don't get steep with your iron shot and chunk one. 
The final four holes on the front nine are a great test of golf. No. 6 is one of the two par-5's on the course. It is pretty-much straightaway, but there is a small pond that needs to be carried off the tee. The fairway here is narrow, but should you find it, there is a chance you can get home in two and scribble an easy four on the card.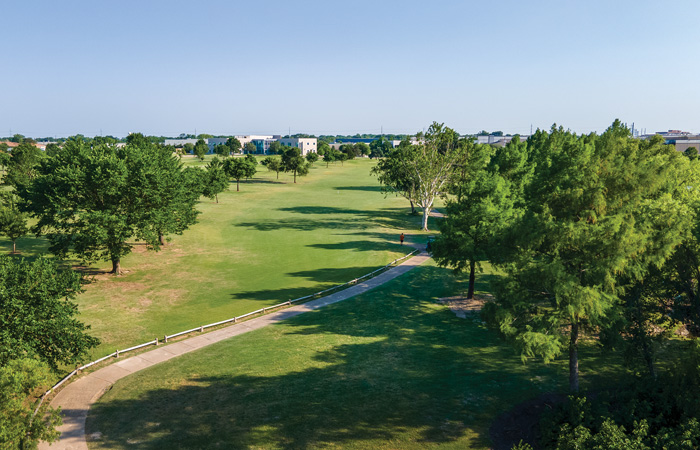 Oak Hollow's signature hole is the scenic par-4 8th. This dogleg left, 421-yarder will challenge even the best players. A creek runs all down the left, so tee shots need to avoid that side at all cost, but missing right isn't any good either, as trees can block out approach shots with a miss on that side. The approach must stay toward the right or can find the same creek up near the putting surface. A par here is a great score. 
No. 9 is another par-3 that shouldn't be anything more than a short iron to this large green. A miss short will leave balls trundling down away from the pin, leaving a potentially awkward up-and-down. It's a fun little finishing hole to the opening nine.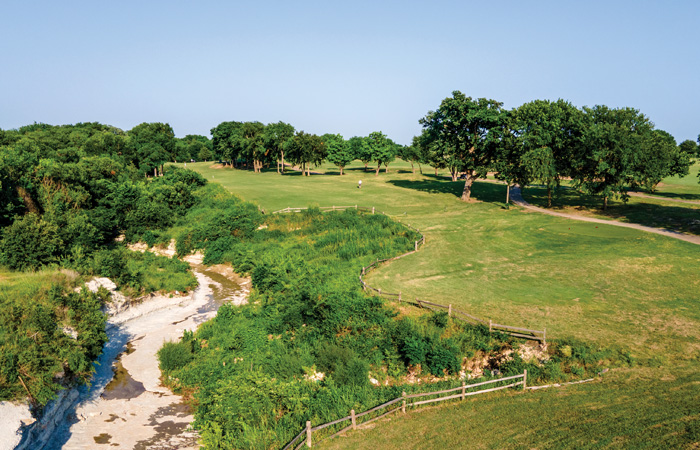 The back nine at Oak Hollow provides more challenges, including a fun dogleg par-4 that comes your way at No. 12. A tee shot over the prominent tree on the left is a great line that will leave players with a short iron or even a wedge into the green. 
The par-4 14th hole is one of the most challenging on the inward nine. The dogleg right makes for a challenging tee shot, which must be sent over water to reach the fairway. The uphill approach will almost certainly require an extra club, and on windy afternoons, the second shot can really be a tough customer. A four can be a good score on this one. 
No. 15 is the most difficult par-3 on the course. The elevated and two-tiered green make this one hard to hold, especially when hitting a long-iron. Long of the putting surface is a very challenging up-and-down as beyond the green runs downhill toward No. 16 tee. Missing left or right presents a challenging chip shot. If anything, the miss here is a bit short of the green. And be sure to check the wind conditions, as this can greatly impact club selection. 
No. 16 is a fun little hole where hitting the fairway is at a premium. Miss left, and a collection of trees and a pair of bunkers can be real trouble and lead to a layup second shot. The proper line is down the right center of the fairway off the tee. This will leave a short iron for the longer hitters but be sure to double check your yardage as the deep green can add an extra club depending on pin placement.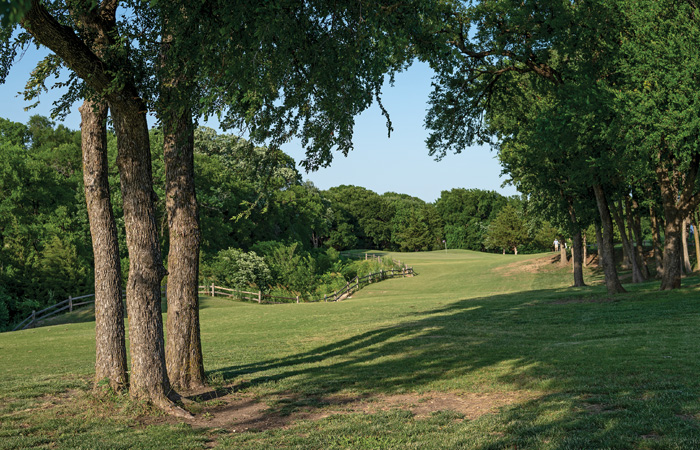 The final hole at Oak Hollow is the second of the two par 5s on this par 70 layout. This downhill hole promotes a draw off the tee, which will add some distance and give players a chance to give the green a run in two. Don't miss too far left, though, or trees could dictate that you lay up instead of trying for the home run second shot. The green here slopes back-to-front, which means whether you decide to go for it or lay it up, missing the green long is a no-no and can lead to a tough chip and putt. 
Overall, Oak Hollow is a solid municipal course. The layout has some great, fun holes. The course conditions are solid for their rate, which is right around $50 for a weekend, prime time round. Not bad at all. I truly enjoy No. 8, which in my opinion, is one of the most challenging tee shots anywhere in Metroplex municipal golf. The clubhouse checks all the boxes, with solid food units for your mid or post-round consumption.
Oak Hollow Golf Course 
3005 N. McDonald St. 
McKinney, TX 75071
972-562-0670
www.oakhollowgolf.com