I have loaded my clubs into a vehicle and headed in many different directions from the Dallas-Fort Worth Metroplex, but until recently the northeastern direction was vacant from that list. I am happy to report that is no longer the case. The 325-mile, four hours and change, easy jaunt to Hot Springs Village, almost all of which is traversed on Interstate 30, will receive serious consideration as a destination for another golf trip after my first foray there. Hot Springs Village is a scenic community spread across 26,000 acres of the Ouachita Mountain foothills, with plenty of rental properties strategically placed among the pine trees and lakes of the area. 
Our lodging for the weekend was a comfortable two-level townhome that abutted the waters of Lake Desoto. It included a top level with a furnished kitchen, a separate eating area with a table that would work nicely if a card game happened to break out, a sitting area with a flat-screen television, and a master bedroom with an adjoining bathroom. There was also a little balcony patio off the common area, which provided a nice spot for an end-of-evening cigar and cocktail before retiring for the day, or a place to sip a cup of coffee before heading out and enjoying the sunrise with the tranquility disturbed only by a group of the state's most industrious woodpeckers beginning their daily ritual.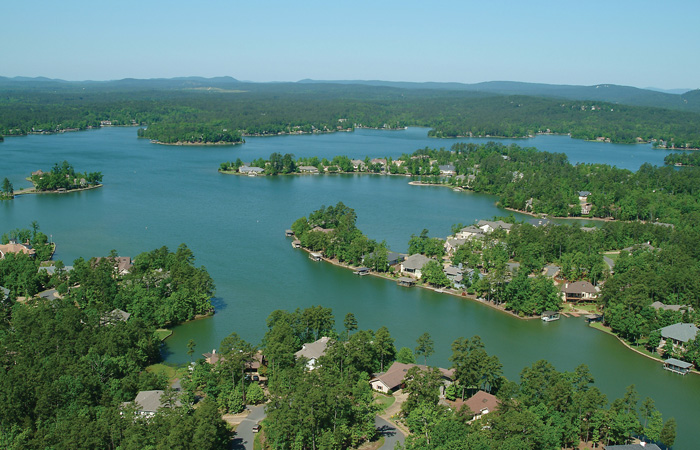 The bottom level included an accessible bathroom space adjacent to one bedroom and just outside the door and three steps to the right of the other bedroom. One bedroom was furnished with a queen-size bed, while the other consisted of two twin beds, easily accommodating our foursome. Both bedrooms had flat-screen televisions and separate access to a patio. There was also a nice pavestone walking trail down to the water's edge, where there was table and chairs, if you prefer to start your day or end your evening a little closer to the water. We had access to a washer and dryer on the bottom level, and there was a grill if you prefer to cook your own steak instead of venturing out and having one prepared for you.
Based on the number of boats docked in the slips adjacent to and across from us, and the variety of the demographics we witnessed, there are plenty of water sport activities easily accessible and available. But I am afraid I won't be of much use describing those for you. You will have to seek alternative publications or do your own research for that information. I am sure you can find plenty of it at explorethevillage.com. But, in this publication, we lean toward the golf aspect of a destination, how you can satisfy your post-round hunger and an occasional look into the availability to wager some of your hard-earned money close by. 
First, we will cover the gambling. Hot Springs Village is only about 20 miles away from what is considered one of the premier thoroughbred racetracks in the country, Oaklawn, which first opened its gates in 1904. We did not get a chance to play the ponies during our stay, but I have it on good authority that if you like to dabble in the "Sport of Kings," this is a worthy venue at which to do so. Like many tracks around the nation, Oaklawn has added a casino to enhance its revenue stream. We were able to carve out some time to test our luck with games of chance during our visit.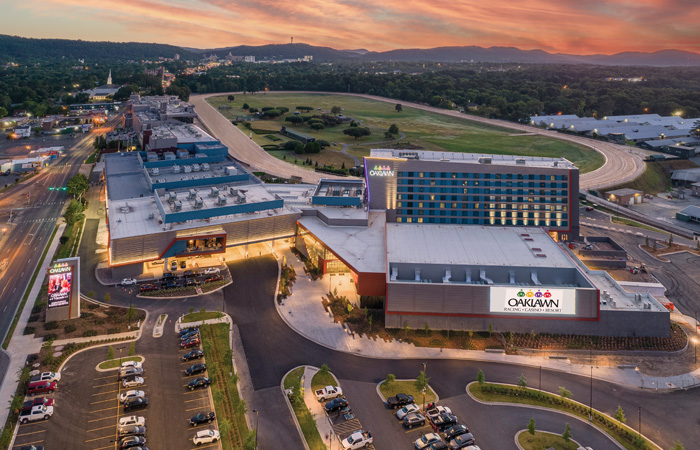 I would not consider the Oaklawn Racing Casino Resort to be a Vegas-type casino, but if you have the itch during your stay in the area, it can be scratched there. Like most casinos of that ilk, it is slot machine heavy, but several options for card and dice games also can be found. Like most gambling options, Saturday evening table minimums can be a little on the high side, but in their defense, they have a captive audience and there were not many empty chairs sitting around. 
The traditional craps tables did require a $25 minimum wager, but there was a hybrid table option where real dice were thrown but there were no chips. It allowed you to set your own minimums and place your own bets without the aid of dealers and was manned only by a stick man/person. Since all the wagers were handled electronically, no croupier was required. It was a different feel because the surface of the table was acrylic, but at least it involved a real person tossing real dice.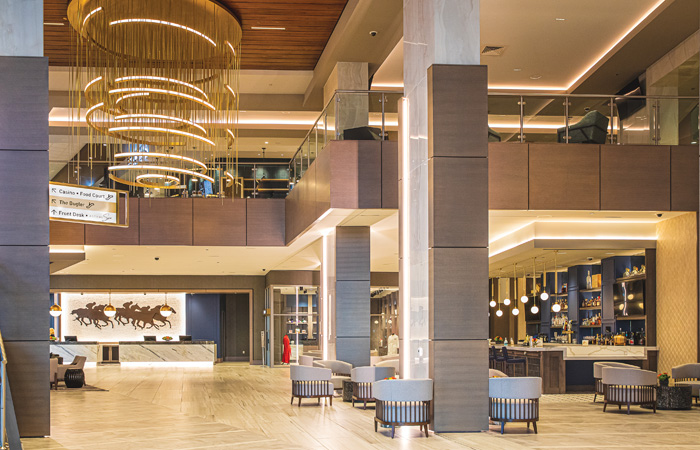 At the far end of the casino sat a small but decent sized sports book, if you wanted to try your luck at picking games or playing the ponies at other venues. There appeared to be a small variety of food options, from high- to moderate-pricing levels with table seating, a lounge with a bar and live music, and a diner-type stand-in-line "coffee shop" menu that involved taking a number. Much like a steak cooked at medium temperature, you will not be terribly offended nor terribly ecstatic with this option, but it will end your hunger pangs at a reasonable price. There are plenty of cocktail waitresses working the floor, but be aware … you will pay for your drinks whether you are wagering or not. At least a couple of self-serve soda fountains are available if you are trying to conserve your bankroll. One more item to be aware of: apart from a small, enclosed slot gaming area, the casino is nonsmoking; cigars are not allowed anywhere inside. One minor note, double-check your directions prior to leaving Hot Springs Village and heading to the casino. Siri directed us to the driveway of a residence before we had to recalibrate and find our way to our intended destination. I am not sure what the disconnect was, but just in case it happens to you, I thought I would make you aware. 
As for the golf in the Hot Springs Village area, which apparently was influenced by European explorers of the 15th and 16th centuries and those that funded their journeys, it was not only conveniently located to where we were lodging, it was picturesque, well-conditioned and provided a nice challenge without overwhelming us. While I cannot attest to the quality of all 10 clubs that explorethvillage.com lists on its website, hopefully, I can change that in future visits. I can inform that you won't go wrong if you traverse the three tracts we did during our stay there. All three were not only picturesque, but well-conditioned. You will certainly get a lot of bang for your buck, as the trio we played are priced well south of the $100 range. 
We began our day with a short 3.4-mile drive to the Cortez Golf Club and hit the parking lot with plenty of time to loosen up before our round. The course is scenically routed with tree-lined fairways and plenty of elevation changes. From the tips, it is a little under 6,700 yards, so it won't overwhelm you if you are the guy in your group who is not as long off the box. The bentgrass greens rolled well and were accessible, as long as you kept it in the fairway. There is a restaurant at the turn that was not open when we teed off, but they do take call-in orders. However, they appear to do a significant Sunday brunch walk-in crowd and I do not recall a beverage cart running there, so plan accordingly. It's a good place to end your first round of the day if you are interested in getting in 36.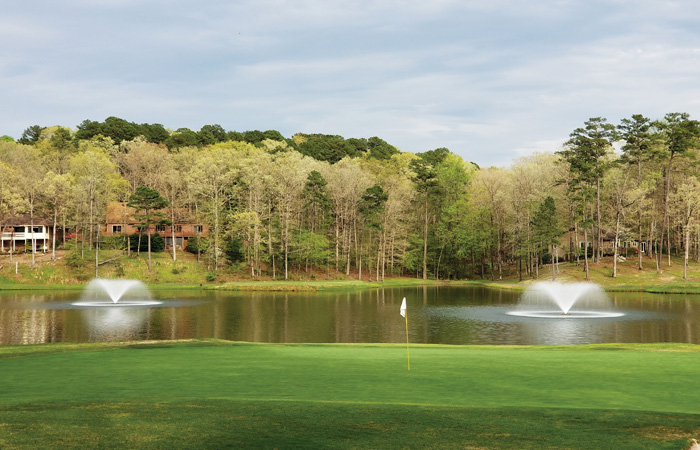 After making a quick drive back to our townhome for a couple of beers, we headed out for our second 18 for the day, a short 12-mile drive to the Isabella Golf Club, which contains three separate nine-hole routings: the Nina, the Pinta and the Santa Maria. If we had gotten a little earlier start, we might have been able to take a voyage on all three, but we only had enough daylight to sail the Nina and the Pinta. Isabella is a little more of a robust golf facility when it comes to practice-area facilities and offers a different type of challenge. The tips on all the combinations are in the 7,000-yard range, so choose your tees wisely.  The fairways appear to be a little wider there, but don't let your guard down. As with most places I play, trouble can be found. While the scenery was a little different than our morning round, it was equally pleasing. I would classify Isabella as a big-boy golf course that will require a little bit better ball-striking to score well. Take advantage of the drink machines that are well-positioned along the route to stay hydrated, and play all three options if you can. 
Our final outing of the trip required another short 12-mile drive to the Granada Golf Club. Granada also plays a little over 7,000 from the back tees, while also offering a nice test from one up. If forced to pick a favorite of the three, Granada would likely be my choice. Rumor has it that the original intent of the course was to serve as a second course to the original 18 holes of Diamante Country Club, the prestigious private club inside of Hot Springs Village. It looks every bit the part, with lots of elevation changes and plenty of challenges that will test you and keep you scrambling if you are spraying it around. Without slighting the other two courses, Granada is the prettiest of the three, with the type of scenery that you would expect at a higher-end course. I would probably save it for last – a nice parting gift as you conclude your trip.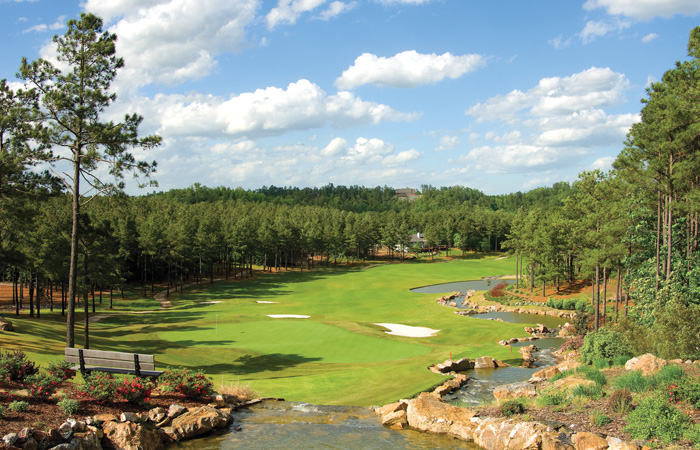 A couple of things that will require planning and forethought prior to your stay at Hot Springs Village: if you want to purchase beer and wine for the room, make sure you do it on Saturday. Package liquor is not the only thing that will require some preplanning, as it cannot be obtained on a Sunday. Your meals will take some thought unless you plan on buying groceries and cooking. There do not appear to be many options in the evening, and even fewer of those exist on Sundays. However, there are plenty of options 20 miles away in Hot Springs – just be prepared to travel for 30 minutes or so. I can recommend an outstanding option for a premium steak. JB Chophouse, also known as Bones, is a premium steakhouse with a reasonable price point. I believe we were all below $60 per plate, which included a salad, a side and a handful of baskets of the delicious bread. One minor note to consider: if you want to grab a Blizzard for the ride home, don't linger at the restaurant as most of the local establishments that are not on the main strip shut down by 9:00 p.m. 
Next time you and your buddies are sitting around sipping on a couple of post-round cocktails talking golf destinations for a quick getaway that are reasonably priced, make sure you mention Hot Springs Village in Arkansas. You won't be disappointed.