Course Review – Tempest Golf Club

Gladewater, Texas, isn't exactly known to the DFW area as a golf getaway destination, but those who have made the drive two hours east know the value and riveting layout of Tempest Golf Club. Just a couple miles off Interstate 20, about an hour short of Shreveport, sits one of the best layouts you'll find anywhere in that part of our great state. 
Once known as Southern Hills Golf Club, Jeffrey Brauer, who also did Cowboys Golf Club in Grapevine as well as several others in the area, was tabbed as the architect who would revitalize and reinvent this property back in 2016. The course officially re-opened for business in 2018, and the results truly speak for themselves. Brauer took this magnificent piece of land and, with some re-routing and tweaking, turned a mundane, 5,800-yard course into a 7,000-plus-yard true test, featuring five sets of tees that can be appropriate for any age or skill level, as well as utilizing the natural topography and water features to carve a gorgeous course into this east Texas terrain. 
One of the first things you'll notice when you arrive on property is the massive American flag that sits atop a 205-foot pole. The Stars and Stripes ripple and flutter in the breeze as you load your clubs on your cart and make your way to the driving range to hit a few pre-round nuggets. The flag itself is a whopping 80 feet long and 40 feet high, making it, at last check, the third-largest American flag in the state. It's a regal sight to behold, and one you can pick out from just about any point on the property as you work your way through 18 pine-framed holes. 
The clubhouse features Neptune's Grille & Bar, which is a great place to kick back and add up the scorecards while taking down some Poseidon's Fries, which are smothered in smoked cheddar, crispy bacon and green onion. Burgers, sandwiches and wraps are also available to go along with some cold beverages, adult or otherwise, when you are finished up with your round. If you are planning a tournament, wedding or corporate outing, the property is perfect for those needs as well, with a large banquet hall perfect for any occasion.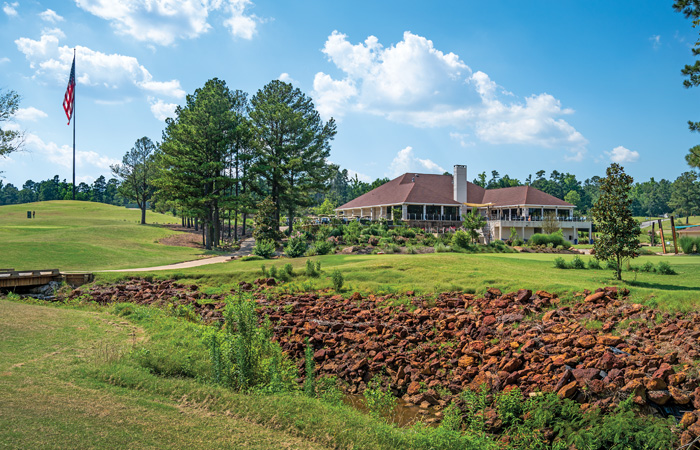 The course itself is beautifully unique, with plenty of elevation changes you won't find around the Metroplex. It has more of a Georgia-type feel to it, with lots of towering pine trees and meandering water features that make this 18-hole layout a new challenge with every shot. 
The opening pair of holes at Tempest offer a couple of real scoring opportunities before the course begins to wind its way up and down through the trees. The first hole is a 377-yard dogleg left. There is a creek that runs across the hole, which must be carried to reach the fairway. A large fairway bunker on the right side can collect tee shots that chase through the fairway, so the longer hitters may consider an iron or a three-metal to eliminate the chance of finding it. Hit the fairway and a scoring club will be in-hand with a chance to hit one close and open with a three on the card. 
No. 2 is another short par 4, playing only about 20 yards longer than the first. It is straight away, with a bunker on the right. Again, if players can find the fairway, it shouldn't be more than a wedge and another chance for a birdie. 
After a pair of holes to hopefully get you off on the right foot, the course begins to show some teeth. No. 3 plays as the second-hardest hole on the course and, at 470 yards, is a big-boy par 4. Although it doesn't play as long as indicated on the scorecard, due to a severe downslope that can add yardage to a good tee shot, the fairway slopes from left to right and 50/50 balls down the right side can end up in the trees or long rough, leaving players blocked out from seeing the green and with very little chance to make par. It's a tough hole, and one that will get your attention. 
Although the short par-3 fourth is listed as the easiest hole on the course, it can be a tricky club selection. The elevated tee box allows for a great view of the green, but this 157-yarder plays much shorter than indicated. There is also a small creek that winds in front of the green, so club selection here is critical if you want to find this putting surface. 
The first par 5 of your day at Tempest will be at No. 6. This 566-yard hole presents a very tough tee shot that crests a hill and then leaves a lengthy downhill look at the green. There are fairway bunkers left, and should you find one, there is almost no chance to get home in two. However, a gentle cut shot that catches the slope can really run out and add some distance and a chance for birdie. It is a stunning example of Brauer using the natural terrain to create a great golf hole. 
For my money, the eighth might be the most intriguing hole at Tempest. Of course, there are plenty of others, but for some reason, I really enjoyed this hole. I am not usually a guy who likes holes that take driver out of your hands, but this one struck me as well thought out and interesting. Although the hole plays 443, driver is not necessarily a good play, as the fairway slopes from right to left toward a creek. I chose to hit a hard, stinging 2-iron that caught the slope and chased down to the left. From there, I was a 7-iron in, but the green is a good club to club and a half uphill. And the green here is diabolical. Miss on the wrong portion of this putting surface, and you may be facing a three-jack or even worse. It's a fun hole, but one that requires a little local knowledge to know how to attack. 
No. 9 leads back toward the aforementioned American flag and opens a stretch of three par 5s in five holes. It is the second par 5 on the outward nine and proves to be a tricky driving hole. Any miss right can be gone, and playing from the shorter tees, there is water on the left that can be in play with solid contact, especially in the summer months when the fairways are running out. A ball in the fairway leaves a reasonable chance to get home in two, but a smarter play might be to lay-up to a good number and try to stiff a wedge. As you walk off the green on nine, don't forget to snap a selfie with the giant American flag over your shoulder. 
No. 10 is another par 5 with a sneaky tough tee shot. Players tee up and play over water, and there is a large fairway bunker that juts out from the left. It basically cuts the landing area in half. If getting home in two is the decision from the fairway, the shot needs to be precise, and the green is cut over a small creek and tucked among a grove of trees. A wild miss here won't likely be found, and with a multi-tiered green, it may be wise to lay-up and take the big number out of play. 
Undoubtedly, the most beautiful par 3 at Tempest comes at No. 12. This hole, known as "High Bridge," features a stunning tee shot of about 185 yards over a small, foliage-lined creek down in a gorge. Bunkers in front and behind the green make this a challenging yardage to judge, but the view is worth the price of admission. It's a great spot to get a group photo and makes a great story if you can write a two down on your scorecard.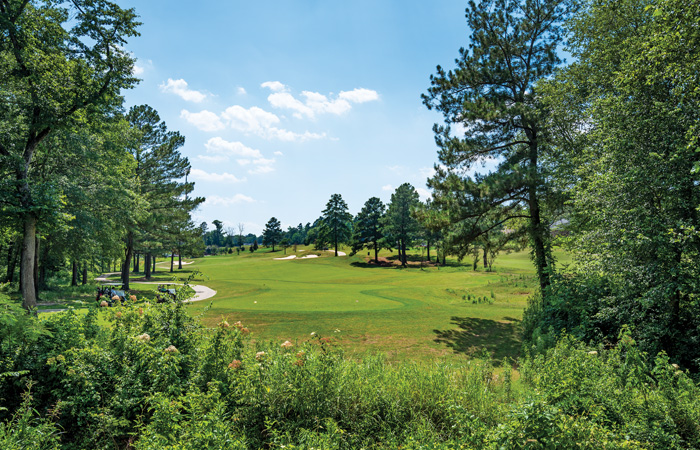 Another hole that really displays the elevation changes at Tempest is the par-4 15th. This slight dogleg left is blind from the tee, and any properly shaped right-to-left shot will careen down a hill and leave a short iron into the green. A miss right could be curtains, as the fairway slopes from left to right. The approach will also play slightly downhill, and anything that misses long of the green will be a near impossible up-and-down. 
As much as I enjoyed No. 8 and No. 12, I think my favorite hole of this Brauer layout must be the par-4 16th. This is a beautiful golf hole, with a slightly downhill tee shot that needs to carry a grove of natural underbrush and a small creek. The tee box is tucked amongst the trees, giving it a very serene feel as you stick a peg in the ground. A good drive here can chase up close to the green, but be wary, as it can also sneak into a bunker short and left of the putting surface that can be almost impossible to get out of. It is one of the deepest bunkers on the property and you don't want to end up there.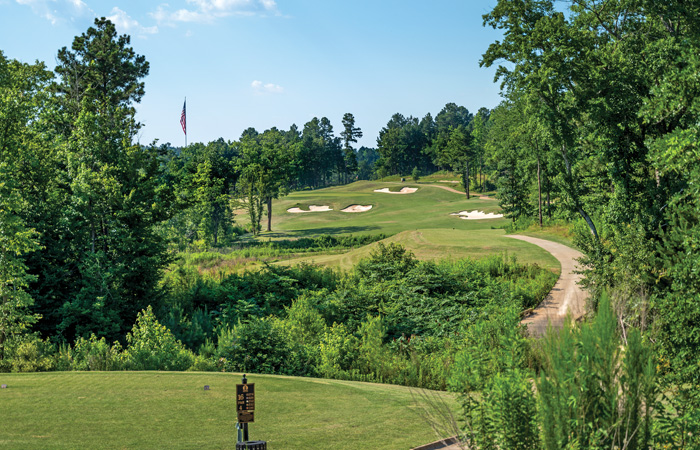 The final hole at Tempest is the No. 1 handicap on the course. This whopping par 4 reads more like something you would see on a U.S. Open scorecard, playing at 503 yards from the tips. The tee shot does play a little downhill, but it doesn't add a lot of yardage like some of the other elevation changes do on the property. The ideal ball flight off the tee is a slight cut, but anything too far right finds a watery grave, and anything bailed out left can run through the dogleg and find a large fairway bunker. Precision off the tee here is paramount. A good tee shot leaves a long- or mid-iron into a smaller green with severe mounding on the left. If the iron shot misses on that side, it is the most delicate of chips and can be near impossible to get within 10 feet of the hole. It's one final great challenge at Tempest. 
It can be tough to convince someone to make a two-hour commute for a round of golf, but Tempest meets the mark and is 100 percent worth the effort to get there. The course is unique, conditions are good, and at right around $75 for a premium weekend tee time, the price point is rock-solid. The work Brauer has done here is nothing short of sublime, and if you and your group are looking for a quick trip out east to play something other than the same old local muni, then Gladewater's Tempest is a good spot for your next round. 
Tempest Golf Club 
568 East Wilkins Rd. 
Gladewater, TX 75647
903-984-5335
www.tempestgolfclub.com