You may recognize the lovely Sam Gannon as the co-host of the popular Free 4 All on FOX 4 here in Dallas. On that nighty sports program, she sits beside veteran anchor Mike Doocy. Doocy has been in DFW since March of 1994 and has become a staple of Dallas sports broadcasting. Free 4 All covers everything DFW sports, from the Mavs and Cowboys to the Stars, Rangers and even the PGA. Their "Ticket Tuesday" has become a popular weekly segment, featuring radio personalities from Sportsradio 96.7 and 1310 The Ticket. 
Gannon is a Boston native and admittedly still pulls for the Celtics, Red Sox, and Bruins. But when it comes to football, she is a Cowboys fan through and through. She always watched "America's Team" with her father growing up, as he was a huge Roger Staubach fan. So, although from the Boston area, she doesn't claim the Patriots. 
As a young woman, Gannon was an athlete. A talented swimmer, she learned to compete at a young age, which not only gave her the itch for sports, but for competition and work ethic. She went on to the University of Connecticut, where she competed on the swimming team before admittedly getting burned out. She wanted a change, and wanted to reestablish herself with a new challenge, and journalism was her top choice. 
College came and went, and Gannon worked hard to refine her craft as an intern, and as an up-and-coming reporter in both Lake Charles, Louisiana working for KPLC-TV and then in Oklahoma City, where she was a sports anchor and reporter for KOKH-TV. While there, she covered the Thunder as well as OU and OSU football. 
Gannon is now fast becoming one of the most recognizable personalities in Dallas sports broadcasting, with her bubbly demeanor, infectious laugh, and radiant smile. Sam took some time out of her break-neck schedule to sit down with AVIDGOLFER last month, and we asked her about her career path and what it's like to co-host with Dooce. We think you will be as impressed with her as we were.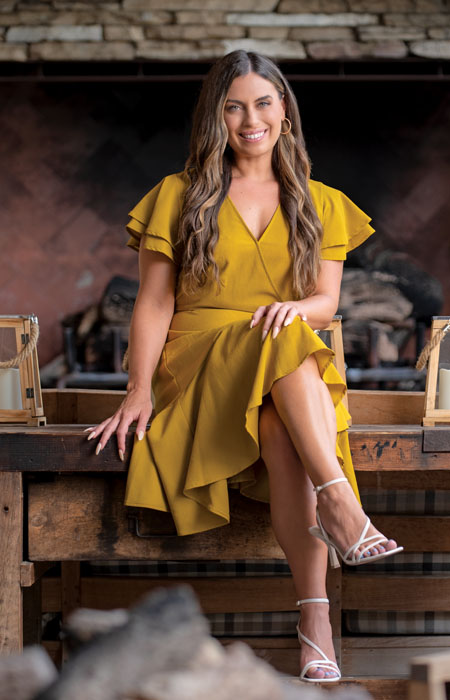 AVIDGOLFER: You're from Boston? 
SAM GANNON: Right outside of Boston. It's a town called Revere. It's very suburban and I went to a small high school. The school had about 500 kids. 
AG: I don't hear much of an accent. 
SG: You know, I never really had it. It will come out some around my friends. For example, I say wicked a lot, but I don't really have too much of it.  
AG: Okay, this is a golf magazine, but you don't play do you?
SG: No, unfortunately I don't. But I like covering the PGA when it's in town. Maybe you guys need to get Mike and I out and teach us a thing or two.
AG: You went to the University of Connecticut, right?
SG: I did. I was on the swim team there as a freshman. Then my body kind of got burned out. But swimming was where a lot of my time went growing up. 
AG: How did you get started in competitive swimming? 
SG: I started at age nine. Which is kind of late to be honest. I always enjoyed the beach and even though we didn't have a pool, I was always trying to get to friends' houses that did, and I was always the first one in and the last one out. My mom saw an ad in the paper for a summer swim team and signed me up, I fell in love with it, and I was good at it. It stuck with me ever since.
AG: Do you still like to swim?
SG: I actually just got back into it. I joined a masters swim team here in Dallas. 
AG: How do you feel like being competitive athlete helped you pursue the career you have now?
SG: I think it helped a lot. For a long time, swimming was my passion. It was year-round. When I quit, I felt like I had this void. I spoke to my mom, and she noticed that I had always had a passion for speaking in front of people, and she recommended I try journalism. So as a sophomore, I applied for the journalism program and that's how it got started. 
AG: Do you remember your first gig?
SG: The first internship I had was in radio. I love entertainment too, and I caught on with this radio show called Matty in the Morning in Boston. They're household names there. I would go in and pick out all the entertainment news of the day, and I loved it. So that was my first introduction to broadcasting. 
AG: How did you find yourself in the sports side of things?
SG: When I was in college, I realized I wanted to get into sports. I ended up interning with Kevin Nathan, who works at NBC Connecticut. He is my mentor and he's also a great friend. He's who I credit with giving me my start. I thought I was going to go home for the summer, and he contacted me and mentioned a production assistant job that was opening. It was a foot in the door job, but I took it. He's the main reason I'm where I am now. 
AG: What were your duties there?
SG: I was there for about a year and a half. I was printing out scripts for the anchors, I was editing, running the prompter… in fact, I remember a legendary broadcaster in Connecticut names Jerry Brooks, and I messed up the prompter. I thought my life was over. 
AG: At what point did you migrate to the sports department?
SG: I kind of weaseled my way into the sports department and started asking my boss if I could help. I started helping produce, learning the lingo and I was very eager. I got friendly with the photographers, and they taught be how to shoot and that helped so much. But I was learning to build a show and learning about the business. I also had the time to make a reel, so that was really helpful too. 
AG: What was your first real job opportunity?
SG: My first real job offer was as a news reporter in Elmira, New York. I drove seven hours there and as soon as I got into the town, I called my mom and told her I didn't think I could do it. There was a sports opening there, but the news director told me that if he liked me in news, that he would probably keep me there, so I knew it wasn't going to be a good fit. So, I turned it down. 
AG: How long before you found something else?
SG: Three months later the news director from Lake Charles, Louisiana called and offered me a job in sports. I had three weeks to move. We weren't sure how we were going to pull it off, but my parents were super supportive, so I moved to Lake Charles, and that was my first on-air job. I'm glad I waited, because the news job just didn't feel right, so I'm glad I held out for something in sports.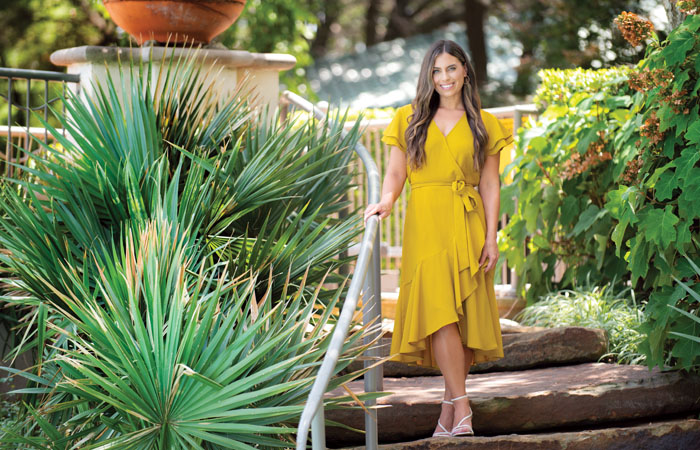 AG: Just being a news anchor is hard these days. There's just so much bad news it seems. 
SG: For us, the worst thing we cover is a death or something. But most of the time we cover games and happy things. It's entertainment, so that keeps it lighthearted most of the time. 
AG: How was Lake Charles?
SG: It was a culture shock for sure. I was there for two years. There was a misconception in Louisiana that people from the northeast weren't very friendly, but I think it's more a product of how hustle-bustle it is up there, but I fit in just fine and everyone was great. 
AG: From there, you made a pretty big jump to Oklahoma City.
SG: When I applied for that job, I had no idea I would be there for six years. That was such an important time in my life. It introduced me to professional sports, and the Thunder were really good at the time. They were always in the conversation for an NBA title, so that was great. We also had OU and Oklahoma State, which have very passionate fan bases, so it was a great primer for coming to Dallas. After I was there for six years, I reached a point where I was ready to grow, and I applied and I never thought I would get it, but after a long process, here I am working with Doocy.
AG: When you applied at FOX, did you know that you would be working with Doocy?
SG: Yes. It's funny, because Doocy always jokes that he wasn't necessarily wanting a co-host, but after I was hired, he was glad I came on board.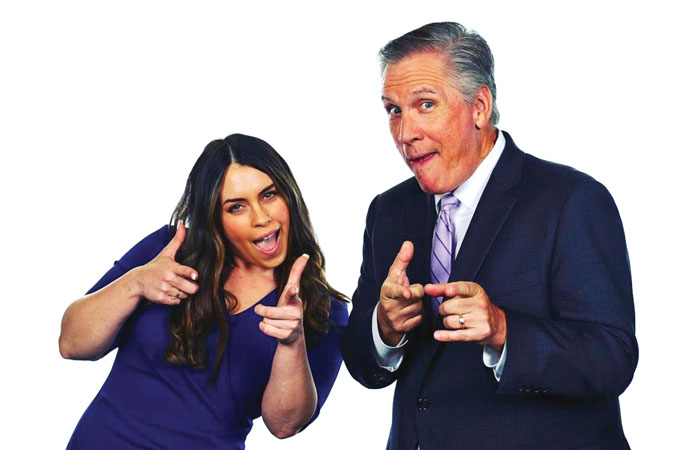 AG: What is the best thing about the job?
SG: I think it intrigued me because it was going to be more ad-lib and off-the-cuff type stuff, which is something I have never been able to do before. 
AG: Did it scare you to have to do a lot of unscripted broadcasting?
SG: Of course. And it was a little intimidating at first, because I had no idea how I was going to vibe with Mike. We're in different generations, but even during the interview when we did our audition together, he made me feel so comfortable and put me at ease. So from the interview to my first day, Mike has been wonderful. I can't say enough about how great he's been. The guy you see on TV is the guy he is, and you can't say that about everyone. So, I definitely don't take that for granted.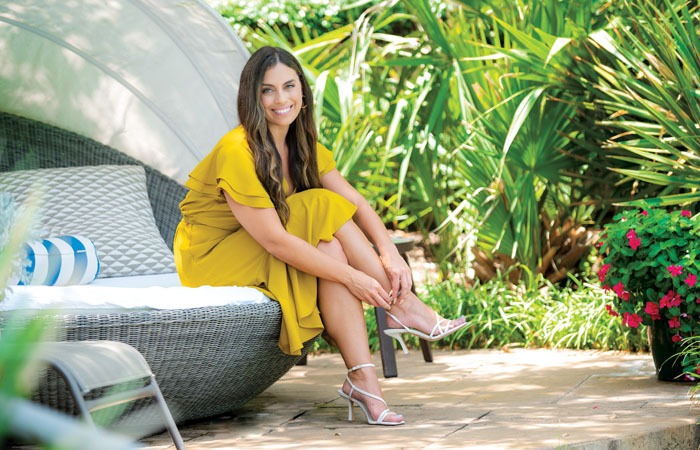 AG: Do you feel like you're locked in here for a while? 
SG: I feel like you always know when it's time to take the next step or make the next jump because you have done everything you can in a certain spot. I feel like I haven't even scratched the surface here yet. With COVID, the last year and a half has been so weird with all the restrictions and things that I haven't really been able to do the things I came here to do. I'm just excited things seem to be getting on track so I can get back out and do my job. This is one of the best markets you can be in. 
AG: What is your favorite sport to cover?
SG: I think the Cowboys and Mavs are my favorites. I have always loved covering the NBA, but with those it's probably 1A and 1B. Plus, the best media food in the country is at Jerry World.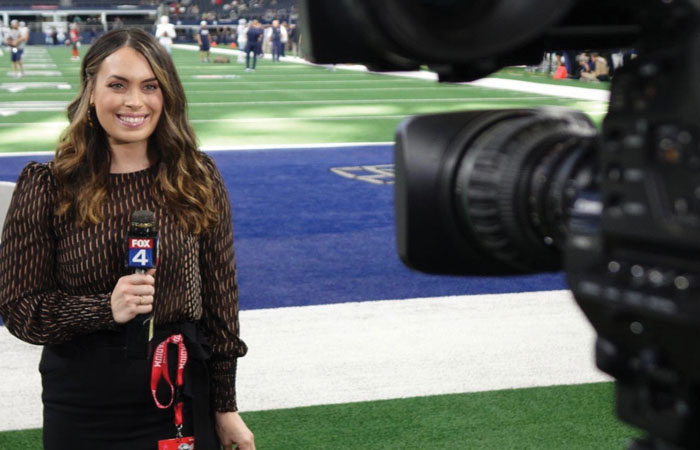 AG: It's becoming a lot more commonplace for women to get into sports journalism. What advice would you give to someone looking to break into the business?
SG: I would tell them to be prepared to grind and work your butt off. Be prepared to work harder with every step you take. You also need to work smarter, but each level you get to the expectations grow and you need to rise to the occasion. Other than that, I would pick everyone's brain you can. If you can take one piece of advice from every stop along the way, it adds up to an invaluable amount of knowledge. And never worry about hearing no. You will hear a lot of those, but all it takes is one yes to get your foot in the door. 
AG: Any final words of wisdom?
SG: It sounds cliché, but always live in the moment. It's easy to always be thinking about what's next, but when you do that, then you're not focused on the place you're at and you can risk missing it, so enjoy the moments as they happen. 
You can catch Sam Gannon on Free 4 All every weeknight at 10:30 on FOX 4. Special thanks to the Four Seasons Las Colinas for the hospitality during the photo shoot.