Cover Story – Sonny Dykes

Sonny Dykes took TCU to the National Championship game in his first year as Head Coach of the Horned Frogs. But the road hasn't been easy for the son of Texas coaching legend Spike Dykes. After a career playing college baseball for Texas Tech, the same university where his father roamed the sidelines for the Red Raiders from the mid-'80s until almost the turn of the century, Sonny has been on a wild ride. From coaching high school baseball, to becoming an assistant alongside revolutionary offensive minds like Hal Mumme and Mike Leach, Dykes has learned how to motivate, develop and recruit talent to several programs, including Louisiana Tech, California, SMU, and now TCU.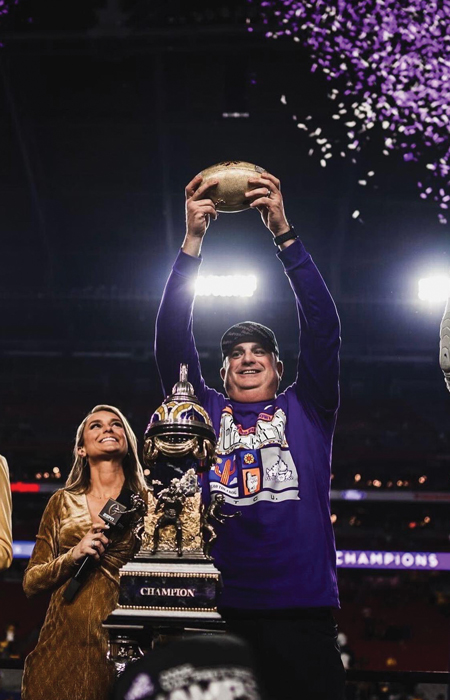 Dykes' ties to Texas run deep, beginning his career coaching baseball at Monahans High School in the Permian Basin. After a brief stint, the opportunity to begin coaching football came calling, and Dykes moved to the DFW area to take on a new challenge as an assistant for J.J. Pierce High in Richardson. The next decade saw many new challenges for the up-and-coming coach … from assistant jobs at Navarro Junior College, Kentucky, Northeast Louisiana, Texas Tech and Arizona. Then, in 2010, Dykes took his first head coaching position at Louisiana Tech, where the Bulldogs amassed a 22-15 record in his three seasons as head coach. 
After a four-season spin through Cal, where Dykes developed quarterback Jared Goff into the number one overall pick in 2016, SMU came calling. Dykes began coaching at SMU in 2018, going 5-7 with the Mustangs. In 2019, SMU began heading in the right direction, doubling its win total from the previous season and winning 10 games for the first time since 1984. After a seven-win campaign in 2020 and a canceled bowl appearance due to the COVID-19 pandemic, Dykes again led SMU to a winning record at 8-4 and another bowl invite, this time to the Fenway Bowl. But again, the game was scrapped due to COVID. Dykes left SMU with a 25-10 record. 
After a successful campaign with the Mustangs, Dykes migrated across the Metroplex to Fort Worth, to take the reins of a TCU program that had been building for the better part of two decades under Gary Patterson. Patterson was let go from the program after 2021, having amassed more wins than any coach in TCU history. A tough act to follow, for sure. But, in just his first season at the helm with the Frogs, Dykes did the nearly unthinkable, leading TCU to an undefeated regular-season record, an appearance in the Big 12 title game, and despite a close loss to Kansas State, the Horned Frogs still managed to finish inside the top four, earning their first appearance in the College Football Playoff, where they defeated a tenacious Michigan team to advance to the National Title Game. TCU faced a stacked Georgia program for the National Championship, and despite a loss in that game, the season was considered by most to be the best in program history.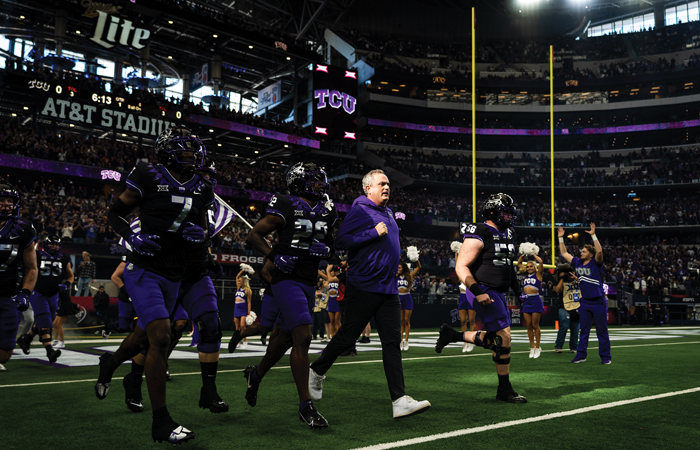 Now, as he, his wife Kate and their three children settle in for season two in Fort Worth, expectations are higher than ever, and Dykes spoke to AG about his plans for an encore in 2023, his golf game, and how his father and his colleagues over the years helped shape his coaching philosophy and his life on the sidelines. 
AVIDGOLFER: What was it like growing up the son of a football coach? 
Sonny Dykes When you grow up and your dad is coaching, you learn you are sharing him with everybody. Dad worked a lot. When you sign up to be a coach, you sign up for everything that comes with it. It was definitely fun, though; there was always extended family and always something going on. It's one big family, because you spend so much time around the program, players and coaches. You get to experience a lot of cool stuff, and I got to do that as a kid. 
AG: Now that you are coaching, what have you learned over the years?
SD: It's a unique way to make a living. My wife and kids are around the players a lot. The funny thing about this profession is you really don't turn it off. It's a 24-hour-a-day job, 365 days a year. You spend so many nights and weekends around the program. When you get home, you have coaches call you late at night, players call you late at night, parents call you late at night. I even get players that stop by the house. So, it's an interesting, but fun way to make a living. 
AG: You played baseball and football growing up, what made you choose baseball over football in college?
SD: I played both growing up. I really wanted to go to Texas Tech, but I also didn't want to play for my dad because I wanted to create my own path. So, I ended up playing for Larry Hays, who really got the Tech baseball program going. He was a great coach, and I had a great experience. It was fun to be a part of the program and be around all those guys. 
AG: How does it feel to know you got two programs in the same market turned around? SMU's struggles have been well documented, since the mid-'80s. You got them on track, and then you head across town to TCU and have them in a National Championship game in your first season. How rewarding is it to know that you have been a part of both programs and helping them take a step forward?
SD: I think as a coach, part of your job is to leave the program better than you found it. When I went to Louisiana Tech, they hadn't won a conference title in 20 years. We won one the second year I was there. At Cal, they had been really good for a while, but had fallen on some hard times, but I feel like we left it better than we found it. At SMU the goal was the same. I was lucky to get back to the state of Texas, and SMU was one of my teams as a kid. When I had the chance to take a job at SMU, it was a great opportunity and, in a lot of ways, a dream come true. We got better over there, and we had some really good teams. I feel like we left that program in a good place.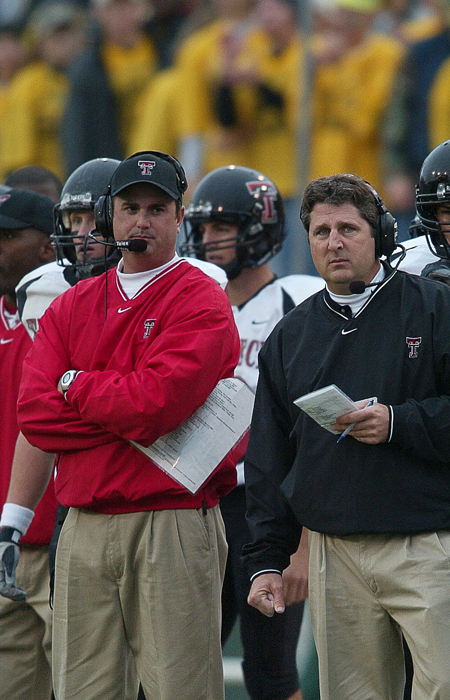 AG: What about TCU? What drew you to that program?
SD: TCU was the next challenge. The program has everything here. There is tremendous leadership, everyone is united, and everyone understands how important football is. There is a strong commitment to football, and there has been for a long time. I just felt like there was an opportunity here to take the next step.
AG: You took an immediate step to the biggest stage in year one. That had to have been a wild ride. 
SD: When people ask me why I left SMU for TCU, my answer is because I feel like we can play for a National Championship at TCU. I certainly thought it would take more than one year to accomplish that, but we stepped into a good situation here with some good players and guys that were hungry to get the program back on track. We had tremendous leadership last season, and that made it very fun. 
AG: How much do you enjoy being in the DFW area?
SD: I love the Metroplex. I recruited here for years, going all the way back to Navarro Junior College and as an assistant at Texas Tech. We recruited heavily in this area at Arizona and Louisiana Tech. We have a lot of friends here, so it's nice to be around friendly faces and people that are invested in you. It's nice to feel at home and put some roots down and be around people you care about. 
AG: You were in the National Championship last year. The last game didn't go as planned, but the total body of work was an overwhelming success. How do you temper your expectations moving forward? 
SD: I think the main thing you want to do is just keep getting better. You want to keep building the program, you want to have more depth, better players, better recruiting, better facilities. That's the biggest thing. We went 12-0 in the regular season. That's hard to do. There were only three teams that were able to do that last year. The thing for us is we feel like we can keep getting better. We can continue to develop players better and have better depth. The key now for us is to keep that hunger and unselfish team we had last year. Those guys last year put the team first, and that's how you keep moving forward at a high level. 
AG: The college football landscape changes so dramatically from year to year now. It is so much different that it was even five years ago. How do you adapt and evolve as things continue to change?
SD: You know, the great thing about college football is it is constantly evolving. For years the game changed on the field, and you have to be willing to keep up, adapt and even be a trend-setter. The offensive schemes and defensive schemes change, and you have to be willing to adapt how you manage the game. But more importantly, you have to be willing to adapt to things off the field, as well. Whether it be the NIL deals, transfer portal or player safety. For years, those things were ignored and shouldn't have been. The players have more power in today's game, and they have earned that. This is a player's game, and it should be about the players. This job is about creating opportunities for those guys and creating the best possible environment. You can't go status-quo in this business. We went 13-2 last year, but we still sat down and went back over everything we did trying to try to make ourselves better. You have to constantly be willing to adapt.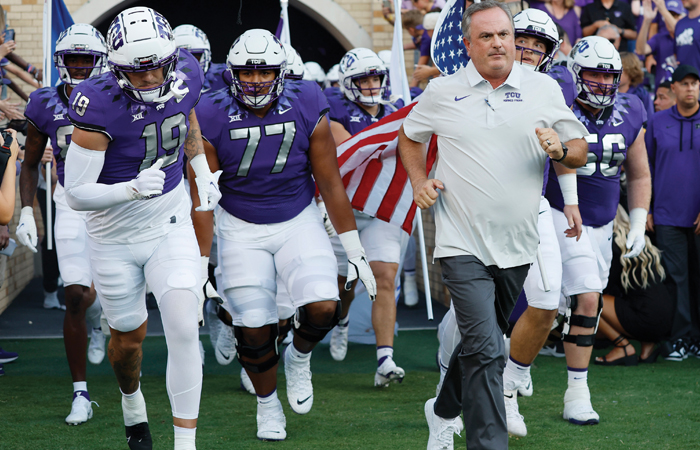 AG: You play some golf, too. What are some of your favorite courses here in DFW?
SD: I am fortunate to be a member at Colonial. We live just a couple blocks away from there. It's a great place to be able to play, and I am really looking forward to seeing the finished renovation. It should be awesome when it's finished. When we were in Dallas, we were at Royal Oaks, and I really like it. I also really like Shady Oaks here in Fort Worth and Dallas National. I had a chance to play Preston Trail a couple times, and that's also a really great experience. 
AG: As a coach, do you have a lot of time to play?
SD: You know, unfortunately, with everything I have going on between coaching in season, recruiting, and spending time with my family, I don't get to play as much as I would like to. It's hard to justify playing 18 holes, so occasionally I will sneak out and play six holes or try to get in nine. But my six-year-old son really enjoys playing and has a real passion for the game, so I look forward to playing with him as he gets older. But I am lucky to have had a chance to play a lot of great courses around here. 
AG: What about courses around the country? What are some of your favorites?
SD: I have had a chance to play Augusta the last couple years. If you're a golfer, then that's the Holy Grail. We have a coaches tournament at Pebble Beach every year, and that's probably my favorite course. It's beautiful, and it's accessible, which is really neat. Also had a chance to play Cypress Point last year, and it was a special experience. I have had a chance to play some pretty neat courses. 
AG: If you could play with one current Tour pro, who would it be?
SD: Probably Tiger. I think it would be neat to hear his perspective on the game, and he probably has a real appreciation for the game. But we have a lot of local guys I root for, too. Tom Hoge is a guy I enjoy watching, and of course guys like Scottie Scheffler and Jordan Spieth and the other local guys. I also like chatting up Ryan Palmer over at Colonial. Rickie Fowler is another one I know. His wife Allison was our babysitter when I was coaching at Cal, so we keep in touch with them a little bit. It's always fun to root for the guys that you know a little bit.
AG: Unfortunately, last year, we lost the great Mike Leach. What was it like working alongside Coach Leach?
SD: Oh man. I could tell Mike Leach stories for days, and most of them you wouldn't believe. I was lucky to have met him in 1997. I was his graduate assistant at Kentucky, which basically meant I was his driver for a couple years. So, I spent a lot of time driving him around and with him in the meeting rooms. Then, I spent seven years working with him at Texas Tech. Mike was one of my favorite people in the world, and he had more an influence on me as a coach than anyone. I was lucky I got to learn so much about offensive football from him. I always appreciated his way of thinking outside the box and his authenticity. Mike probably had more impact on the way football is played than anyone ever has. He just revolutionized the game. The Big 12 was a run-first league when Mike arrived at Tech, and then you look up a few years later and every team in the league was running some form of the air raid. There was never a dull day with Mike. He was one of a kind. 
AG: Thanks Coach. Have a great season. 
SD: Of course.