Cover Story – Touchdowns and Tee Shots

Ezekiel Elliott has been an athletic stud since he was a tyke. On the field, court and track he has been dominant. As a three sport standout at John Burroughs School in Missouri, he piled up rushing yards on the football field, was an ankle breaking small forward on the basketball court, and was a superstar on the track, winning Gatorade Track Athlete of the Year by sweeping the state 100-meter, 200-meter, 110-meter high hurdles and the 300-meter hurdles. The son of two collegiate athletes, he has the pedigree. His mother Dawn was herself a three-sport star in high school before running track at the University of Missouri, and his father Stacy was a linebacker at Mizzou. 
So, it was no surprise that multiple colleges came calling for Zeke's services at the next level, and after some consideration, he chose a blue blood program in The Ohio State University.
En route to a National Championship with the Buckeyes, Zeke was one of the premiere bell cow backs in the country, capping the Buckeyes' 2015 championship by rushing for 246 yards on 36 carries and scoring four touchdowns against the Oregon Ducks. During the 2015 regular season, Zeke added another 23 TD's, bringing his career total to 44 as he led the team to a Fiesta Bowl win over Notre Dame.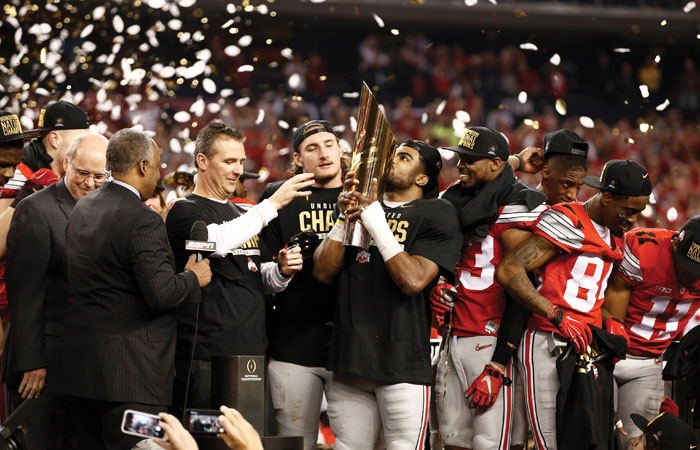 After announcing his intentions to enter the NFL Draft, Elliott was slotted as one of the most complete running backs to enter the draft in decade. He was called by multiple scouts a rare combination of size, speed, agility, pass catching ability and blocking prowess. Jerry Jones and the Dallas Cowboys were intrigued. 
On April 28, 2016, the Cowboys made Elliott the latest player to wear the star, when they took him with the fourth overall selection in the draft. 
Since his debut with the Cowboys, Elliott has been as advertised. As a true game changer for the offense, Zeke has rushed for just shy of 6,000 yards, and as of this publication, had amassed 42 touchdowns. In addition, he has also led the league in rushing twice and been selected to the Pro Bowl on three occasions. 
Now, at age 25, as he continues to mature both on and off the field, Zeke is using his star power to help those in need. Back in early August, OnCore Golf announced that Ezekiel Elliott was one of their newest shareholders in the company. With that, OnCore also made it known they would debut a new limited-edition Ezekiel Elliott golf ball. The ball, which is available in all three OnCore models, features a silhouette of Elliott's signature head and hair with "everyone eats" printed in front of it. 
"I've been involved in team sports my entire life and have always been surrounded by players, coaches, and staff members that were instrumental in helping me achieve success.  And while golf may not be a team sport, based on my interactions with OnCore Golf's "team" it was an easy decision for me to join forces with this ground-breaking organization," Elliott said in a press release. 
If you are familiar with Elliott on the field, then you're certainly aware of his "feed me" hand gesture after all of his big runs or touchdowns. This branding ties in with that, but also shares another, more fulfilling meaning. For every box of these limited-edition balls, OnCore is donating $5 to the North Texas Food Bank. And feeding those less fortunate is a cause we can all get behind.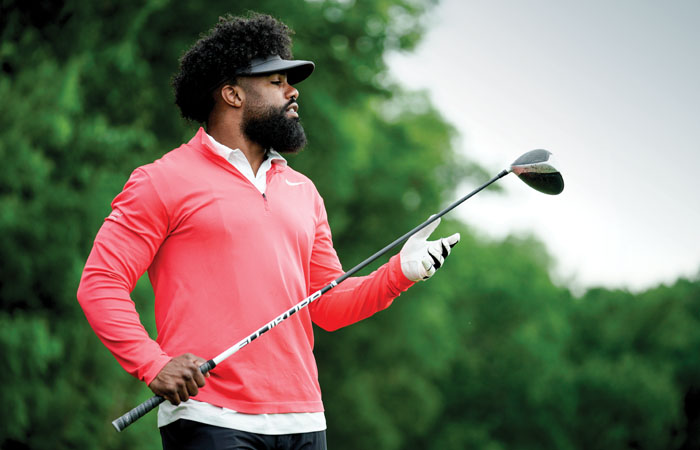 Elliott isn't the only athlete that OnCore has partnered with, as Buffalo Bills 3rd year starting Quarterback Josh Allen also has a ball, except his boasts "Mafia" on the side, referring to the popular tailgating crew the "Bills Mafia" that has often gone viral for their social media game day shenanigans. Allen's chosen charity is the Oishei Children's Hospital, and OnCore is again donating $5 for every box sold. 
AVIDGOLFER spoke to Bret Blakely, the Vice President of OnCore Golf, about his company and the relationship he has forged with Elliott. 
AVIDGOLFER: For those that may not be familiar with OnCore Golf, tell us a little bit about the company. 
BRET BLAKELY: OnCore was started by myself along with Steve Coulton while we were still living in New York City. I moved back home, and he moved as well so that we could start our business in my hometown of Buffalo. We broke into the industry with a patented and extremely accurate hollow metal core golf ball. This ball was rejected by the USGA even though it met all 5 quantifiable metrics, so we battled with the USGA, and we won. We became only the second company in 100 years to get the USGA to rewrite the rules governing golf ball construction and that was the catalyst to everything that has come after.
AG: What made you want to get into the golf ball business? There are so many options out there, what makes OnCore different?
BB: Steve and I believed that the hollow metal core ball could be a game-changer and between his love for golf and my passion for marketing, bringing something that unique and patented into the industry seemed like an exciting and potentially rewarding thing to do.  And since we had both been laid off from our jobs in Manhattan the very same day during the economic downturn in 2009, we basically thought "why not"? With the support of my dad, who had been a serial entrepreneur and technology executive for several decades, we felt that we could bring all of the critical elements together and carve out a blue ocean niche for ourselves in what is a very big ocean.
AG: Tell us a bit about the golf balls.
BB: We currently have a suite of three best-in-class golf balls starting with the AVANT 55. It is a low compression, 2-piece golf ball with a soft Surlyn cover and large interior core to create perimeter weighting ideal for slower swing speeds. We launched our two-time Golf Digest Gold winning golf ball, the ELIXR, in 2017. This is a 3-piece, urethane covered tour performance ball with a unique perimeter weighted design coming from the high-density particles we put into the mantle layer. The ELIXR is an 85-compression ball idea that performs exceptionally well for pretty much all swing speeds and all skill levels.  Last but not least is our latest offering, the VERO X1. This is our highest performance ball to date – a four-piece construction with slightly firmer feel than the ELIXR, 90 compression, urethane cover mantle infused with those high-density particles and a nano-engineered transitional layer, designed for exceptional players. It is not going to be easy to find a ball that competes with the VERO X1 in any measurable statistic when it comes to performance.
AG: What are some of the core values OnCore supports?
BB: We have always been a small company with a big heart. As our company has grown, so has our ability to give back. We work with countless charities, support veterans' programs, offer lifetime discounts for military past and present, raise money for everything from food banks to our Children's Hospital in Buffalo and support many others. We also do a lot with junior golf, support mini tour players and promote diversity wherever we can.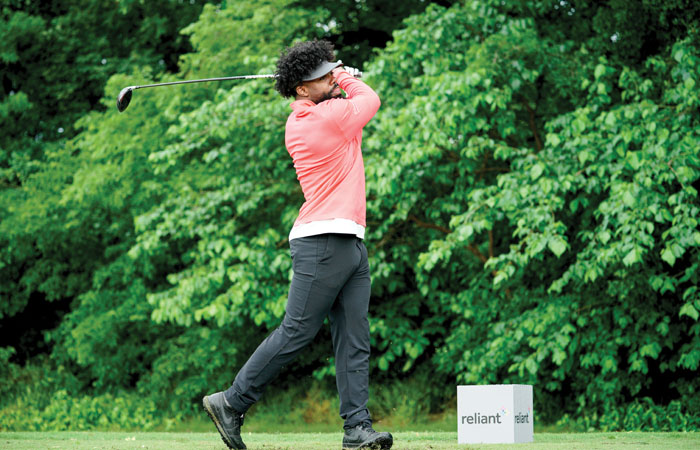 AG: If there is one thing that you feel separates OnCore from other ball manufacturers, what would it be? 
BB: We have been designing and innovating from the start. A lot of the other companies you see aren't making their own golf balls or doing anything innovative, but we have done that since day 1 and have an incredible team of engineers led by John Calabria, our Senior Technical Advisor, whose credentials speak for themselves. John has been designing golf balls for several decades and worked with the leading manufacturers including Acushnet, Dunlop, Slazenger, and most recently TaylorMade where he was the VP of R&D until he retired. Our focus has always been on leveraging technology and unique approaches to improve products and customer experiences.
AG: What made OnCore feel like entering into a partnership with a couple of NFL stars would make sense? 
BB: Companies have been using influencers from athletes to celebrities with great success as a way to create more visibility and also have an elevated brand status as these popular icons are using certain products. That being said, it was not our idea but in fact it was a result of the OnCore opportunity being something that both Zeke and Josh Allen wanted to be a part of and in both cases these influencers invested in OnCore. We have already generated tons of sales and been able to raise money for charities close to both of their hearts as a result. People who play football and watch football also play golf, so in that way, it can be just as effective as other marketing strategies.
AG: Who hatched the idea of reaching out to Zeke and Allen regarding a partnership?  What was the process like getting those two to get behind the idea?
BB: Josh saw the announcement about OnCore's involvement in a golf entertainment center being planned for Buffalo and contacted his business manager to see if he could get involved.  After meeting with us at the OnCore headquarters during the Bills bye week last year, he saw how much we were involved in and decided he wanted to partner up. There was an instant chemistry between Josh and the team, and he was blown away that a company with (at the time) only 8 employees could be doing so much.  Zeke was spending a lot of time playing golf during his contract negotiation period and read about OnCore and our Golf Boost artificial intelligence app, got very intrigued, and again, spoke to his agent who happened to know one of OnCore's investors and from that, the connection was made. 
 AG: How involved were they in the planning and execution of the idea?
BB: Both Josh and Zeke were very involved in the structuring of their involvements.  These are highly competitive professional athletes who don't do anything halfway.  They wanted to be sure that their involvement was going to make a real difference in OnCore's path to success and in both cases, made sure that their investment and relationship reflected that. 
AG: Tell us about the foundations they are serving with this partnership.
BB: Josh Allen has been working with our renowned and brand new Oishei Children's Hospital, so it made perfect sense to have our charity money raised for that. Zeke has been working closely with the North Texas Food Bank so again, that was the one that made perfect sense and that he was really passionate about.
AG: How did you come up with the branding for the golf balls. Why did you decide on "everyone eats" and "Mafia"?
BB: The fan base here in upstate New York for our team is pretty famous everywhere and are known as the "Bills Mafia". The players all shout them out and that is part of the fabric of being a Bills fan, so we decided to make something that represented that. Zeke had done some apparel that had his image with the words Stay Hungry but being that we were donating to a food bank we changed it to Everyone Eats as it represents that the money will go to helping feed those who need it most.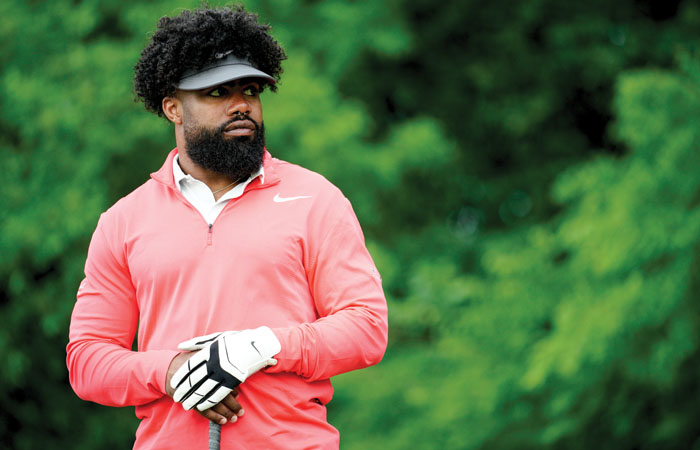 AG: I understand Zeke is just learning how to play? Have you had a chance to see any of his game?
BB: We haven't been able to get on the course with him or see much of his game yet but once the season is over, I will be sure to get on the course with him.
AG: What about Josh Allen?
BB: I was lucky enough to be invited by Josh to play at the premiere golf club in Buffalo and not only was it an absolute blast, but it made me angry. Nobody should be allowed to be that good at football and as good as he is at golf. It was impressive to say the least.
AG: With this partnership, how do you see it impacting your branding and success as a company?
BB: I think both partnerships just help elevate the brand as these are two huge names in the league that took their hard-earned money and put it behind OnCore Golf. I really think that says so much and will only lead to more opportunities, exposure and sales.
AG: You have also forged a relationship with Gary Player. How has he been as an ambassador for your brand?
BB: Gary is another name that wanted to get behind OnCore Golf because he believes in what we are doing but even more importantly, has told us that our balls are the best he has ever played.  Gary likes to associate himself with quality and performance and so it was a perfect fit with OnCore. He likes to see how our innovation is making the game of golf more fun because quality products are the first step to quality play on the course.
AG: Why do you feel this relationship with Zeke and Josh Allen is so important to the communities they serve? 
BB: Josh is a perfect fit for Buffalo, the people have adopted him as a son and the way he carries himself, his likeability and his popularity are something we haven't seen in quite some time. His name carries a lot of weight everywhere but especially in Buffalo which is also attributed to the charitable work he does for this community. Zeke is a superstar and Dallas is one of our Country's largest and most famous cities. When you have someone of his stature spreading the word in a place that can golf year-round, that is a huge plus for helping us gain more saturation in other areas.
AG: Do you feel like there is a chance you will do this with other athletes in the future? 
BB: Not only a chance but a plan.  Given that we are not yet of a size where we can compete with the larger ball and club companies for PGA tour player endorsement contracts, our approach is to create partnerships with other professional athletes in football, hockey, baseball, basketball, etc. who are not only great athletes but also avid golfers and who can help us, through their own networks and social media followings, get the word out about just how much they love what we're doing and what our balls deliver in terms of performance.  These two are just the beginning.
AG: Thanks for taking the time. 
BB: Sure. No problem.