Cover Story – Will Zalatoris

Will Zalatoris is rapidly becoming a household name. But if you are from the DFW area, you have likely been following his progress much longer. Since the end of 2018, the 24-year-old Plano resident has rocketed up the Official World Golf Rankings from number 2,006, to as of the publishing of this feature, number 43. This meteoric rise includes his first professional win at the Korn Ferry TPC Colorado Championship. That victory earned him a spot in the 2020 U.S. Open at Winged Foot, where he aced the par-3 7th hole during the opening round, propelling him to a T-6. That not only netted him a cool $424,040, but also helped build confidence that became a springboard to four more top-10s, including a T-10 at the Arnold Palmer invitational last month. 
Zalatoris was born in the Bay Area of California and got to Texas as a youngster. In his time playing junior golf, the thin, bleach blond-headed phenom played against the likes of Jordan Spieth and Scottie Scheffler, a duo he still plays casual rounds with to this day. After a successful junior career, Zalatoris attended Trinity Christian Academy in Addison, playing under head golf coach Marshall Edwards. 
"Fortunately, I was privileged to coach Will during his four high school years at TCA," Edwards said. "Clearly, Will now is proving to be an outstanding professional golfer, but more importantly, he's an even better person. He's a great ambassador for TCA and we're proud of him." 
When it came time to choose a university, Wake Forest came calling, and Zalatoris made his way to Winston-Salem to join the Demon Deacons golf team. Playing high school golf with Tucker Wadkins, son of the great Lanny Wadkins, who also attended Wake, made the decision easy for a young Zalatoris. 
Shortly before leaving for Wake, Zalatoris captured the United States Junior Amateur title, which added him to a list of winners that includes his friends Scottie Scheffler and Jordan Spieth, as well as Tiger Woods, David Duval, Gary Koch and even Johnny Miller.
As a Junior with the Deacons, Zalatoris played in all 12 events and had a scoring average of 70.14, which was the third-best season average in school history. In addition, he boasted top-five finishes at the ACC Championship and NCAA Austin Regional and was an individual qualifier for the NCAA Championship. He eventually was named ACC Player of the Year and All-ACC, a First Team Golfweek All-American, a Nicklaus Award finalist and a Hogan Award semifinalist.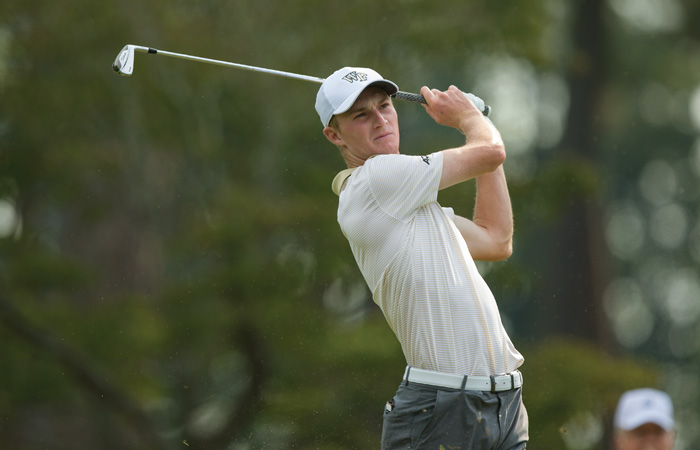 The pedigree speaks for itself. This kid can play. Last month, just before the Dell Match Play Championship in Austin, Zalatoris took some time to talk to AVIDGOLFER about his recent success, his passion for the game, and what he would tell the average weekend hacker to improve on. 
AVIDGOLFER: You are starting to become more of a household name, but for our readers that might not be as familiar with the story of Will Zalatoris, tell us how you ended up in Texas. 
WILL ZALATORIS: I was born in San Francisco, but I moved to Dallas when I was nine. My parents joined Bent Tree Country Club and I started playing with them quite a bit on weekends.  I am through and through a Texas kid though, and I love to call it home. 
AG: When did you start playing competitive golf?
WZ: I didn't really play competitively until we moved to Texas. I played NTPGA, Legends Junior Tour and slowly worked my way onto the AJGA ranks. I played against guys like Scottie Scheffler, Jordan Spieth and Cody Gribble. I was really lucky to get to play with talented guys like that. 
AG: What is your favorite moment from playing junior golf?
WZ: There are so many. Especially with Scottie and I. But one in particular involves Jordan. We were playing a round at Bent Tree and we weren't even old enough to drive carts yet. Jordan was probably 14 and I was 11. Jordan flares one right on the first hole and then hits a 5-wood around a tree into a greenside bunker. He then hits it to 25 feet and made the putt. He then birdied 2,3,4,7,8 and 9 to shoot 29 on the front. He ended up shooting 63, which held as the course record for about 10 years. Just seeing someone do that at 14, playing from 7,100 yards, made me understand where the bar was even at that age. 
AG: You went to Trinity Christian Academy. How was your game in high school?
WZ: We won three state titles as a team and I won two as an individual. Then I won the U.S. Junior and then went on to Wake Forest. So, we had a blast in high school.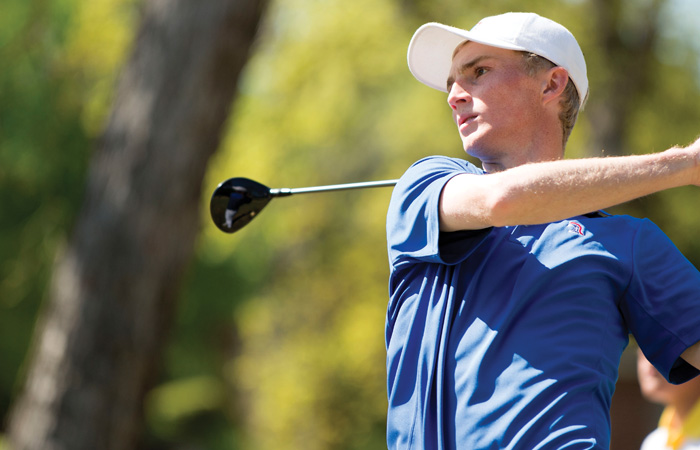 AG: You played high school golf with Kramer Hickok. How did playing with he, Scottie and Jordan help mold you into the player you are today?
WZ: The beauty of it is that when someone did something great, the other often followed. When Scottie won the U.S. Junior, I immediately followed. It's been fun. We're great friends and we play at home all the time. I think when one guy has some success, that motivates you, but at the same time you realize when they do something special, that means you can do it, too.
AG: You mention Jordan a lot. How did watching him help you as a younger player?
WZ: I think we owe Jordan quite a bit for raising that bar for us at an early age. Even though he was just a couple years older, he helped teach us how to compete at a very high level. 
AG: When you, Scottie and Jordan play casual rounds when you're not out on tour, who wins all the money?
WZ: It's usually pretty even. It's fun, though. Jordan will do something crazy, and Scottie is solid. We've all gotten each other at some point. 
AG: You have mentioned Jordan as a guy that you looked up to, and clearly just about everyone in your generation admired Tiger Woods, but were there any other guys you really looked up to as a kid?
WZ: I think watching Tiger helped get all of us into the game. Other than that, I have been going to the Nelson since 2005. Even when guys like Corey Pavin and Scott McCarron were on the later end of their careers, I would watch them. And then some of the Texas guys like Chad Campbell and Ryan Palmer were guys I watched. Lee Trevino is always out at Maridoe and Dallas National. Kramer [Hickok] and I played high school golf with Tucker Wadkins, who is Lanny Wadkins' son, and he's always been a great guy in terms of helping me learn how to be a professional. So, really, the two main guys for me would have to be Tiger and Lanny. 
AG: At what point did you realize you wanted to try and tackle the professional game? Was it as a junior player? Or did you focus in once you got to Wake Forest?
WZ: I think deep down I have always known this is what I wanted to do, which, to be honest, gives me a better sense of gratitude now that I am here playing against the best players in the world. I will say that one thing my parents were great about was instilling in me that there is a balance of golf and education. To answer your question, when I really started to prepare for the next level was when I arrived at Wake. After I won the U.S. Junior and Texas State Amateur, I knew I could compete with the best. At that point I just needed to keep getting better, keep learning, keep asking questions and eventually I would get there.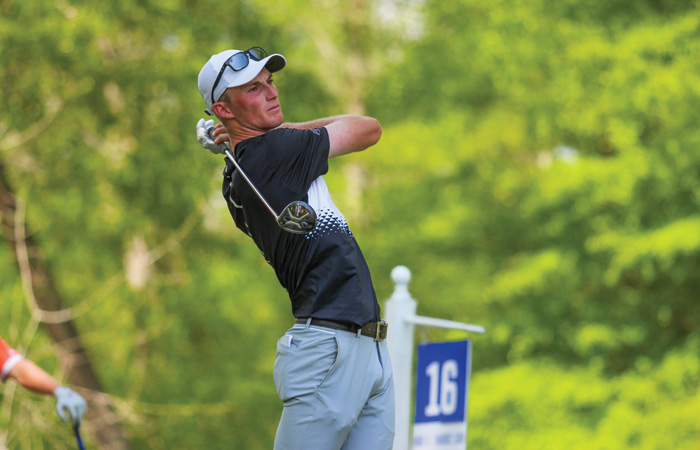 AG: What is the biggest difference between the Korn Ferry and PGA Tour?
WZ: The biggest difference is the golf courses. On the Korn Ferry, you'll see the 20-25 under winning. Out there, you can get away with your off days. You might be able to still shoot 68 on a day where you aren't hitting as well. On the Korn Ferry, your penalty might be a couple inch rough. On the PGA Tour, the courses are a little longer, the pins are a little tougher and the rough is a little thicker. I think overall everyone on the Korn Ferry can do most of the things that the guys on the PGA Tour can, but the PGA guys do it more consistently. 
AG: What is the best perk of the PGA Tour vs. the Korn Ferry?
WZ: To be honest, I think it's being able to see my coaches more. When you're on the Korn Ferry, the coaches typically don't travel. I work with Troy Denton and Josh Gregory, and being able to see them week in and week out helps me a bunch. But if you want something a little more fun, I think the food on the PGA Tour stops is incredible. 
AG: Over the last 18 months, we've seen what Bryson DeChambeau has been able to do with regards to distance. We even heard Rory McIlroy speaking very candidly about trying to gain extra distance. Have you given any thought to changing anything? 
WZ: I am one of the top 30 longest guys out there. I haven't really given any thought to adding extra weight and playing a 47-inch driver with six degrees of loft. I have tried it, and the longer driver did add about four miles per hour of clubhead speed, which turns out to be about 12-15 yards, so there is some value there. Look, what Bryson is doing is changing the game and I hope he stays healthy. Every 20 years someone comes along and does this. Now it's Bryson, before him it was Tiger and before that it was Jack [Nicklaus].
AG: What about rolling back the equipment? Should the PGA or USGA step in and do something to prevent guys from bullying the golf courses?
WZ: In reality, rolling back the golf ball will only make things worse. If I'm only hitting it 280 yards, most of the other guys are going to be hitting it even shorter. And if I were hitting pitching wedges into holes, and now I am hitting nines or eights, these guys are going to be hitting sevens and sixes. My advantage only gets bigger and bigger the more they draw the ball back. I don't think the language has been figured out to draw the ball back and, frankly, I don't care either way. I'm swinging at 122 miles per hour, so I am just trying to make sure I'm staying healthy swinging at that speed. I'm 24, I want to be sure I can still do it at 34. 
AG: If you had to choose your biggest strength and your biggest weakness, what would they be?
WZ: I think my strength is my iron play. I think I am in the top five in strokes gained on approach. Driving, I'm in the top 50. Short game and putting, this year I have been average, but I am in the top 15 all around strokes gained, so that means I am doing some good things. But when my putter gets hot, I know I can compete with anyone. 
AG: What was it like finishing sixth in the U.S. Open?
WZ: It was incredible, from the ace in the first round on. Winged Foot is an absolutely brutal golf course. I remember being so mentally spent on Sunday because there was just no let-up. But it was a great experience, and I learned a lot. That was a turning point for me. Every player believes that they can do anything they want to, and you need to have that inner self-belief. If you don't have that, you shouldn't be trying. But to be able to hang in there with the best players in the world, it really propelled me forward to now.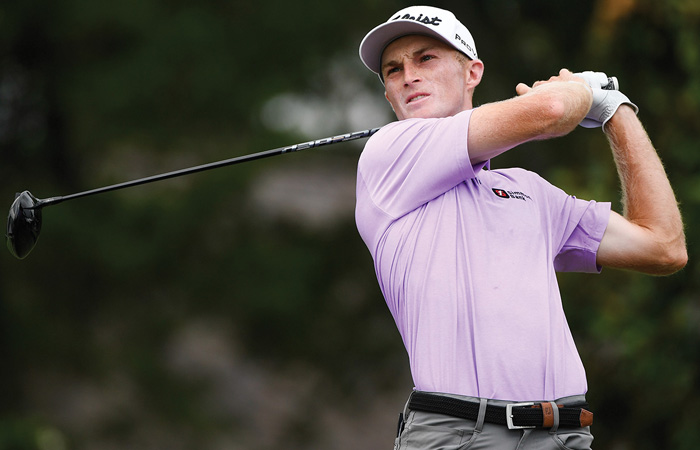 AG: If you were to give one piece of practice advice to a junior golfer, what would it be?
WZ: For a junior, I would say go play in as many tournaments as possible. I see too many juniors hitting a million golf balls on the range aimlessly. The reality is once you're on the course, you are only able to hit it once. I think one of the things Lanny [Wadkins] beat into me is that you just need to play and hit shots that mean something. For me, I think that was one thing that COVID helped me with, was with the four-month delay, all I did was play every day. It got my head out of toying with mechanics and just going out and playing like I did when I was a kid. 
AG: What about for a weekend hack like me?
WZ: For the regular weekend golfer, I would work on everything inside 30 yards. That's the fastest way to shave shots off your game. Easiest way to take strokes is to make the four-footer more and get up and down more. 
AG: What's your favorite course around the DFW area? 
WZ: Maridoe Golf Club. I love the test. I know if I play well out there, I can shoot 66. But if not, a 76 or higher is possible. 
AG: Favorite course anywhere?
WZ: Hard not to say Augusta National. I had the privilege of playing there once and I can't wait to get back there again. 
AG: How many career aces? 
WZ: I have eight.
AG: What are some of the things you enjoy when you're not playing or practicing?
WZ: I am a huge foodie. I'll basically eat anything but curry. I am big on trying new things, but I have always enjoyed trying new spots out on the road. It's been tough with COVID, but this career will go by quick, so being able to step out and enjoy some of the downtime is great. 
AG: What is your favorite sport to watch/play other than golf?
WZ: I love watching hockey because it's so fast. I have been lucky enough to get to know some of the guys on the Dallas Stars, and they're all such nice guys it's hard not to root for them. Guess any given weekday and every Sunday during the winter you'll see me watching a Stars game or a Cowboys game. 
AG: What are some of your future goals on the course?
WZ: I really want to play in all the majors this year. We'll see where we go from there. 
Special Thanks to Trinity Christian Addison and Wake Forest University for their help with photos for this piece.