Drive Time – 2020 Porsche Taycan 4S

The Porsche brand is synonymous with fast and euphoric handling sports cars that delivered grins while you deftly barrel around twists on open roads. Awesome performance, handling and a sweet exhaust note kept Porsche aficionados coming back. 
Yet, as the electric car era commenced, Porsche engineers were locked into secret laboratories to unveil the quintessential high-line electric sports car. Many wondered how the Stuggart designers would handle the electric realm while not compromising so much to disappoint its legions of fans. Thankfully, the new 2020 Taycan looks like a Porsche and drives like one—even without slurping premium fuel. In fact, it appears refreshingly similar to the concept model—something we rarely see in these times. Sure, it'll cost you six-figures, but for those with the means, it's a must-drive when contemplating adding a unique ride to your personal fleet. 
Taycan is pronounced TY-Con and is loosely translated from the Turkish phrase "young lively horse" as an ode to the steed on Porsche's famous crest. 
Let us count the ways this ride will tickle your performance driving, tech lovin' and green self. 
Skin
The Taycan's streamlined sexy silhouette definitely possesses some delicious Porsche DNA – especially with the brand's fabulous four-point LED headlights and new brake taillight strip with 3D Porsche name. The front is unmistakably Porsche, with the tester looking fabulous in red accented by contrasting black trim. I might opt for white to accentuate the sensuous trim.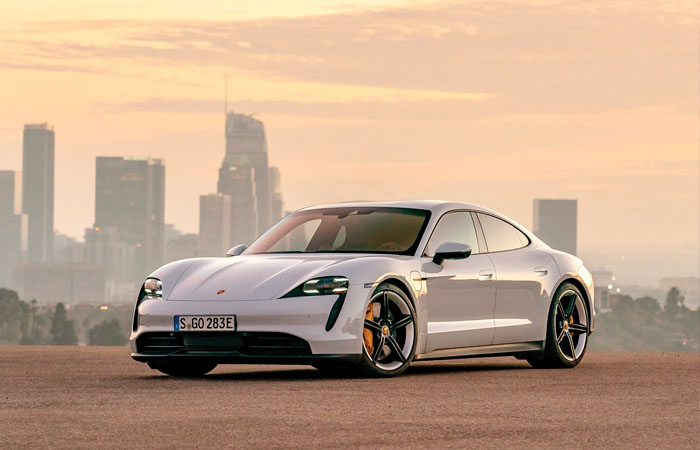 Sightlines offer a fresh, appealing appearance from any angle and the rear has no exhaust outlets (of course). The roofline is sleek while its haunches widen to cover the meaty staggered rubber and cool 21" Mission II rims. You can order brake calipers painted in a variety of colors which adds the perfect styling accessory. There's also has a subtle spoiler that raises when you drive or to wipe underneath to clean.  
The sleek door handles open automatically when walking up and the streamlined key fob fits comfortably even in today's slim jeans. 
The four-door resembles Porsche's other sport sedan Panamera but is shorter and rides on a special chassis specific for electric drive trains. 
It's certainly a beautiful looker as many, many admiring stares testified. 
Performance 
Porsche is still all about performance and handling, and the Taycan gleefully supports that claim. Since its all-electric, there are only two gears—performance when mashing the pedal in sport mode or economy when cruising. Thus, no paddle shifters necessary. Horsepower ratings are 522 to 750 depending on the model. Yet, the cool benefit is the smile-inducing acceleration (0-60 in 3.8 to 2.6 seconds!). The feeling doesn't smash you in the seat but performs in a smooth yet spirited fashion—like a futuristic ride at Disneyland. My passengers constantly requested me to "Floor it again!"
The various suspension settings work flawlessly, and you'll definitely feel the difference. In addition, the chassis will raise or lower depending on the driving mode.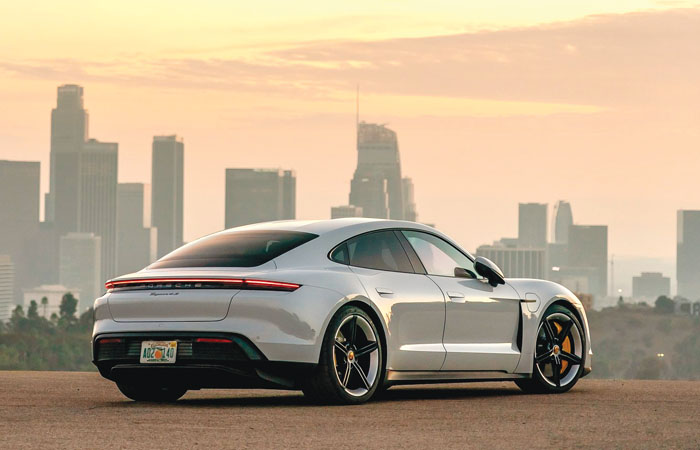 So where is the exhaust note you ask? There is a "sport" exhaust feature through the speakers. It sounds like something you'd hear from the Jetsons or Tron to mimic the sensation of speed (another passenger favorite).
Capable standard all-wheel-drive is rear-wheel bias but leans on the front in slippery conditions. You can also monitor the torque ratios on the front and rear axles in the dash. Combined with the stellar suspension modes (Normal, Sport, Sport+), the Taycan handles like a dream. The wide stance makes barreling into turns an immediate addiction. Air intakes are functional as well. 
The real question is what the effective charging range of the batteries are. My 4S tester showed 251 miles. What's cool is it will tell you the range depending on the driving mode. When in Range (its ECO mode), it will limit the speed to stay inside those distance boundaries and a handy map will display the area charging range.
Porsche will send out a tech to your home to insure you can install the most powerful and effective charging source. Using a robust 270 kW to go from 5% to 80% in a scant 22 minutes. Normal charging takes about 8 hours. Charging inputs are on both sides of the Taycan behind the front wheel for easier access. 
Braking is confident and a handy auto hold feature allows you to lift off the brake during idling – a welcome benefit when stopping on a steep grade. Despite the sporting heritage, it cruises admirably on long drives while passing nearly anything in a blink with a flick of the pedal. So. Much. Fun. 
Sport modes tighten the steering, suspension and response. Taking it on a smooth road is utter bliss. 
Cabin
The Taycan possesses Porsche's upscale, sporty interior. Fit, finish and materials are all top-notch. Creature comforts abound and the scented double-stitched cowhide leather add to the allure. Attractive trim and perfectly shaped sport steering wheel (heated) are excellent. The instrumentation is clear, easy to read and customize. 
The gear lever is on the dash to the right of the steering wheel. Cabin vents are immovable, but you can direct airflow via touching the main screen. So cool!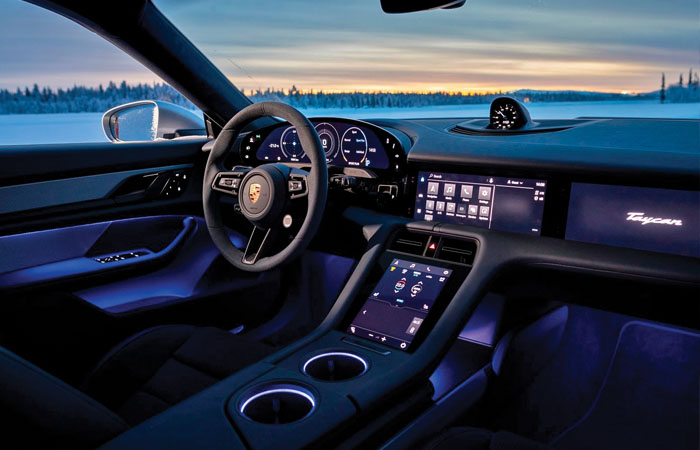 14-way heated and cooled seats allow for rambunctious driving or chilling during a long cruise. Seat climate controls are convenient on the console. 
For a sleek four-door, headroom is darn generous – even with the vast Panoramic roof (doesn't move or offer a sunshade). Legroom is ample with feet fitting comfortably under the front seats. Visibility is good for this category as the rear window is narrow, but ample sideview mirrors are excellent. Wireless charging is available inside the center console
Instantly recognizable is Porsche's customary left-hand ignition key – but no key. It's a simple start/stop button. 
A large HD touchscreen infotainment is terrific and a new attractive console design no cluttering buttons affords a cleaner and easier manipulation of the car's vast digital controls and settings. I do wish they kept the handy radio tuner knob to quickly change stations. There's another second screen underneath the main screen allowing you to "write" messages or to input directions. Capable voice activation is also standard. 
The instrumentation screen is programmable with various available data at your fingertips or quick glance. A G-force display is fun to use. However, a head-up display isn't offered. 
Cargo room is supplied with a frunk and trunk. The front frunk holds 2.8 cu.ft. for an overnight bag while the rear trunk offers 12.9 cu.ft. Of course, more space is available with the 60/40 split rear seats folded down. 
Tech Check
The excellent Bose Surround System providing plenty of punch and wireless connectivity is instantaneous. There are safety features galore. 
Yes, the options add up quickly, but customers in this market will no doubt justify the cost increase because well, it's a Porsche. 
The 2020 Porsche Taycan 4S is what the driving enthusiast needs to contemplate when dipping into the EV world. Porsche enthusiasts will be immediately smitten. It's fast, sleek, sure footed and has enough tech toys to deliver miles of rechargeable smiles. 
SCORECARD:
Golf Bags: Two with the rear seats down
Curb Appeal: A green-friendly Porsche!
0-60: 3.8 seconds
Mileage: 251-mile range
Warranty: 4yr/50K miles + complimentary maintenance 1yr/10K miles
Base Price: $103,000
Price as Tested: $148,000
Who Buys It: Those desiring Porsche driving performance without petrol
Finish Line: A sexy EV with impeccable fun and economy
Test drive the 2020 Porsche Taycan at Park Place Porsche of Dallas.