Texas Treasures – Starr Hollow

Marty Leonard has filled plenty of roles in her decades of service to Texas golf.
The daughter of Colonial Country Club founder Marvin Leonard, she has served as a longtime committee member at Colonial, spent 18 years on the USGA Women's Golf Committee, played and long promoted the game, but the one she enjoys the most is as the keeper of her family's slice of Texas golf history.
That's because Leonard oversees, tends to and constantly perfects the final golf course her father ever created, the private and pristine Starr Hollow Golf Club, the Texas Golf shrine to peaceful, historic and unhurried Lone Star links.
Located outside the tiny town of Tolar, 60 miles west of Fort Worth, the club is part of a 1,000 acre working ranch and is on the way to exactly nowhere, but if you ever make it here, you'll know what a wonderful golf experience you have found.
The walls of the simple wooden clubhouse bear tributes and photos of those who have discovered Starr Hollow before you arrived, including Ben Crenshaw and Ben Hogan, former President George W. Bush and former owner of the Texas Rangers Eddie Childs.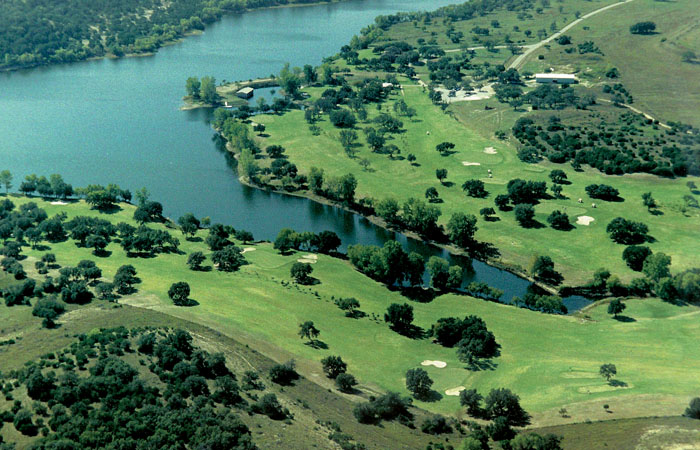 Leonard's clubs and original Cushman cart are still here, along with his original course design.
"It's a peaceful, pristine place. Daddy would be proud," Leonard says.
Starr Hollow recently celebrated its 50th anniversary, but Leonard and her experienced team at the club, most who have been there 20 years or more, did the same thing they did every other day. Provide the most welcomed, unhurried, laid back premium golf experience anywhere in Texas.
Marty is likely to tell the first-time visitors to, "play as many holes as you like and come inside when you get tired."
One of the courses biggest fans is Texas golf legend Crenshaw, who nominated Starr Hollow for the Texas Golf Hall of Fame Registry of Historic Courses.
"I can personally attest to the quality of the 9-hole course which is a pretty rolling site, testing and fun, and I can also personally attest to it has great fishing and absolutely the best hamburgers anywhere," Crenshaw said in his nomination letter.
Oh, yes, the "famed Starr burgers" as Leonard calls them. The only item served for lunch every day, are especially fresh, coming from the cows which roam outside the course fencing, on the still active cattle ranch.
"You see those cows you passed on the way in, that could be lunch tomorrow," is another one of her favorite lines.
Served with fresh chips and homemade, massive chocolate chip cookies, they are almost better than the golf itself. Well, almost… depending on your score that day.
While Leonard said 50 years of Texas' ultimate hidden golf gem is certainly a milestone worth celebrating, she has continued to make improvements on the course and faithfully tended to the green grass legacy her famous father began here.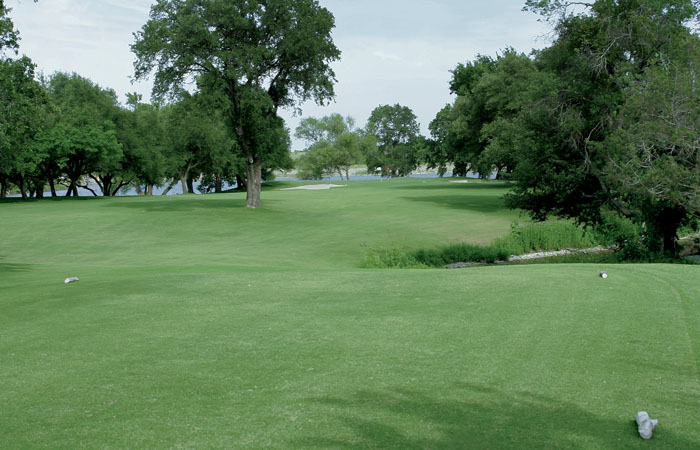 "I added improvements that I felt we needed, and they were good ones, but we want to continue to have a special place for people to come and play golf."
While Texas architect Joe Finger working with Marvin Leonard came up with the idea of having double tees and flags on the 9-hole course, Marty Leonard made sure that each hole had a different look and feel to it, giving golfers a complete 18-hole challenge.
"A novel idea was put forward by its architect, Joe Finger, to include double greens on the nine holes, which makes for a pleasurable 18 on a given day," Crenshaw said. "What a great gift Marvin Leonard gave Texas Golf,"
Marty Leonard also added a complete irrigation system to make sure the course is always in great shape and a practice facility just to the right of the first and 10th tee box for a brief warmup session before your memorable round.
She also named every hole on the course; "Jack Rabbit Jump", "Catfish Cove", and "Duck's Downfall" just to name a few.  Bluebird houses are mounted on cedar posts along each fairway to indicate a distance of 125 yards from the birdhouse to the center of the green.
The 9/18th green, shaped in the state of Texas was put in by Finger and Marvin Leonard but the large trees which guard the right side and the large lake to the left makes it a challenge for golfers of all skill levels.
But having a private, graceful place to play the game he loved and supported was Marvin Leonard's first goal when he bought the 1,200-acre property in 1965.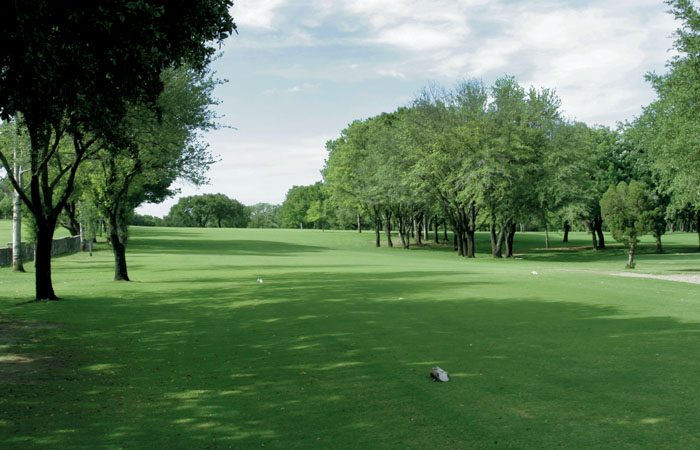 The longtime owner of Leonard's Department store in downtown Fort Worth, he was a late adopter of  the game, only taking up golf because his doctor told him he need something to relieve the stress of his everyday work.
A member and director at River Crest Country Club in Fort Worth, Leonard famously left the club over its refusal to adopt Leonard's preferred bent grass greens full time for the course. He bought 156 acres in southwest Fort Worth and opened Colonial Country Club in 1936, which became one of the most famous and historic courses in the state, hosting both men's and women's U.S. Opens and the PGA Tour's return to golf in 2020 after the worldwide pandemic.
In 1958, he opened Shady Oaks Country Club in Fort Worth with his great friend and fellow Fort Worth resident Ben Hogan, who he had befriended and financially supported many years earlier.
In the mid-1960s, Leonard, already on the back nine of life, was looking for one more course site when he stumbled upon the Starr Ranch site on the way to exactly nowhere.
The only previously claim to fame for the remote site was the local legend that infamous train robber Belle Starr, known as the, "Bandit Queen of the Wild West," has lived on these parts a 100 years earlier, had hidden her ill-gotten train robbing loot in the caverns here and could actually be buried on the property.
While there is no conclusive way to prove or dis-prove these claims, Leonard knew he had found the place he was looking for to raise cattle on part of the Star Ranch property and build his beloved Starr Hollow Golf Course on the other.
In fact, the history book on the course is titled, 'Starr Hollow and Star Hollow: Mysteries and Memories,' by local author Scott Daly. Marty Leonard has purchased some Belle Starr photos and memorabilia including her gun, which rests in the clubhouse as well.
Marvin Leonard built a huge lake in the middle of the property, filled it with bass, attracted wildlife from many local locations, including Starr, the famed pet deer who lived her for 20 years, and had the private retreat for himself and his friends, including Hogan.
But Hogan didn't make many trips to Starr Hollow, preferring to play and practice in his final years at Shady Oaks, but did play at least one round here, giving Leonard his brief overview of the course.
"Marvin. I can't play here, it's too quiet."
"Well that's what my sister Madelon said he told daddy, but I never heard that myself," Marty says.
Marty Leonard said her dad passed away in 1970 and his passing could have been one of the reasons the course has stayed so pure and remote for decades.
'If daddy had been alive, he might have tried to develop Starr Hollow like he did Shady Oaks. But I'm glad he left it the way he did without homes or people so we can just invite people out who we want to play and have a small private membership."
Indeed, the only home on the property is right behind the first and 10th tee which belongs to Leonard and there a few dozen members drawn from around North Texas and beyond along with honorary memberships given to Bush, Crenshaw and others.
Just don't expect a membership drive or public appeal anytime soon at this Texas treasure.
"Heavens no, why would we do that?" Leonard asked. "We lose and gain about the same number of members every year."
While the towering oaks, scenic lakes and small caves give witness to what a fine hideout this was for 19th Century stagecoach and train robbers, now its golfers looking to rustle up a birdie or steal a par from the water guarded par-5 18th green shaped in the state of Texas.
Yet shot values alone are not enough to lure you here, it's the gracefully unhurried nature of the facility.
Members and guests have been known to call the place, "little Augusta," and when you play it, you can see why. It's been consistently rated as the number one 9-hole golf layout in the state for several years.
I know that Mr. Leonard was so proud of Starr Hollow and it provided much enjoyment to him in his later years. It is a natural haven and a treasure for Texas, golf and its followers – truly unique and one of a kind."
So, to celebrate the 50th anniversary at Starr Hollow or just about any other day here, golfers arrive to a parking lot which is deliciously empty, awaiting more players looking to play all they want that day and then come inside for hot, fresh burgers.
At Starr Hollow, the smell of golf history is all around.