LPGA Preview — Old American the Beautiful

The Volunteers of America are once again sponsoring the metroplex LPGA event in 2018, this time with a new name, new format and an exciting new venue. The Volunteers of America LPGA Texas Classic will take place April 30 – May 6. The official LPGA tournament will feature 144 of the world's top players in a four-day stroke-play event, battling it out for $1.3 million in prize money.
After a half decade at Las Colinas Country Club, this year's tournament will take place at Old American in The Colony. This Tripp Davis/Justin Leonard design takes inspiration from iconic American courses like Pinehurst No. 2 and Shinnecock Hills. With its short wooden flagsticks and tabletop greens, this course sits along the wind-swept terrain next to Lake Lewisville.
After holding off veteran Cristie Kerr on the sixth playoff hole in 2017, Haru Nomura is expected to return to defend her title, but the road to repeat won't be easy for the 25-year-old. A star-studded field is once again expected to appear, and that means just about anything can happen as the ladies battle it out over the course of four days.
Who's in the field?
As of the printing of this magazine, four of the world's Top 10 golfers are scheduled to appear: No. 3 So Yeon Ryu, No. 4 Sung Hyun Park, No. 5 I.K. Kim and No. 6 Anna Nordqvist. Of course, we expect more of the top players to be in attendance, so keep your eyes open for that, as this tournament has, in its short history, drawn some of the strongest and most competitive fields on the LPGA Tour.
Other notables that have already committed include "the Pink Panther" Paula Creamer, McKinney's Brittany Lang, Morgan Pressel, Brittany Lincicome, Michelle Wie, Cheyenne Woods (you may have heard of her uncle Tiger) and a pair of Golf Hall of Famers in Juli Inkster and Laura Davies, who have a combined 11 major championships between them. Both Lincicome and Wie have victories already in 2018. Lincicome took home the Pure Silk-Bahamas LPGA Classic in January, and Wie captured the HSBC World Championship in March.
One notable absence this year is local resident Gerina Piller. Piller, a fan favorite at this event, has had success in North Texas, narrowly missing out on a victory at this event two years ago. She will be sidelined during this year's event, however, as she and husband Martin are expecting their first child in May.
In addition, tournament officials are again this year offering an opportunity for aspiring golfers to compete for a pair of exemption spots into the field of an official LPGA tournament. The qualifier was held at Old American on March 26, and the two spots were earned by TCU junior Annika Clark and Plano East High School freshman Meagan Winans.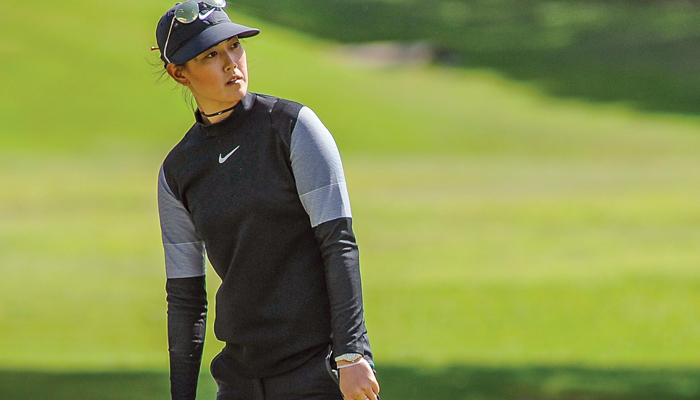 New Venue, New Challenge
Old American sits on the shores of Lake Lewisville in The Colony. The city and the venue are thrilled to have the opportunity to host a world-class field of LPGA superstars.
"We're doing our best to make sure we're putting our best foot forward to create an unbelievable experience for the players, the fans, the community," Mike McCabe, General Manager of Old American, said. "It's a big deal for The Colony. It will bring a lot of notoriety for the community. It's a big deal for us to help showcase the city."
Old American opened in 2010 and immediately got rave reviews. The views of the lake and the challenging layout make this track a must play for any DFW golf aficionado. One of the must-see features on the property is the historic iron bridge on the far northwest corner of the course. Although it doesn't look like much, the railroad bridge originally connected Texas and Oklahoma over a fork of the Red River. It was constructed in 1900 by the Pencoyd Iron Works in Pennsylvania and was relocated to Old American in 2010 after 100 years in service.
Old American presents a challenge in many respects. It can play long if the wind blows, although course officials say they don't plan to make the setup overly difficult. The par 3s at Old American are tough. Many get that breeze off the lake and make for some interesting club selections. The tabletop greens often play firm and fast, making two putts difficult at times. It's certainly going to be a challenge, even for some of the world's best players.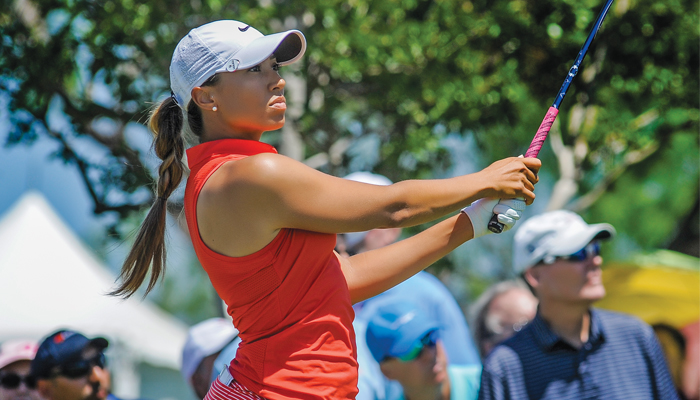 How can I get involved?
The Volunteers of America is still seeking for anyone willing to help out during tournament week. Marshals, scorers, range attendants, leaderboard staff, transportation, etc. Volunteers need to be at least 15 years of age or, except for standard bearers, who need to be at least 13 years old.
The Volunteer Registration fee is $50, but includes two official tournament golf shirts, one official tournament hat or visor, a volunteer badge, four complimentary daily grounds passes that are valid any one day of the tournament, and meals are provided to volunteers on the day(s) of their shift.
Where are some good spots on the course to take in the action?
The layout will be reconfigured a bit to make the tournament more patron friendly. No. 10 will become No. 18, so all the action on the final hole will be completely visible from the clubhouse and gallery areas surrounding it. The 11th hole will serve as the starting hole for the tournament all four days, so the initial hole is within a quick walk from the clubhouse, located just about 20 yards south of the proshop.
The reconfiguration was designed to have as much action near the high traffic areas as possible. In addition, multiple concession areas will be accessible on the course. Between 12 and 13, and 15 and 16, there will be some hospitality areas. From the station between 15 and 16, four holes will be visible, so this will be an optimal place for spectators.
If you wish to trek out onto the course, we recommend making your way out to either the 12th hole (No. 2 during tournament week) or to the back side of the 14th green (No. 4 during tournament week). The current 12th hole is a long par 3 along Lake Lewisville. Not only will the views from the tee or the green be beautiful, but if the winds are swirling, the hole will become very difficult, and it could pose for an intense challenge early in the round.
The current 14th hole is a long, but potentially reachable, par 5 that also runs along the lake. Longer hitters such as Wie could go for this green in two, which always makes for some exciting drama, as eagle and double-bogey will both be in play. If you stand along the backside of the green, you can also watch players tee off on the next hole, a long difficult par 4.
Volunteers of America LPGA Texas Classic
Date: April 30-May 6, 2018
Title Sponsor: Volunteers of America
Location: The Old American Golf Club
Purse: $1.3 million
Defending Champion: Haru Nomura
Television Schedule: Thursday-Friday 11 a.m.-1:30 p.m. Saturday-Sunday 2-5 p.m. All rounds televised on The Golf Channel. Times subject to change.
Calendar of Events
(Subject to change, times are approximate)
Monday, April 30 (Gates closed)
• CREW Dallas LPGA Pro-Am
• Monday qualifier for professionals
Tuesday, May 1 (Gates closed)
• Professional practice rounds
Wednesday, May 2
• Official Pro-Am begins at 7 a.m. off Nos. 1 and 10 tees
(Tee times are approximately 7 – 9 a.m. and 12 – 1:50 p.m.)
• Expo Row open (8 a.m. – 5 p.m.)
Thursday, May 3
• First Round (Tee Times off Nos. 1 & 10 tees are approximately 7:00 – 9:00 a.m. and 12:00 – 2:00 p.m.)
• Expo Row open (8 a.m. – 6 p.m.)
Friday, May 4
• Second Round (Tee Times off Nos. 1 & 10 tees are approximately 7:00 – 9:00 a.m. and 12:00 – 2:00 p.m.)
• Expo Row open (8 a.m. – 6 p.m.)
Saturday, May 5
• Third Round (Tee times off No. 1 tee begin at 7:10 a.m.)
• Expo Row open (8 a.m. – 6 p.m.)
Sunday, May 6
Final Round (Tee times off No. 1 tee begin at 8:50 a.m.)
Expo Row open (8 a.m. – 6 p.m.)
Champions Presentation immediately following play on 18th green
Parking: Parking is available at the golf course for $5
Tickets: Single-Day tickets are $15 and good any day Wednesday-Sunday; Weekly Badge that provides access every day Wednesday-Sunday is $25. Members of the armed forces (Active Duty, Retirees, Active Reserve, National Guard and DoD civilians) and their accompanying families may receive complimentary single-day tickets at will call upon presentation of military ID.
Child Policy: Children 17 years old and younger may accompany their ticketed parent to the tournament free of charge. Parents can receive up to four children's tickets at the will call office at the entrance of the tournament.
Website: www.voatexaslpga.com