Noah Goodwin: Self-Defined

It's no secret that the Metroplex has been a hotbed for young golf talent the last few decades. There are easily a half-dozen names that immediately come to mind as incredibly talented young men and women playing on the collegiate and professional circuits. Many of them have been featured right here, in the pages of AVIDGOLFER Magazine. It's time we introduce you to another – 17-year-old Noah Goodwin. The recent high school graduate from Corinth already has a U.S. Junior Amateur title to his name, and won back-to-back AJGA Rolex Junior Player of the Year honors in 2016 and 2017.
Goodwin's status among amateur golfers has been skyrocketing over the past few years. For a teenage player, that means most of his adolescence. He has played competitively since age 7, and at the rate he is going, he'll quickly establish a place among the pantheon of DFW greats.
Even at 17, Goodwin has already faced a lifetime of challenges, coming out the other side a mature young adult who seeks to define himself, not letting a sport or hobby define him. As he transitions from high school to college – and the SMU golf team – he brings with him a level of skill, confidence and wisdom unmatched by his peers.
Noah, the only child of Jeff and Lisa Goodwin, got into golf while he was still in diapers. It all started for him simply as a way to bond with his dad.
"It was an opportunity to hang out with Dad, which was cool for him and it was cool for me," Jeff said. "We lived about 2 minutes from our country club (Oakmont Country Club in Corinth) and it was a quick and easy trip over there, so that's what he wanted to go do."
While tae kwon do was the center of Goodwin's universe as a young child (he became a black belt at age 7), golf had a hold on him that no other activity did.
"He played tee ball for a short period of time; soccer for a short period of time. But he never fell in love with those things like he did golf," Jeff said.
It also helped that golf was a non-contact sport.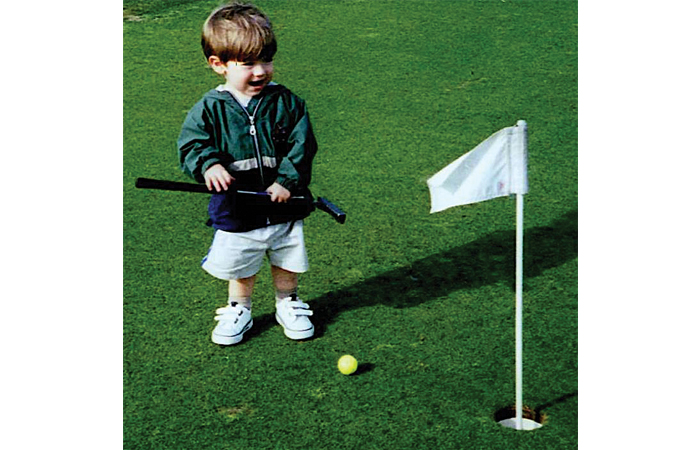 At the age of 9, Goodwin was diagnosed with pituitary dwarfism, a condition caused by the pituitary gland failing to manufacture natural growth hormone. His doctors prescribed nightly injections of growth hormone that allowed him to reach to a normal height; the injections lasted until he was almost 17. However, his condition made a tremendous impact on both his desire to continue to play golf as well as his skillset as a player.
"Golf was the only sport I could play since I was small growing up," Goodwin said. "I loved the fact that it was my own ability to see how far I could go with it. I didn't have to be big to play it; I could just practice and grind to get better."
And grind he did. As an adolescent, Goodwin struggled in tournaments to keep up with his peers, who were much bigger and stronger, and could hit it much longer than he could. But he didn't let that deter him from finishing as high on the leaderboard as he could.
In his 2016 Rolex Player of the Year speech, Goodwin recounted he his very first AJGA tournament appearance. He was 12 years old and, even with treatment, he lagged behind the other kids in terms of power and strength. That particular tournament was an AJGA qualifier held at Diamondback Golf Course in Abilene, and the 15th hole was an obvious marker of his physical limitations. The 396-yard par 4 requires a tee shot of 187 yards to carry a creek in the fairway. The 12-year-old Goodwin couldn't make it.
"I had to take a 5-iron and lay up to the forward tees, then hit a 3-wood over the creek, and pitch on to the green," he said. "I made a good bogey … It was a hard-earned bogey." He finished tied for 31st out of 71.
The following year, Goodwin played in the same tournament, held again at Diamondback. After a full year of grinding and growing, he approached the challenge at No. 15 with a new perspective: this time, he could hit driver off the tee, carry the creek, and hit a 7-iron into the green.
"The hole was totally different a year later because I was bigger, stronger and better," he said. "And yet I still made another bogey. Golf can be hard."
Despite the repeat bogey on No. 15, Goodwin shot 3-under and took home medalist honors.
His growth deficiency wasn't all negative; one major positive that came out of the adversity was a sharpened ball-striking ability virtually unmatched by his peers.
"He would hit it shorter, and given that he hit it shorter, he had to hit it more accurately than everyone else to close that competitive disadvantage," said Cameron McCormick, Goodwin's coach. "He certainly came to me with a well-refined technique and, more importantly, a well-refined skill level to control the golf ball."
McCormick, the founder of the Altus Performance Institute and coach to elite players such as Jordan Spieth, Will Zalatoris and Cole Hammer, met with Goodwin in August of 2014. He put him through an evaluation that revealed markers for incredible potential, and the two have been working together ever since. One of the markers was that Goodwin could hit targets at will and with an array of different ball flights, but needed to be equipped with additional tools to bolster his skillset.
"[Cameron] is an absolute genius; not just about the golf swing but also about course strategy and the mental game. He's helped me more than anybody," Goodwin said.
As his momentum as an elite player grew, so did the number of wins, accolades and honors.
Take a look at his golf resume and it reads like a section from a future Hall of Fame entry: he has played in four U.S. Junior Amateur Championships (2014-2017), three U.S. Amateur Championships (2015-2017), the 2016 Junior Ryder Cup, the 2017 Junior Presidents Cup, became one of the recipients of the 2017 Byron Nelson International Junior Golf Award and holds back-to-back Rolex Player of the Year honors (2016-2017). Since the award's inception in 1978, only four other young men claimed back-to-back honors: Tracy Phillips, Phil Mickelson, Tiger Woods and Brian Harman. Not to mention, he carded the elusive 59 over Memorial Day weekend last May.
One of Jeff's favorite statistics about his son involves his track record with the AJGA. During a two-year period (2016 and 2017), Goodwin played in 11 tournaments hosted by the AJGA. He finished outside the Top 10 only once.
"When you're involved in it day to day, you tend to lose sight of what he has accomplished because you're always preparing for the next tournament or the next opportunity. Somebody told me that [and] I had no idea," Jeff said. "That's pretty impressive. When he showed up to play, he played well."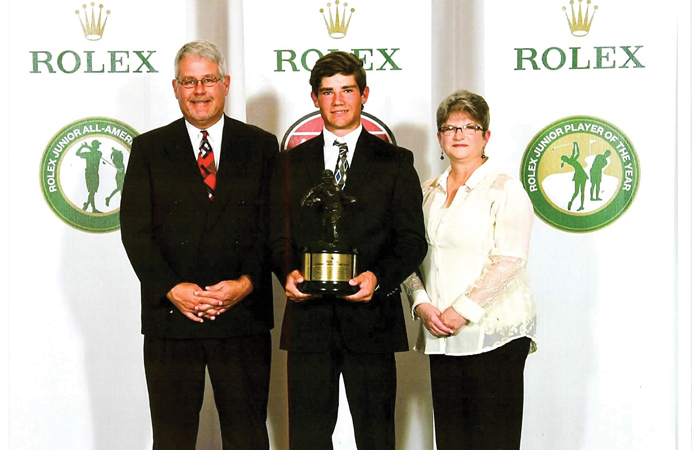 However, the unanimous favorite among Goodwin, his parents and his coaches is his most recent, and redemptive, victory: the 2017 U.S. Junior Amateur Championship.
Goodwin entered the field with a hunger to redeem himself from the prior year's tournament. After getting to the final match at The Honors Course in Ooltewah, Tenn. in 2016, he fell to Australia's Min Woo Lee 2 & 1, finishing as the runner-up.
The following year, the drama continued into the championship held at Flint Hills National Golf Club in Andover, Kan. Goodwin once again battled his way into the 36-hole final match against Matthew Wolff, who is now a freshman at Oklahoma State. While only down 1 after the first 18, Goodwin eventually found himself in a hole, down 4 heading into the back nine.
"He realized he had not played well during the Match but I also knew he wasn't going to give up," Jeff said. "He had this 'I'm going to stick this out for as long as I can and hopefully something will turn my way mentality.'"
The tide turned on the 29th hole of the Match (No. 11 at Flint Hills) when Goodwin sunk a 30-foot birdie putt to cut Wolff's lead to three. He channeled that momentum and proceeded to win three out of the next four holes, bringing the match to All Square on No. 15.
His tear continued through the final holes at Flint Hills, a streak marked by solid execution and a highlight reel bunker shot on the No. 16, resulting in a tap-in to halve the hole and maintain All Square. On the final hole of the Match, Wolff's tee shot found the water which gave Goodwin the advantage he needed to seal the championship.
"With all the history that's been with the U.S. Junior, you can look back and see who won it, see their names and then see everything they've done in professional golf," Goodwin said. "To have my name listed among theirs, it is the highest honor I've been given so far."
As with some of his other accolades, Goodwin is vaulted into an elite category of players who have come before him; only three other players have captured a U.S. Junior Amateur Championship after finishing runner-up the previous year.
McCormick believes this win is perfect cap to an elite junior career but also provides a confident step into the next level.
"It came at a pretty critical time because he's been moving away from junior golf and the AJGA, and needed some windy sails to claim all of the hard work put in, the sweat equity so to speak, to get the trophy to loft up off [his] shoulders," he said.
This win carried another bonus as well: the USGA announced in October that the U.S. Junior Amateur champion would be granted an exemption for the 2018 U.S. Open. Goodwin will be teeing it up with the world's best professional players in June at Shinnecock Hills Golf Club in Southampton, N.Y.
"I love playing in front of large crowds, so something like [the U.S. Open] would be more excitement for me just to be able to see that. I'm getting to live out my dream," Goodwin said.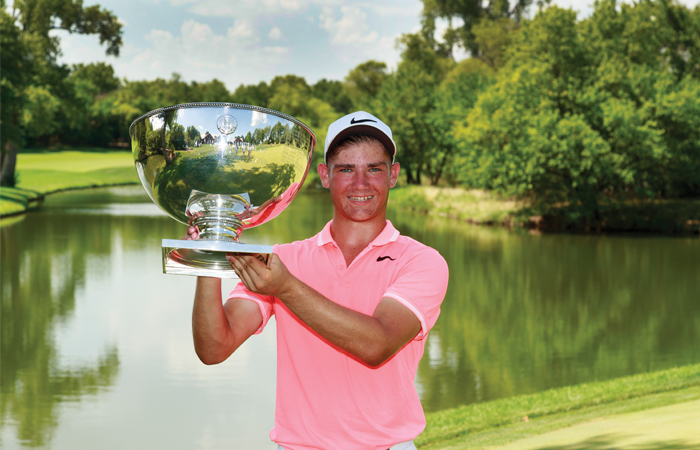 With the trophy on his mantle, Goodwin will soon face the best amateurs in the country by competing on the collegiate level as part of the Southern Methodist University golf team. After visiting nine universities, Goodwin narrowed it down to SMU and Alabama before signing his letter of intent to be a Mustang in November 2017.
"For me, I looked at it from a lot of different angles," he said. "First, having Trinity Forest as an amazing golf course to be able to practice and play on every single day to get better; having my coach [Cameron McCormick] right there at Trinity Forest to be able to help me out whenever I need it; and I also love Dallas as location. I've always loved Dallas and the resources that SMU has as school is just matched by nobody."
Goodwin might have recently signed his letter to stay in the Metroplex, but he has had his eye on playing for SMU for a while. Jason Enloe, the head coach of the SMU men's golf team, said their relationship began years ago when Noah sent him recruiting tapes.
"Noah sent me a swing video when he was 13 years old, and it was the best golf swing I think I'd ever seen," Enloe said. "It was absolutely flawless."
Enloe, then the assistant coach, made it a point to get to know the Goodwins and maintain that relationship throughout Noah's high school years. He was promoted to head coach in August 2014, and continued to heavily recruit Noah. Goodwin signed his official letter of intent on Nov. 10, 2017.
Perhaps the most unique aspect of Goodwin's foray into collegiate golf is that he won't have to wait until August to officially begin his career as a Mustang; he graduated his online high school program a semester early to be able to enroll in college courses and join the team for the spring schedule.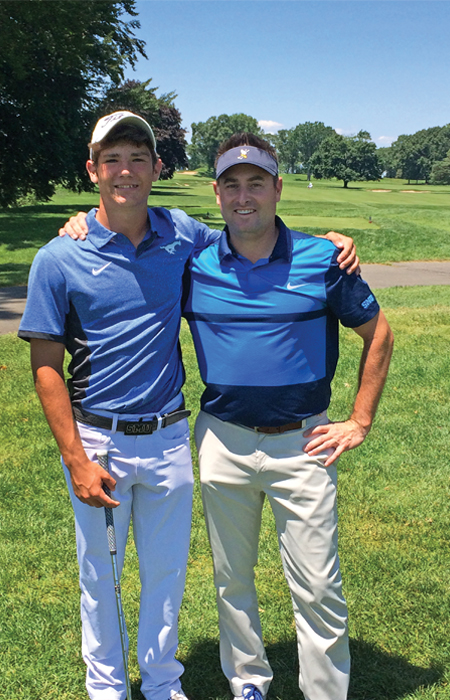 Competing at the highest level requires multiple travel days, which eat into attendance in a traditional school setting so Goodwin went an alternative route. He recently graduated from the Laurel Springs School, an online institution geared toward kids with unique schedules or curriculum needs.
"The thought of switching to an online school that allowed me to do work whenever I'm gone, and not having to worry about that aspect, was a big thing for me," he said.
He wrapped up his high school curriculum and graduated in December. Later this month, he'll officially begin classes and practice at SMU, but Coach Enloe doesn't think it will be a rough transition since Noah was around the team during recruiting visits and practicing at Trinity Forest.
"I think all kids starting out in college have a little bit of an adjustment period, and that's going to be our job as coaches and teammates and academic support staff to help him with the transition," he said. "Everybody knows Noah and everybody is really excited about having that talent and that personality on the team."
At the time of publication, Goodwin is ranked 13th in the World Amateur Golf Rankings, but Enloe thinks No. 1 is definitely in his sights.
"He's been number one at every level he's been at so, golf wise, I'd love to help him get to number one in the world and hopefully, someday, he'll be number one in the world in pro golf," Enloe said. "Not many people can say they've been number one as a junior, as an amateur and as a pro. I think that would be the ultimate golf goal."
This may be the beginning of Goodwin's next steps as an athlete but that doesn't stop the people around him from projecting where he goes next. Unsurprisingly, many agree that SMU is most likely a short stop on the path before leaping onto golf's biggest stage: the PGA Tour.
"I hope he stays at SMU for as long as he's happy and we're having fun, winning hopefully," Enloe said. "He's got the rest of his life to play pro golf, but we're so excited to have him and I'm excited to be his coach for however long he chooses to stay with us."
Even with friends, coaches and media outlets praising his accomplishments and pondering the trajectory of his career, Goodwin stays incredibly grounded. He has an incredibly mature, and refreshing, perspective of his life as a young elite athlete. In almost a compartmentalized view, Goodwin separates golf – his passion, daily activity and most likely his career one day – from the sum of his life's parts. He can visualize his golf-related goals both in the long- and short-term, work every day on improving, make strategic decisions for every aspect of his life, yet he firmly constrains golf's role in his life so that it doesn't eclipse other facets or even himself.
"I would want to be defined as who I am as a person, my faith in Jesus Christ; I don't want golf to define me. Golf is my hobby, it's the thing I love to do, it's the game I love to play. But if I have a bad round or good round, I don't want that to define how I feel about that day or who I am," Goodwin said.
Jeff believes the being in the spotlight gives Noah – and other kids like him – a chance to define their legacies through service to others.
"To me, that means, there are kids dying of cancer in this world, there are people who are dealt incredibly bad hands," he said. "Noah and other kids play a sport that they love. They have an incredible opportunity. At the end of the day, give back to the people that have paid it forward to help you. Make the world, make society better by doing something special and trying to make a difference."
Only time will tell what is truly in store for Goodwin and what impact he will make, but for now, he's definitely one of the brightest stars on the amateur golf horizon.