Travel – Hill Country Hijinks

A look inside Horseshoe Bay Resort's multi-million dollar renovations
By Mikal Black
I recently found answers to two questions that have rattled around my head for several years now concerning the Hill Country portion of the state of Texas. I have heard people talk about a much less crowded route from the Dallas-Fort Worth area to the central part of the state that may add a little time to your trip but will make up for it in relaxation. I always found myself skeptical but after making the trip south via US-281 I can certainly see why people are willing to add a little more time to their trip in exchange for a stress-free drive. The second question I have pondered concerned a resort just to the west of the town of Marble Falls, located near the banks of the Colorado River in Central Texas. I have heard discussion of Horseshoe Bay Resort and its three Robert Trent Jones Sr. golf courses and found myself curious as to whether it was:
A great place to road trip with your golf buddies and spend a few days hitting the links
A great getaway for you and your significant other to spend some time
A versatile resort that offers enough for it to be a good destination to take the kids along
All of the above.
My recent visit leaves me with the conclusion that the proper answer to that question is clearly D, all of the above.
Horseshoe Bay Resort, located about 1 hour to the west of Austin appears to me to have plenty of amenities to make it a great destination regardless of your travel group. The lodging options are plentiful, from a traditional resort hotel feel in the newly renovated Tower which AAA feels is worthy of their coveted 4-diamond rating (I had a very nice view overlooking the pool area, and I agree with AAA's assessment), to spacious villas, lakeside condos, and even an inventory of private homes.  If a business conference in a scenic setting is something that you desire, there appears  to be plenty of options and meeting rooms, along with plenty of post-conference activities to help you occupy your down time.
The pool area at the Tower was nice and spacious, and heated according to the website, with what appeared to be plenty of patio dining options and plenty of room to relax around it. Everything I read and heard about the spa was very positive and I have no doubt it is a great place to unwind during your stay. The fitness center by all indications and appearances has everything you need if you desire to get in a little cardio or pump a little iron during your stay. There are also plenty of hard court and red clay tennis options. But I wasn't there to swim, or spend my time getting pampered, or to work out, or to see if I could shape up my serve and volley game into a wildcard spot at Roland Garros or the Arthur Ashe Stadium; I was there to golf, so I spent the majority of my time at the places I consider paramount for a golfing trip: the golf courses and the sports bar.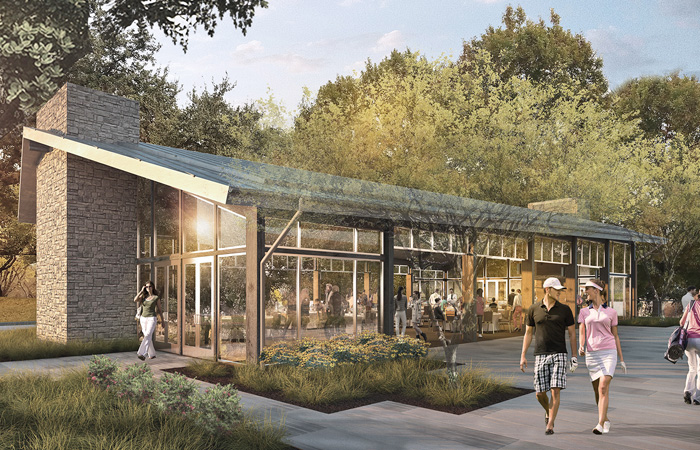 The sports bar on property is a unique building just beyond the pool area. It goes by the name of The Whitewater 360 Sports Club and sits in the middle of another amenity that I have always found intriguing when it comes to Horseshoe Bay: The Whitewater Course, a par 72 Bermuda putting course complete with bunkers, water hazards and its own slope and rating. The Whitewater Course is one of only 4 Bermuda grass putting courses in North America and it looks like it would be a great place to continue the wagering after a day at one of the more traditional courses is complete and a couple of libations have you feeling like you may be able to win your stake back. It is a cozy circular structure with picture windows throughout – hence the name 360 – and a nice array of televisions so you won't miss any action if you are looking to keep up with the current games. They offer a nicely stocked bar and are happy to fetch some gourmet pizza and bring it over from Lantana, a great dining option inside the confines of the Tower.
The three Robert Trent Jones Sr. golf courses of the resort are all a simple drive from the Tower, and the directions they provide you at the front desk make it an easy commute, but for larger groups I would recommend you take advantage of the resort shuttle. That way no one has to worry about not fully partaking in the enjoyment of a buddies' trip and your gambling is confined to whichever of the three gorgeous tracts you are teeing it up on.  Slick Rock is the oldest child of Horseshoe Bay and sits alone on a very nice piece of Hill Country property. I can only judge the course by what I could see from the road and the parking lot because at the time of my visit the course was being used to hold the Texas High School Girls 4-A golf tournament. From what I saw and from information I gleaned from conversing with others, a day spent traversing the holes at Slick Rock is a good day. It underwent an extensive renovation in 2016 and the facilities appear to have greatly benefitted from it. Three sets of tees allow you to choose what length of course best fits your game; the championship tees play about 6860 so while the length is manageable, the rating and slope suggests there is plenty available to test you. Good news for the lower handicap players as the last 2 holes on each side should fall well out of the area where your higher handicapped opponent might benefit from a GHIN equity adjustment.
While Slick Rock sits alone in its own room on the other side of the house as the oldest child, its younger siblings Ram Rock and Apple Rock are close enough in age to, at the very least, share a "Jack and Jill" bathroom. They came along about a decade later and share a great piece of property that provides the scenic views and assorted wildlife that you have come to expect when golfing in the Hill Country. Construction abounds as the clubhouse and pro shop are in the process of being rebuilt; a fire took care of the original several years back, but judging from the sketches I saw, and the current facility at Slick Rock, when it is finished, it will be top-notch. For the time being they are making do in temporary facilities which did nothing to suppress the enjoyment of my golfing experience there.
Apple Rock, as the youngest, will be the last to be renovated. That process began in August and will include a contiguous cart path around the entire course, which will allow for earlier play in wet conditions, which is not the case as it sits today. It will also include restoration of some of the putting surfaces back to their original size, as they have narrowed in some spots over the years. The good news is the bones of this course are great, and while I thoroughly enjoyed my experience there, I am sure with the renovation that is planned, things will only get better. The championship set of tees stretches you one yard short of 7,000 while the next set up requires you to navigate a little over 6,500. Both have ratings above par and slopes in the 130's. Don't let some of the shorter distances fool you. Elevation and narrow landing areas on the putting surfaces provide plenty of challenges. The finishing holes on this course also will favor the lower handicapped golfer from a GHIN equity adjustment perspective.
Ram Rock may be the middle child in age, but if the three were brothers, it would probably be considered the best athlete of the bunch. Everyone I spoke with considers it to be the most challenging 18 of the 54 to navigate; my own personal experience concurs with that opinion. It just finished a nice renovation in May of this year. Ram Rock was officially re-opened by reigning Masters' champion, Patrick Reed, a big fan of the resort, who hit a ceremonial drive off of number 1, approximately 30 minutes before I joined the first group to play the course after its renovation.  This renovation included a contiguous cart path throughout the course, some restoration of putting surfaces back to their intended sizes, reworking of some bunkers and some minor sight line tweaks that, according to the people I played with, allowed the course to be a little more receptive to a lower number than it had previously been, but left it with plenty of bite. 1,000 yards and 5 rating points separate the executive tees from the championship tees with the regular set of tees splitting the difference. Lower handicapped golfers beware as 2 of the last 3 holes on the front will most likely provide some help from GHIN for your higher handicapped opponent, but you do not have anything to fear on the finishing stretch as all the "equalizers" should be done after playing the 14th hole.  A great test of your mettle that will give you plenty to discuss while rehashing the round over a libation or two.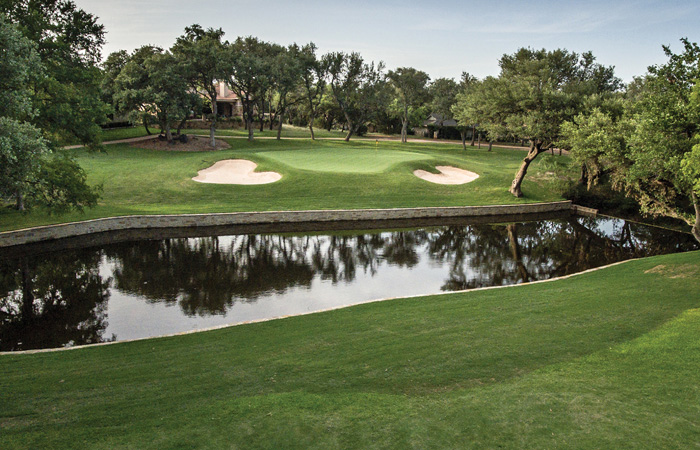 The best news about leaving Horseshoe Bay is if you choose to return home via US-281 your relaxation will continue as you make the peaceful journey miles away from the crowded and always-under-construction I-35. The better news is, if you search iDealGolfer.com and book your round at the bargain prices offered when Horseshoe Bay is available, it will make your trip home even more relaxing because of all the money you saved.