While the PGA Frisco project looms large on the North Texas golf horizon, the Houston area also has been busy by adding three new public golf options, with Tour 18 Incorporated's Highland Pines, the par-3 East River 9, and a modern putting course, PopStroke, designed by Tiger Woods and his design team. All three projects have opened over the last several months, continuing the expansion of Lone Star public golf availability in the post-pandemic era.
"I feel like we've taken the lessons learned at Tour 18 to produce another first … premium Lazer Zoysia grass greens to give golfers a new experience they have likely never seen before," said Dennis Wilkerson, the owner of Highland Pines Golf Club, located just southeast of The Woodlands in Porter, Texas.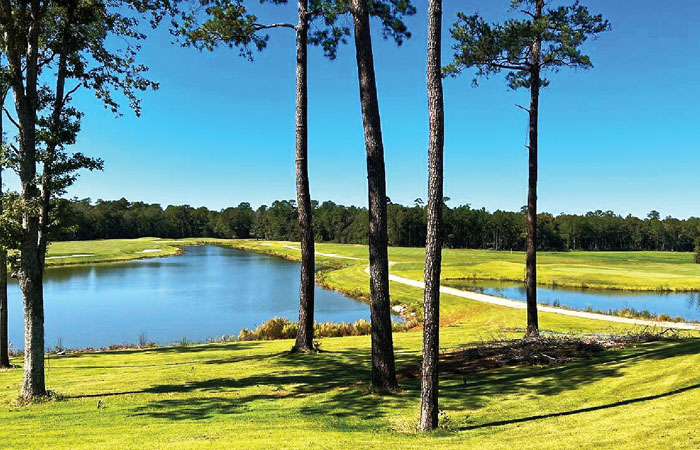 One of the first public golf courses opened in the Houston area in nearly 15 years. Highland Pines features premium grass greens usually only seen at exclusive private courses. Also new to the Houston-area public market are the East River 9, which offers stunning views of downtown Houston and the Buffalo Bayou, and Tiger Woods' PopStroke, a technology-infused golf-entertainment concept featuring professionally designed putting courses and full food and drink service. Offering two lighted 18-hole putting layouts, Wood's latest PopStroke venue is located in Katy, in the Houston Metropolitan area.
Wilkerson brought the iconic Tour 18 concept to Texas in the 1990s, opening courses in Flower Mound and Humble that feature exacting copies of some of the most famous holes in golf, including Augusta National's Amen Corner. In 2000, he oversaw construction of semi-private Augusta Pines Golf Course in nearby Spring, Texas, a stop on the PGA Champions Tour from 2003-2007. Wilkerson later purchased Spring's Gleannloch Pines Golf Club in 2007 but said his latest public golf offering is his best yet. 
Nestled on the banks of the San Jacinto River, the par-72 Highland Pines' layout combines elevation changes not often seen in the Houston area. Designed by Tour 18 Design Group architect Dave Relford (who also designed Augusta Pines), Highland Pines features heavily wooded fairways and lakes around many of its holes, which can play 7,307 yards from the championship tees. The golf course also features Zeon Zoysia tee boxes, fairways and rough. Highland Pines currently is open to the public and offers memberships, as well. 
Wilkerson said the premium Lazer Zoysia grass was developed by Texas A&M University and was grown and distributed by Bladerunner Farms in San Antonio, Texas. "We wanted to bring the full Lazer Zoysia grass experience to the Houston golfing community, for them to experience it in person," he said. "Once again, Tour 18, Inc., has raised the bar."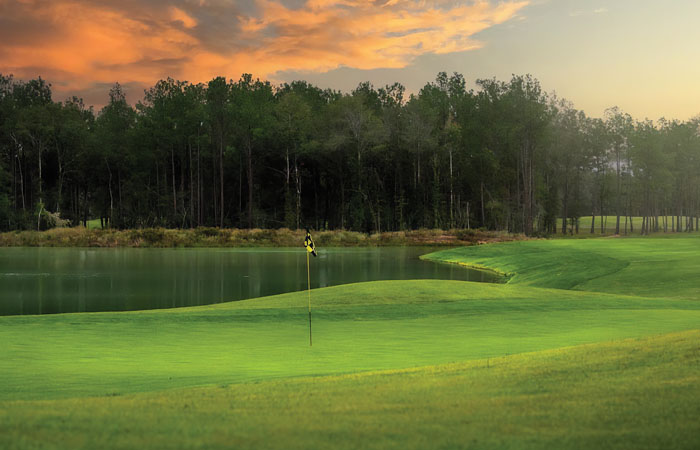 Golfers will face plenty of tree-lined fairways, with no houses around the course for now. There is a large lake to the right of the green on the par-4 seventh hole, a large lake to cross in front of the par-3 eighth hole and the sharply downhill par-5 ninth, offering a lake to the left of the small green. Water also comes into play on five of the holes on the back nine.
"It's a fantastic layout, and the challenges only get better as you work yourself deeper into the round," added Kyle Williams, head golf professional at Highland Pines. "The new Lazer Zoysia greens are the best I've ever putted on, and golfers here are equally impressed."
East River 9 developer, Clayton Feels of the Midway Group, said the location of the new nine-hole course – a former Brown & Root construction site inside Loop 610 – has more than exceeded their expectations.
"We began construction in the summer of 2021 and opened last fall (2022), and we are continuing to see people come out for the golf, the views, the drinks and the food," Feels said.
"This year, after the Astros championship parade downtown, we had a ton of people coming over to play, and we're having people who work downtown, come out for a quick nine holes, or maybe drinks and dinner, to wait out the traffic."
The holes range in length from 80 to 150 yards, and the first hole directly faces Houston's ntown skyscrapers, giving golfer a stunning visual to begin their round. The lighted course curves around Buffalo Bayou and finishes near the two-building clubhouse, which includes a full-service restaurant, large outdoor deck chairs overlooking the course, along with a lighted range and pickleball courts.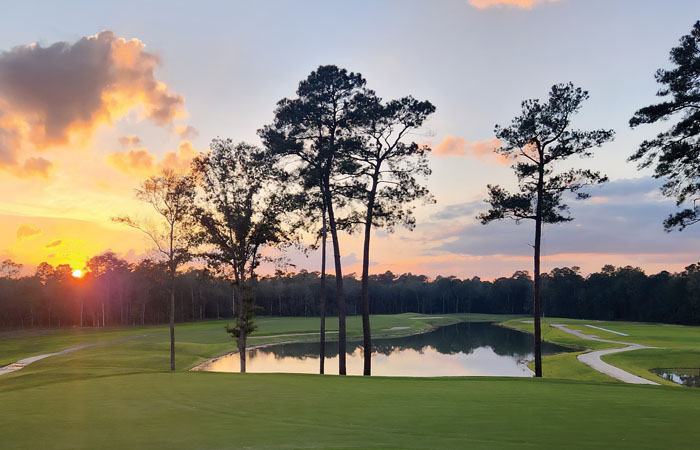 "We want people to come out here in flip flops and shorts and (for it to) be family friendly to reach all demographics of the game or those who just want to be here for a good time," said Feels.
The Southern Texas PGA has also committed to attracting events and players to East River 9, as part of its mission to grow the game.
A good time and a world-famous namesake are behind the PopStroke putting concept. Named after Tiger Woods' father, Earl, PopStroke has proven extremely popular in Florida, where Woods resides and the concept was started. The Houston-area location is its first Texas venue, with even more planned. 
PopStroke's all-synthetic turf, which can be played on in all kinds of weather, was installed by Texas-based Premier Greens, which also did the short-game park at The Ronny at the new Northern Texas PGA headquarters in Frisco.
"We're proud to have worked with the Northern Texas PGA to install premier greens, along with the work at PopStroke," said Premier Greens' owner Nic Barton.
Like East River 9, the vibe at PopStroke is casual and laid back. There are no reservations taken, as people can show up at any time to play both 18-hole mini layouts, which are incorporating fairways, bunkers and rough just as you would see on a traditional golf course. 
Players, from experienced to first-timers, can bring their own putter or use one from the facility. There are plenty of TVs, a playground, private event space, a rooftop bar and full food and drink service, which can even be delivered to the players on the course. 
"Some of my happiest memories are spending time with my pops on the golf course having putting contests," said Woods in a course-opening press release. "I'm looking forward to others enjoying time with their kids at PopStroke. This is a new way for individuals to experience the game of golf. It's about bringing people together."
For more information on Highland Pines, go to www.golfhighlandpines.com; East River 9, www.eastriver9.com; or PopStroke, www.popstroke.com.