Is Brooks Koepka Refreshing Or Too Honest?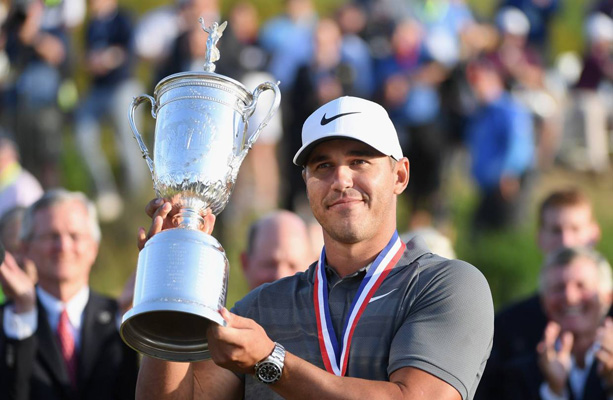 Brooks Koepka blows a breath of fresh air into the normally overly polite PGA Tour. He's said golf can be boring, takes too long and takes too many holes.
And as his custom, Brooks will play the week before a major (U.S. Open next week) as he likes to get in his reps. But, he also admits not caring about the results–which can't be music to the ears of RBC Canadian Open officials. GolfChannel's Ryan Lavner reports.
For instance:
Asked about his game heading into this week…
"I don't know," he said. "I've not touched a club. I'm not too concerned with it. From the nine holes I did play today, it seemed pretty good."
Asked about the results he expects this week…
"I could care less what happens," he said. "I just want to feel good going into next week. As long as I can leave feeling confident, striking the ball very well, starting it where I want to, finishing where I want to, hitting some good putts … it doesn't matter if they do go in or not. I just want to feel confident leaving."
Koepka has played the week before all four of his major victories, and he pointed to the fact that he's won back-to-back U.S. Opens despite finishing 30th or worse in each of his tune-up starts at the FedEx St. Jude Classic.
"The result doesn't really matter this week," he said. "It's just how I feel I've played. Am I hitting enough good shots and really finding a rhythm?"
Honesty is usually refreshing–albeit slightly disturbing to some. Yet, any RBC officials worried about these comments should give it a rest. No one believes Koepka is going to mail it in (he finished 4th at the AT&T Byron Nelson before winning the PGA Championship the following week). They should be overjoyed that partly with Brooks in the field, their event enjoys its strongest strength of field in decades.
Fans should be more than entertained just watching him hit shots on the practice range.
And remember, none other than Jack Nicklaus openly admitted gearing up for only majors with every other event essentially a tune up. You could say the same about Tiger Woods. So, Koepka is certainly in great company.